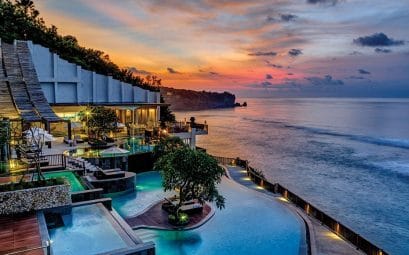 Uluwatu boasts one of the oldest and most impressive temples in Bali, Pura Uluwatu – built by Javanese priest Empu Kuturan in the 11th century. Dedicated to the spirits of the sea, the temple is an architectural wonder, carved in black coral rock and perched high on the cliff side, 70 metres above the Indian Ocean.
The best time to visit the temple is in the afternoon, so you can watch the evening traditional Balinese Kecak Dance and Fire Dance performance (held at 6pm every evening) on the cliffside stage as the sun goes down in the background. When visiting the temple, it's advised to be mindful of your belongings, as the cheeky monkeys that reside here may take off with your sunglasses and hold them ransom in exchange for a banana!
This large limestone peninsula is just a short drive away from Kuta Bay, Jimbaran and Nusa Dua. Renowned for its spectacular sunset views its dramatic location, perched high on the cliff's edge, provides the perfect locale to sit back, relax and enjoy the show.