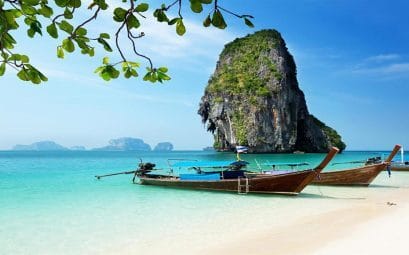 There are several family activities in Krabi. The most popular among which include elephant trekking, island hopping, snorkeling, kayaking, trekking, rock climbing or simply relaxing by the beach at sunset. The town doesn't disappoint shopping enthusiasts either and you'll be pleased to know that Krabi's retail scene is as vibrant as its food scene.
The local markets are mainly of three types – (1) Walking street markets, where you get everything from clothing, accessories and souvenirs to meat, fish and vegetables; (2) Night markets, where you get great bargains on household items as well as great street food; and (3) Daily local markets, where you get great fresh produce, dry goods and again, great street food.
Walking-street markets are exactly what they sound like, street markets where pedestrians walk and shop around. These markets are set up on a weekly basis by closing certain streets to traffic and setting up stalls on both sides. The Krabi Town Walking Street provides the most attractive set of activities and if you're in Krabi over the weekend, it is a must-see. The market is open from 6pm to 9:30pm from Friday through Sunday.
Krabi Town hosts two night markets daily, one opposite City Hotel on Mahart Road and the other on Khong Kha Road. Local markets can be found in every Krabi village, on different days of the week. Most are found by the beach and if you have time to visit just one, head to the Klong Haeng Saturday market. The daily markets for fresh produce in Krabi Town are best visited early in the morning.