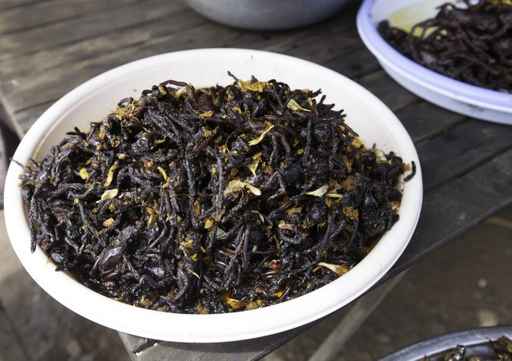 On the subject of food, one of the places that truly deserve a shout out is the New Hope restaurant in Siem Reap. The surprising and heartening fact is that this is a trade school where former sex workers learn life skills. There is also a school for at-risk kids here. The food is delicious and you come away knowing that you have helped encourage a good cause!
If out-of- the-ordinary cuisine is what you are looking for, then maybe you would enjoy some spiders or a couple of tarantulas? At Eat a Spider, these are the special dishes you should expect to find. Does that make your stomach turn? Well, Cambodia is famous for its mangoes and bananas too so help your stomach settle down with these delicious fruits.
Traditional Cambodian food is characterized by surprising contrasts in flavor. To taste the true Khmer flavor, a good start is the Bai sach chrouk which are a dish that combines rice and pork. This simple dish is something you will find on street corners too. Fish amok is another traditional dish which also shows the influence of Thai and Vietnamese cooking on Cambodia's cuisine. Khmer noodles or Nom banh chok makes for a filling breakfast especially if you like the typical Asian combination of flavors and spices. On the beverages front, the Chinese tea, tika Lok (fruit smoothie) are good options.