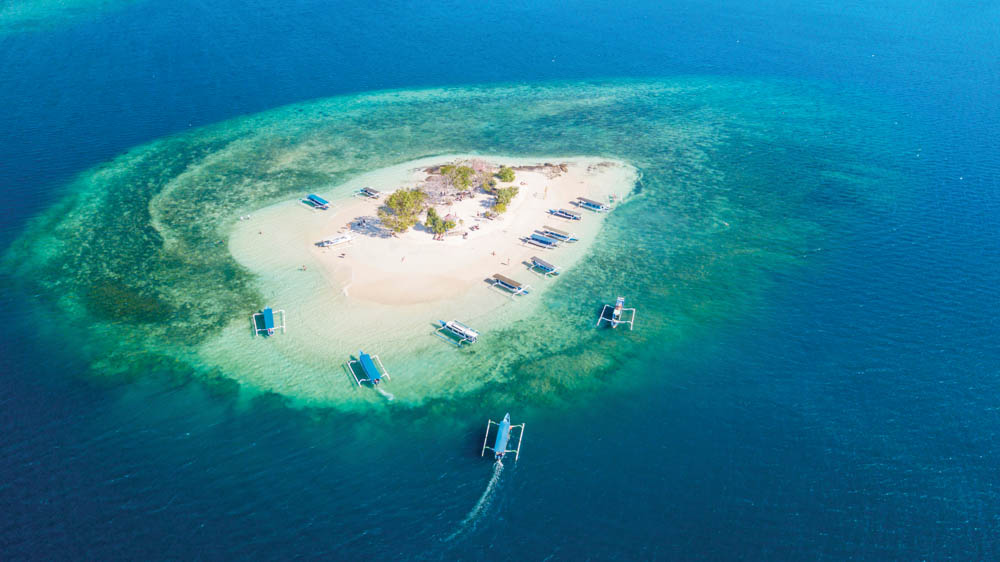 With its pristine white-sandy beaches, the magnificent Mt Rinjani volcano, and spectacular marine life to discover, the island of Lombok in West Nusa Tenggara has no shortage of attractions both in, and out of the water.
Lombok is located to the east of Bali and is geographically the same size. A wide range of destinations is guaranteed to suit even the most discerning visitors. Whether you wish to surf the massive breaks on the south coast, challenge yourself with a trek up steep volcanic peaks, or hire a bike and cycle through lush, abundant rice paddies, you won't be disappointed with the spectacular natural beauty of Lombok.
The island enjoys a tropical climate with warm and humid weather all year round with a temperature range of 21°C to 32°C. The wet season starts from November through to May and the dry season starts from May through to October.
The island has a population of about 3.1 million and the local inhabitants are called Sasaks who comprise 70 percent of the population. The remainder consists of other predominant ethnic groups such as Balinese, Chinese, Arabian, and Javanese. Bahasa Indonesia is the national language but English is widely spoken.
Lombok has three distinct districts with three main cities. Mataram, the centre of commerce and the capital city, is in the west, Praya is in the centre and Selong is located to the east of the island.
Popular tourist resort area, Senggigi, is a township that is positioned on a sweeping bay providing magnificent views of a rich, fiery red sunset over neighbouring Bali. Visitors to Lombok also flock to one of the three Gili islands- Gili Trawangan, Gili Meno and Gili Air. These picturesque tropical islands are just a short 40-minute boat ride from Senggigi.
The majority of the population is Muslim with most worshipping in the mosques on Fridays, their holy day. If you are planning on travelling around the island and visiting small villages, be respectful and considerate of the Islamic beliefs and wear or knee length shorts, a shirt with sleeves or a sarong. If you happen to visit during Ramadan, which is the Muslim month of fasting from sunrise to sunset avoid eating, drinking or smoking in public places during this month-long fast.
Lombok has a reputation for amazing, woven textiles. Songkets (hand-woven textiles) and ikats (intricate dyed fabric) can be used, amongst other things, as sarongs, wall hangings, or tablecloths. The design woven is unique to each weaver and it is passed down through the generations. There is a traditional handweaving village in Puyung in central Lombok where visitors can try on a traditional Sasak costume, and the village of Sukarare is a must visit for kain ikat or handwoven textiles. Lombok is also known for its magnificent South Sea cultured pearls, and its pottery has gained in popularity and is now shipped all over the world. There are many other traditional handicrafts that make perfect gifts or souvenirs including wooden masks, baskets made out of ketak grass and wooden boxes decorated with shells. Visit the village of Banyumulek where arguably, some of the best pottery is produced.
Public transport in Lombok comes in the form of buses and bemos (a small minibus). The main bus terminal is Mandalika at Bertais. Hiring a car or motorcycle is a convenient way to explore the island. Hotels and travel agencies offer the most competitive rates for car and motorcycle hire.
To get to Lombok, you can travel by air, ferry or fast boat. There are daily flights between Denpasar, Bali and the capital of Lombok, Mataram. The public ferry travels between Padang Bai (Bali) and Lembar (Lombok) multiple times a day, and the trip takes roughly two and a half hours. Both motorbikes and cars can be taken on the ferry.
Ferries also travel between Labuhan Lombok and Poto Tano on Sumbawa several times a day, and this trip takes one and a half hours. However, if you are prone to seasickness, the trip can be rough. Another option is by fast boat Blue Water Safaris run express boats from Bali to Lombok, the Gili islands and Lebongan Island.