Written by John Loffler
Koh Samui Holiday
There are a couple of ways to get to Koh Samui from Bangkok, but for a first-time traveller, just book your tickets in advance at a reputable travel agent in Australia. (I say that now, 7 years after I did this trip. After 7 years of travelling I do all my own trip planning.)
The Journey Begins
The flight takes about 1hr 15 mins flying Thai or Bangkok Airlines. This was a holiday I was really looking forward to, just relax and chill out. The stresses of the last few months in Western Australia and some personal issues back in Perth had left their mark. This was going to be a week of doing very little.​
Bandara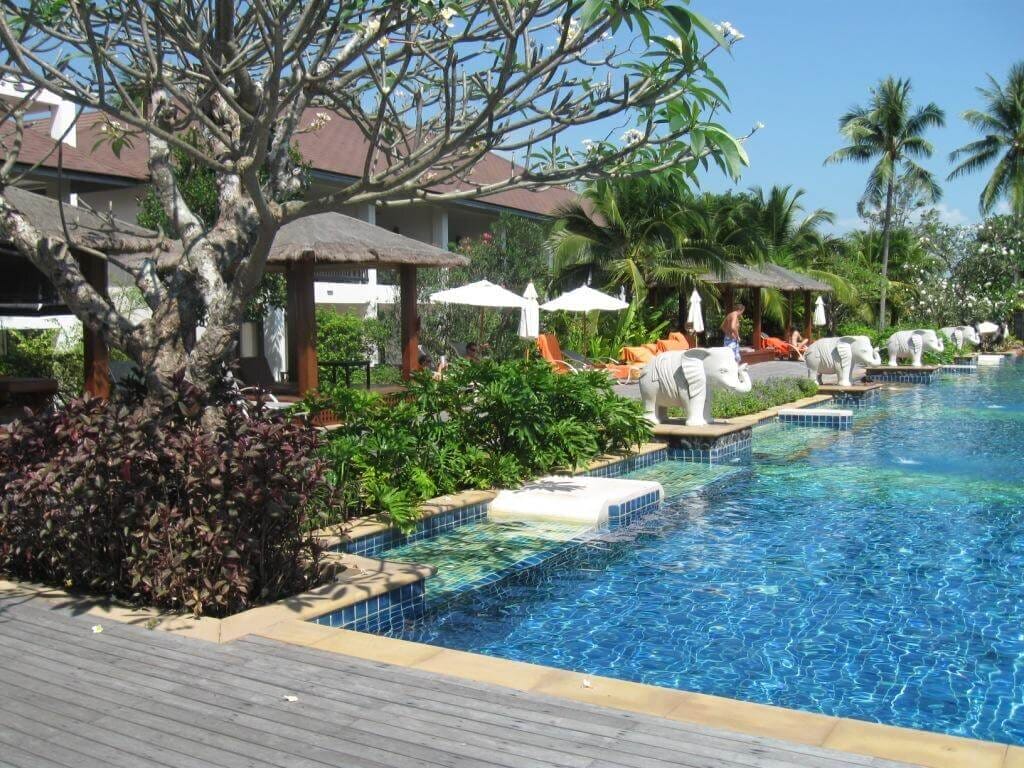 The hotel I had booked was 5 star, had its own beach, a couple of swimming pools, bars, restaurant and close enough to the central area of Koh Samui to walk. I was picked up from the airport. Don't you love that bit about arriving at an airport and there's some dude holding up a sign with your name on it? Yeah, me too. The drive to the hotel was leisurely, air-conditioned, and for a new visitor to Samui, full of interest. We passed through the popular area which is called Chaweng Beach. My hotel was in the BhoPut Beach area.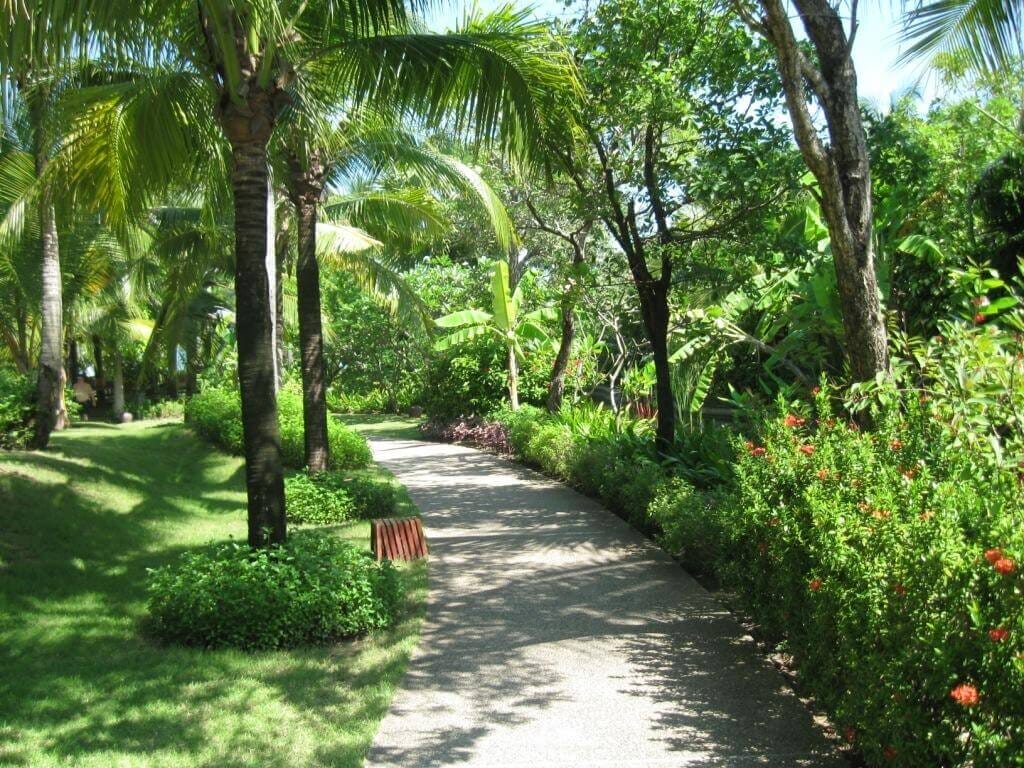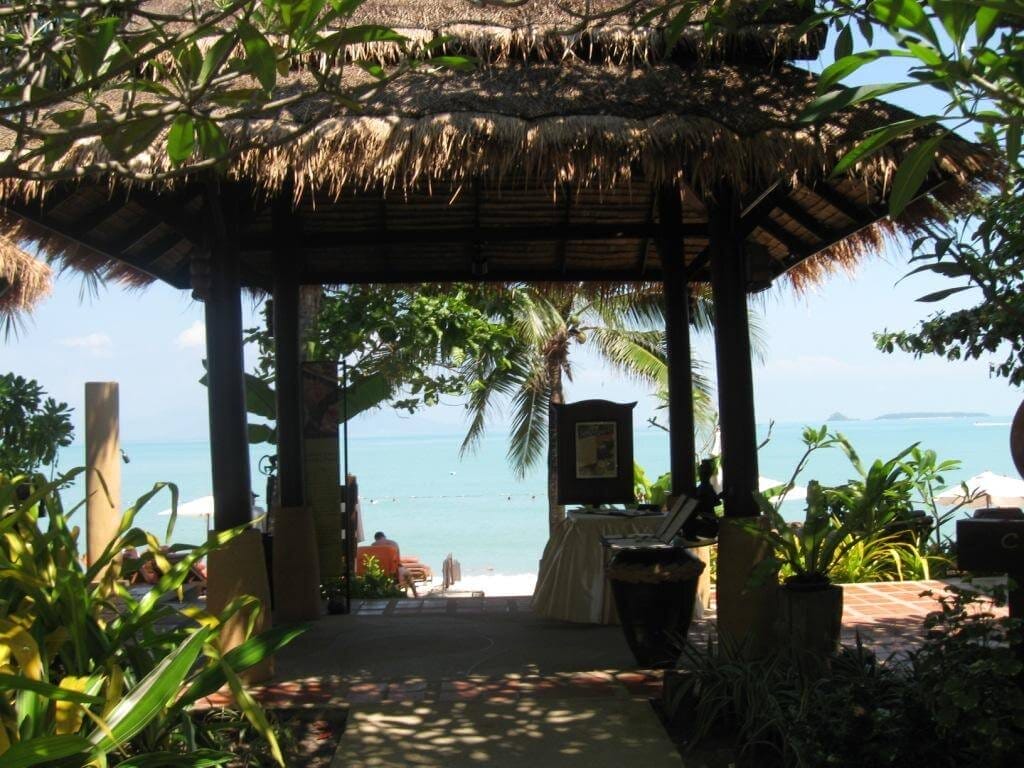 I was treated like royalty on arrival and if I were to describe this place, the Bandara Resort, I would use the term 'breathtaking'! Look at the pictures and I am sure you will agree. After checking in, I wasted no time getting into my bathers, grabbing a towel and heading for the beach. To get there, you have to walk past the two swimming pools. OMG! (After looking at the more recent photos I see they have added an infinity pool!)
The Hotel Beach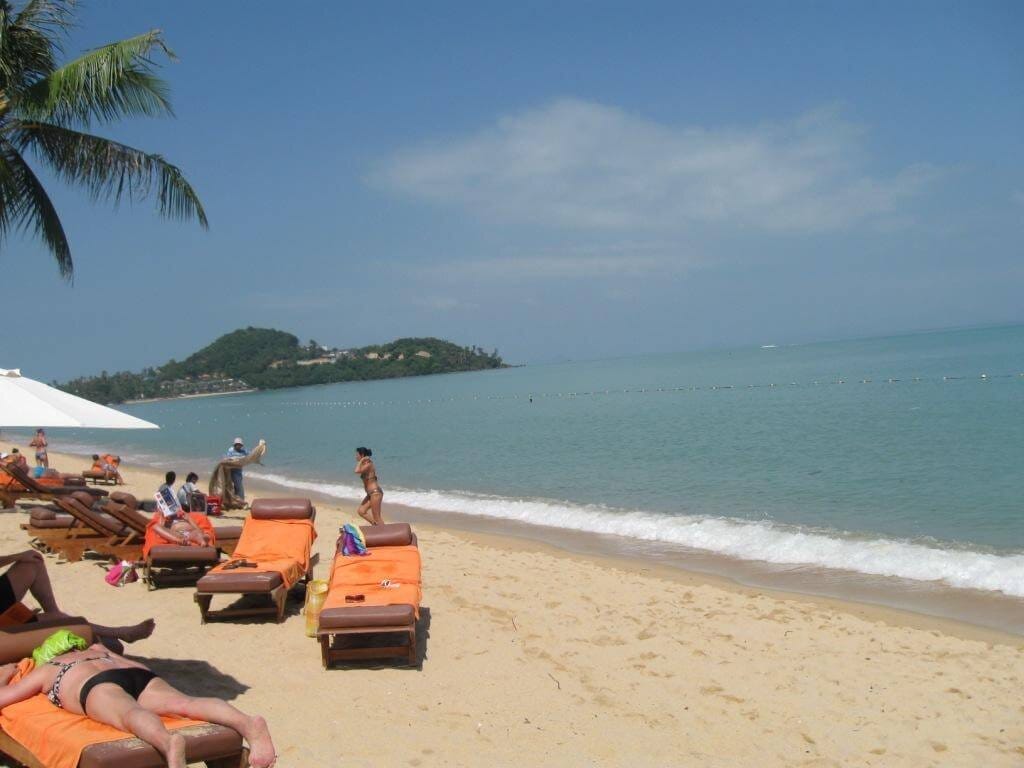 Then it's a casual stroll through the hotel's glorious gardens at the end of which is a bar and…the beach. Loungers supplied, clean sand, clear water, paradise was here! The room was fantastic, spacious, beautiful décor and very Thai. With Australian money the rate I paid in 2010, $100 a night which included breakfast, was very cheap when you look at the standard of the accommodation.
Correct Terminology
Slip! Slop! Slap! I was in the water in a flash. I don't know at what temp the Gulf of Thailand water usually runs to, but somewhere in the mid-20's might be an educated guess. While the beach was private, that didn't stop the hawkers from parading through there selling everything from flip flops (thongs) and sunglasses to a massage. This was my introduction to an aspect of SE Asia that, at times, became annoying. By the way, during my years of travel I have had to use the term 'flip flops' due to some funny misunderstandings I had with my US and Canadian friends when I referred to that particular footwear as 'thongs'.
Thai to German – Silly
My first evening in Samui saw me dine at a local German eatery where I had wiener schnitzel, a favourite of mine. That was my last western style meal as I later discovered Thai food. By the way, the food at the hotel, including the free breakfast, was just magnificent.
My Island Scooter Rides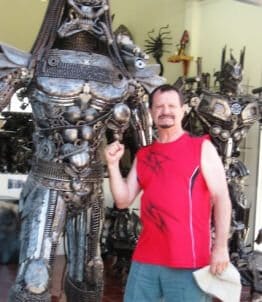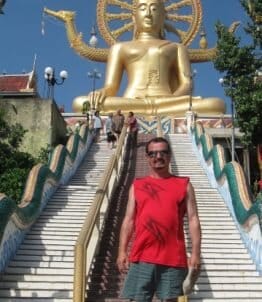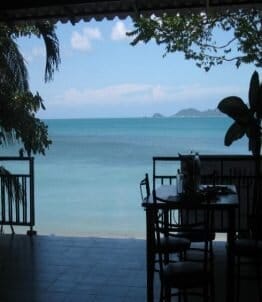 The next day I went and hired a scooter. I really needed to get around to see as much as possible. It was incredibly cheap at $7 a day. Helmet? No. shorts, t-shirt and thongs were all that were needed. The trip started at the Big Buddha, a 12-metre high statue that stands next to the Wat Phra Yai Temple and from which building the views over the island are somewhat grand. Tourist shops were many but I did stop and check out the Predator and Alien statues that had been created. They were rather special. Other places to visit were the Elephant Rock, the Vagina (Grandmother Rock) and Penis (Grandfather Rock) and a meal at a restaurant called 'Orgasmic'! On Samui, there are a couple of things to remember. There is always a place to eat and with over 1100 hotels on 220 square kilometres of island, always a place to stay.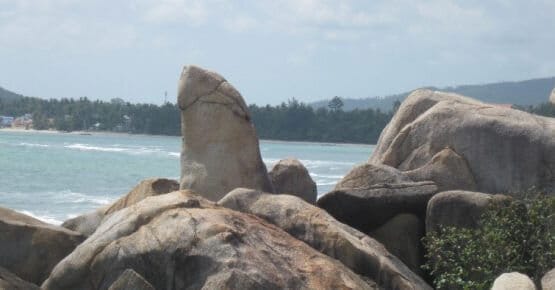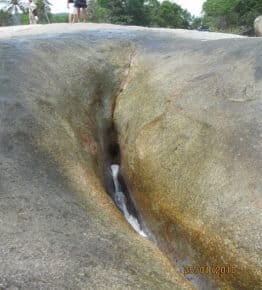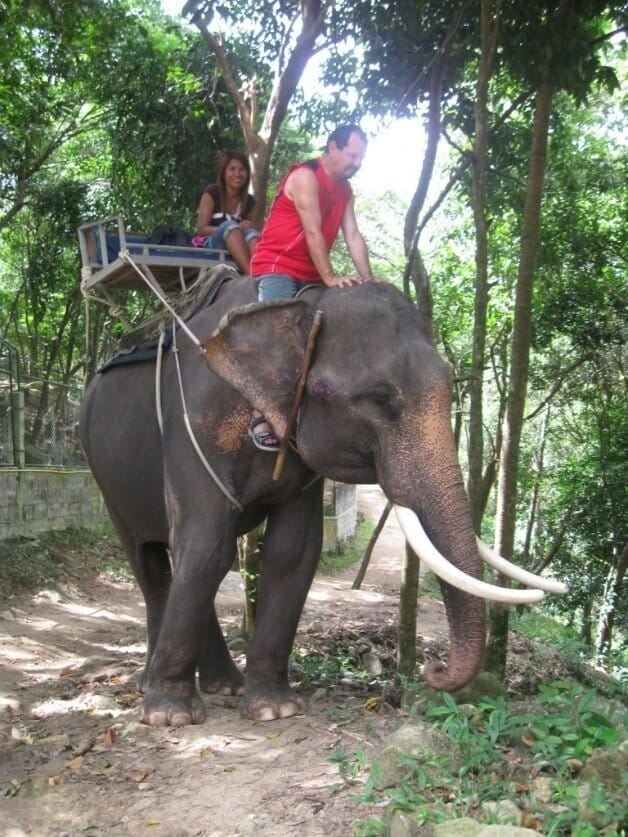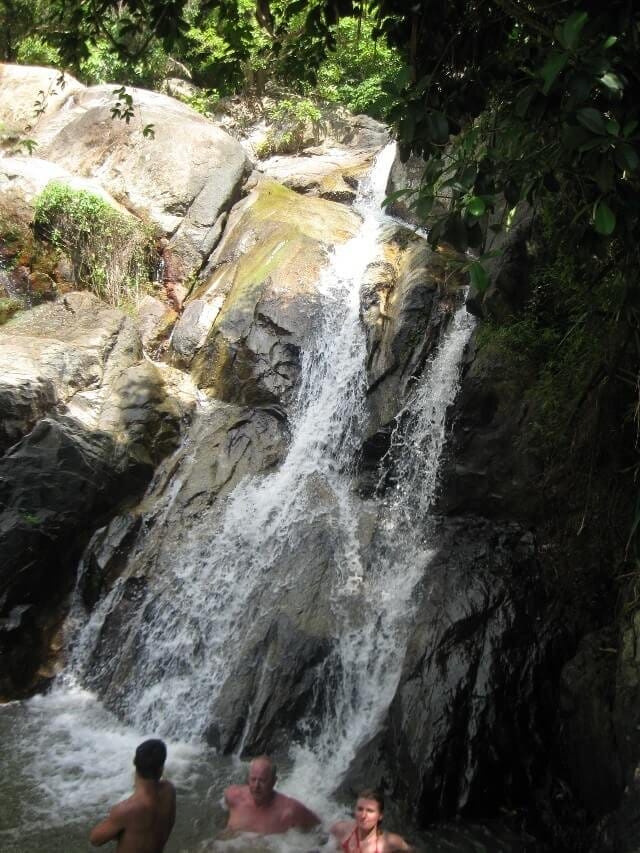 I did the elephant ride in the mountain area near Na Mueang Falls, the biggest waterfall on the island and a stunning spot. I might add that elephant rides were okay to do then, maybe not anymore, and they have possibly been stopped. My friend, a local, went underneath the elephant three times. It is supposed to bring you good luck. I guess it's good luck that the bugger didn't tread on you!
Touring the Island
When you are riding around on your scooter, there's a whole lot more to see and better places to stop. Some of the restaurants were not much more than shacks but built almost on the water. Eating there was a joint sensory effort of enjoying the gastronomic delights as well as the visual sights of ridiculously blue water and white sand beaches.
Traditional Thai Dancing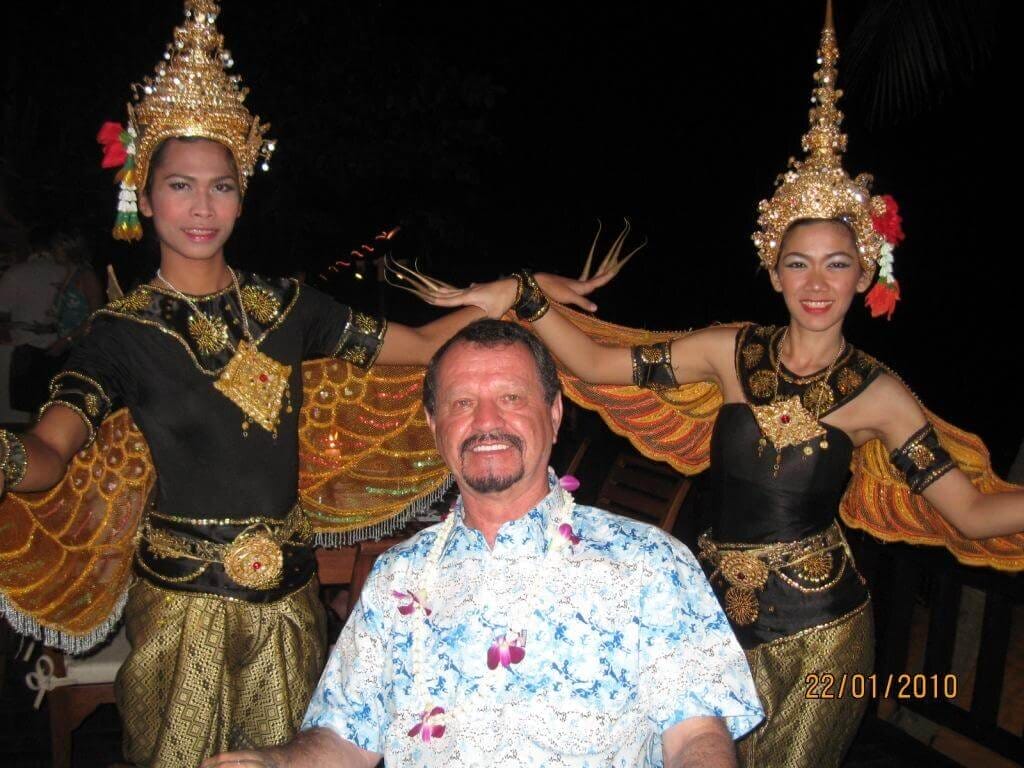 Bandara Resort had a Thai dance night along with the dinner. How could I miss that? In a way, it was beautiful with the costumes and the tradition of the story being told by the dancers' hands. I just couldn't work out why the dancers had to be guys dressed like women. Were the guys better dancers? Not many of the hotel guests turned up so there seemed to be an inordinate amount of attention shown in my direction. (To Be Continued)