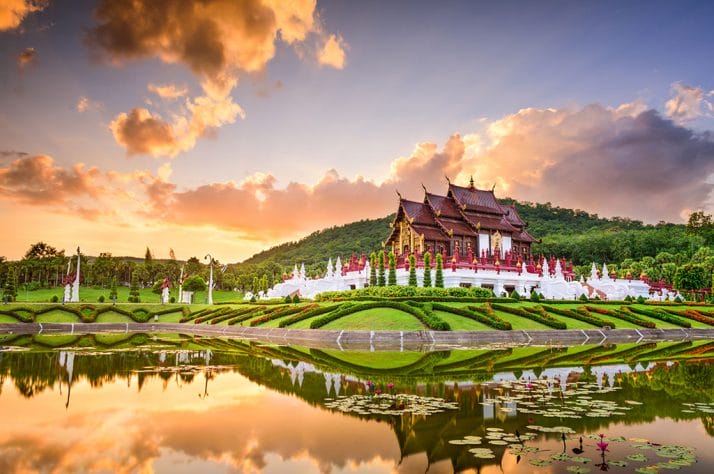 Northern Thailand offers a great diversity of interests, from ancient monuments and the markets of Chiang Mai, to the incredible mountains, rice fields and spectacular national parks.
Northern Thailand, home of the ancient Lanna kingdom, offers a great diversity of interests, from ancient monuments and museums, the markets of Chiang Mai and Chiang Rai, to the incredible mountains, forests (some of them teak), rice fields and spectacular national parks. Located 700 kilometres north of Bangkok, Chiang Mai, the 'Rose of the North', has numerous ancient Buddhist temples and other monuments within its city gates.
Close by are Wat Prathat Doi Suthep, one of the most revered Buddhist shrines in Northern Thailand. Major attractions on the thickly forested mountain of Doi Suthep include waterfalls, a Hmong village and the English-style gardens of Phuping Palace, the summer residence of the Royal Family.
Chiang Mai is Thailand's second most important city, the literal meaning of its name is 'new city' though it was founded back in the late 13th century. It is one of the world's largest centres of cottage industries and it is interesting to visit the numerous craftspeople making anything from jewellery to umbrellas and silks, using skills passed down through the generations. While the city is an ideal base for mountain treks, it is also well known for its excellent shopping, fine restaurants and accommodation. Compared to Bangkok, Chiang Mai's evenings are cool and conducive to strolling around the central night bazaar.
Pai has a fast-growing reputation as one of Northern Thailand's top beauty spots, and is popular with trekkers and lovers of mountain scenery. The town and surrounding area include amongst their population Lisu hill tribes, Muslims from Myanmar (Burma) and Yunnanese from China.
One of the most unusual sights in Mae Hong Son is the Padaung, or Karen, a hilltribe community farming rice, tea and tobacco. The women are distinguished by their long necks, lengthened from childhood by brass rings. The countryside east of Pai is famous for a seasonal phenomenon known as Thale Mok, or Sea of Mists, when from November to December mountain valleys fill with clouds and provide a spectacular sight in the early morning.
The far northern region of Chiang Rai is developing as a popular tourist destination for its spectacular geography. The area remains synonymous with the Golden Triangle, where Thailand, Laos and Myanmar meet, historically connected to the opium and heroin trades. There's much more to the area than this, however, with superb views, hilltribe villages and the historical towns of Chiang Saen and Chiang Khong.
Mae Sai is Thailand's northernmost town, separated from Myanmar only by a bridge. South of Mae Sai is Tham Luang, a large cave complex with crystals that change colour in the light. Further south are more caves, Tham Pum and Tham Pla, which have lakes inside.