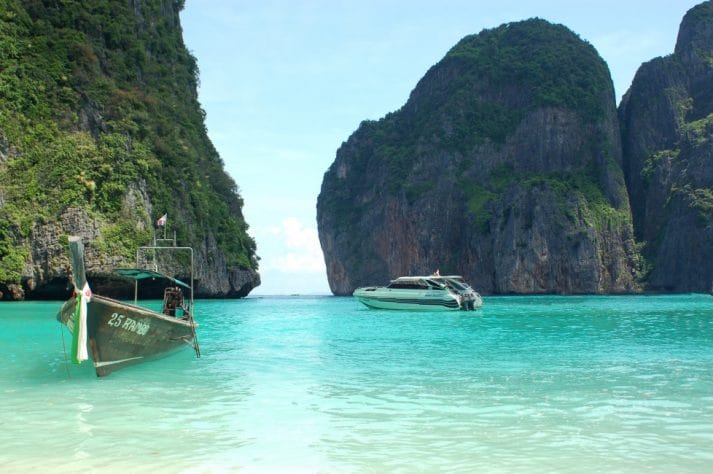 The region abounds in sandy beaches fringed with palm trees.
The narrow peninsula of southern Thailand stretches from the border of Myanmar to Malaysia. The region has a rich multi-cultural heritage, and abounds in sandy beaches fringed with palm trees.
Phuket is Thailand's largest island and one of the most popular holiday destinations in Southeast Asia with many traditional fishing villages transformed into holiday resorts. Longtail boats take visitors to sights such as the extraordinary limestone stacks of Phang-Nga Bay. Phuket Town is a perfect place to shop for truly unique gifts, as well as giving tourists the opportunity to see Thai and Chinese temples.
Covered in lush green hills and rice paddies, Phuket's major attractions include Karon, Kamala and Kalim beaches, as well as Patong Beach and Promthep Cape.
The clearest waters, best sand and most luxurious hotels are found on the west coast. Patong is the most densely developed resort while Karon and Kata are quieter.
Patong Beach owes its popularity to its easy access and long stretch of beach. Most of Phuket's evening entertainment is found here, as well as cheap shopping opportunities. Patong Beach is where Phuket's action is, and it is by far the most frequented destination on the island. It has several white sandy beaches and is packed with restaurants, hotels, bars and shops and is a great place to start your exploration of the surrounding areas.
Nature lovers won't want to miss Mai Khao Beach, where sea turtles lay their eggs between December and February. A visit to a pearl farm is also a popular day trip for tourists. Krabi, 180 kilometres from Phuket, is a small fishing town with an important role as the ferry connection point for islands such as Ko Lanta, Ko Phi Phi and the beaches around Ao Nang. Towering limestone outcrops have become the signature of the twin Phi Phi islands, and the challenging conditions attract rock climbers from around the world.
The beautiful paradise of Koh Samui is Thailand's third largest island. It has a forested hinterland of granite and limestone hills and a shoreline of world famous palm-fringed beaches. Koh Samui is the second most popular island destination in Thailand.
Chaweng Beach has a reputation as a hangout for the international party crowd while those looking for peace and quiet should try Mae Nam, Bo Phut and Big Buddha on the northern coast. Trang is a coastal province on the Indian Ocean that was the first area in Thailand to grow rubber, which is now a major part of the economy.
Hat Chao Mai Beach is of particular interest to tourists, and on offer are amazing experiences such as paddling on Phang-Nga Bay, allowing adventurers to explore a network of interesting caves and scenic deserted beaches.
Phang-Nga, located next to the Andaman Sea, has amazing natural beauty and offers breathtaking scenery and landscapes, with mountainous areas alongside forest and some wonderful islands and beaches. It has a charm of its own, without the hustle and bustle of Phuket, and is nestled amongst soaring mountains that rise up around the town.