Regarded by many as one of the best diving spots in the world, there's no denying the unprecedented underwater beauty of Fiji. From plunging down to the depths of sharks to capturing the enchantment of 10,000 square kilometres of coral reefs, Fiji certainly has a lot to offer both beginners and advanced divers.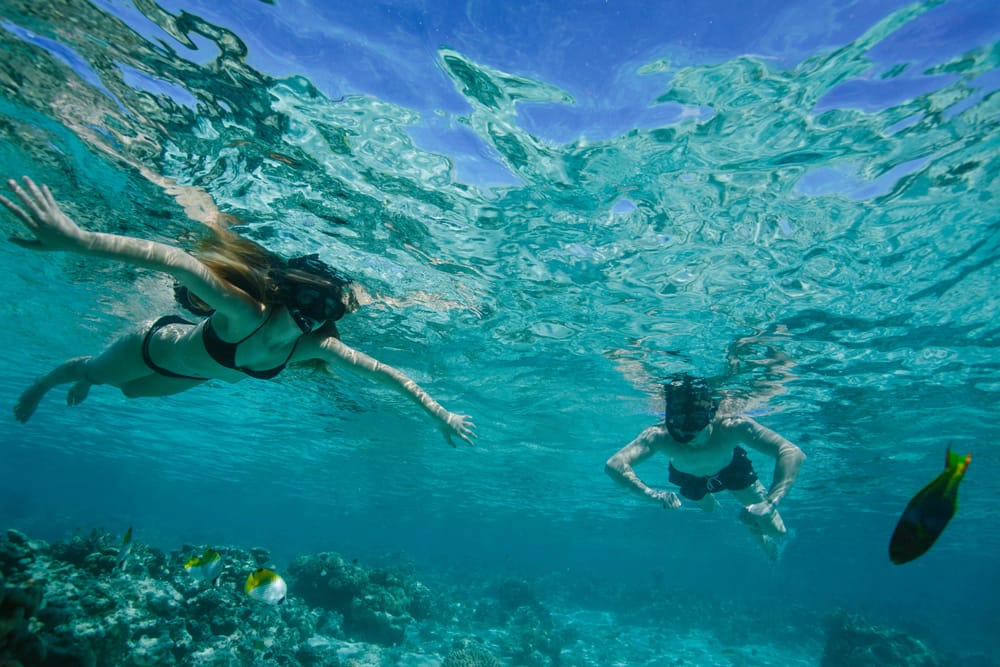 The Fijian archipelago boasts a magical underwater world of thriving marine life including five out of seven species of turtle, as many as twelve different species of sharks, as well as a colourful array of tropical fish and of course, the beautiful corals.
To help you organise your Fijan diving trip, we've collated some of the best diving spots throughout the islands. From caves, walls, caverns and soft coral reefs to shark dives and night dives, there's an experience for everyone.
1. Mantaray Island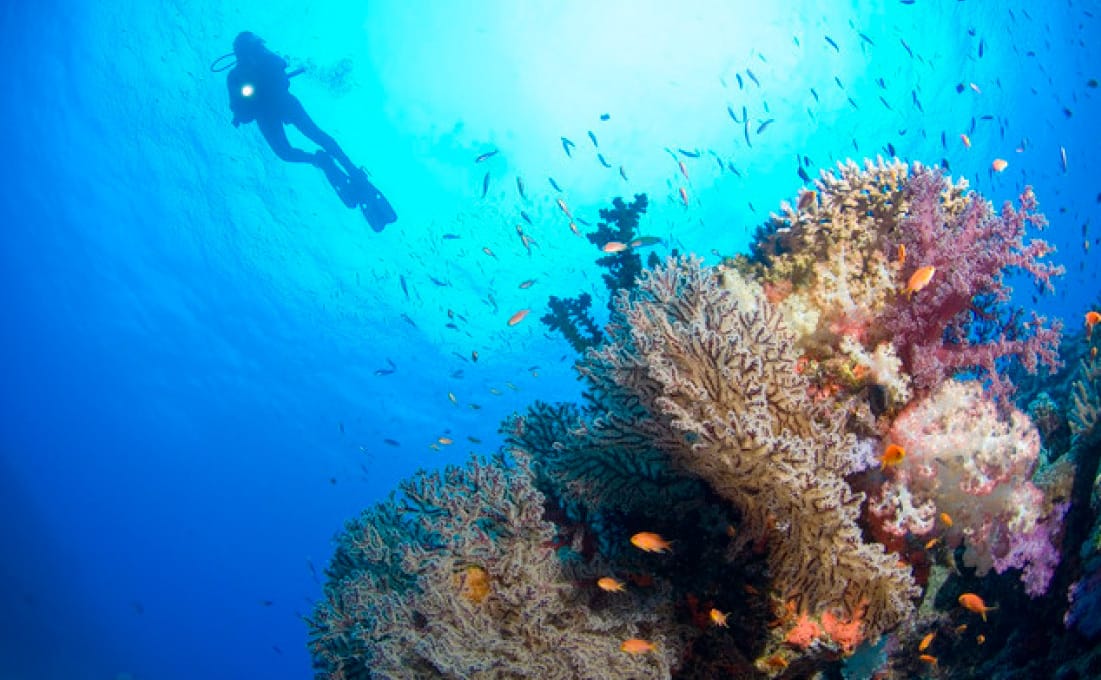 This wouldn't be a definitive list of the best diving spots in Fiji if it weren't to include Mantaray Island, located in the Yasawa Islands.
From May to October, this diving spot becomes densely populated with… you guessed it, the majestic manta ray. Great for beginners, snorkelers can access this site by walking off the beach where you are immediately on top of the Mantaray House Reef, home to over 200 species of colourful marine life. For diving, it's recommended to walk to the end of the resort and flow with the current north or south, so you're able to experience everything the site has to offer. You can even take a boat out further from the island to explore some more of Fiji's spellbinding diving spots with a highly experienced SSI dive team for the more adventurous divers out there.
What's on offer:
Shark dive with black tip, white tip, grey reef sharks and bull sharks

Freediving courses

Scuba diving and gain open water dive certificate

Manta dive

Night dives

23 to 30 degrees celsius
If you're basing your trip on navigating between the Yasawa Islands, Yasawa Island Resort & Spa is a heavenly choice. Exclusive and beautifully remote, it's a private paradise with amazing access to everything the islands have to offer, plus, there are plenty of scheduled activities, trips and tours already included in the package.
2. Shark Reef, Beqa Lagoon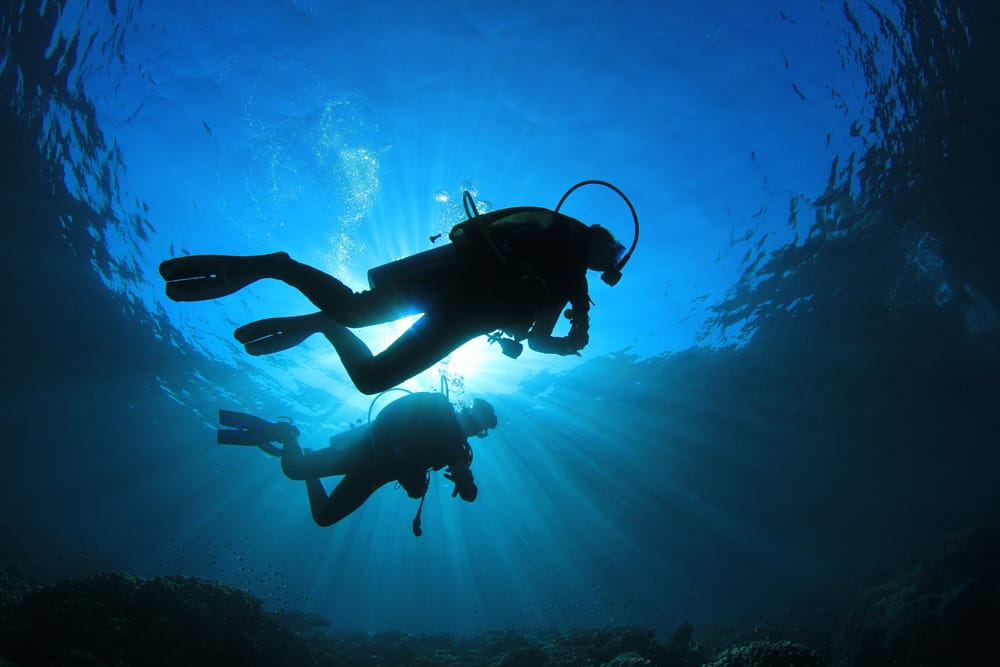 If you wish to explore the fascinating underwater habitats of sharks then the main island of Viti Levu, home to the Coral Coast, will place you within touching distance of these amazing animals. For the adrenaline seekers, there are several sites here where you can dive down deep, including the amazing shark feed dive at Shark Reef in Pacific Harbour's Beqa Lagoon. Since the area is protected from illegal fishing, you'll find an underwater realm blossoming with marine life, including eight species of shark and clear and calm waters all year round.
Whilst not for the faint-hearted, shark dives are perfectly safe, with the many feeding sites here sticking to strict feeding times and using a protective coral wall, as well as using signals and body language that has been put into practice for decades.
The guides of the dive take divers down to approximately 5-30m throughout the shark feed, where you'll see whitetip, blacktip, grey reef, bull and tiger sharks as they tuck in for their lunch.
What's on offer:
Intermediate – advanced diving site

Eight species of shark

5-30m depth

25 to 29 degrees celsius

there are plenty of scheduled activities, trips and tours already included in the package.
3. Mamanucas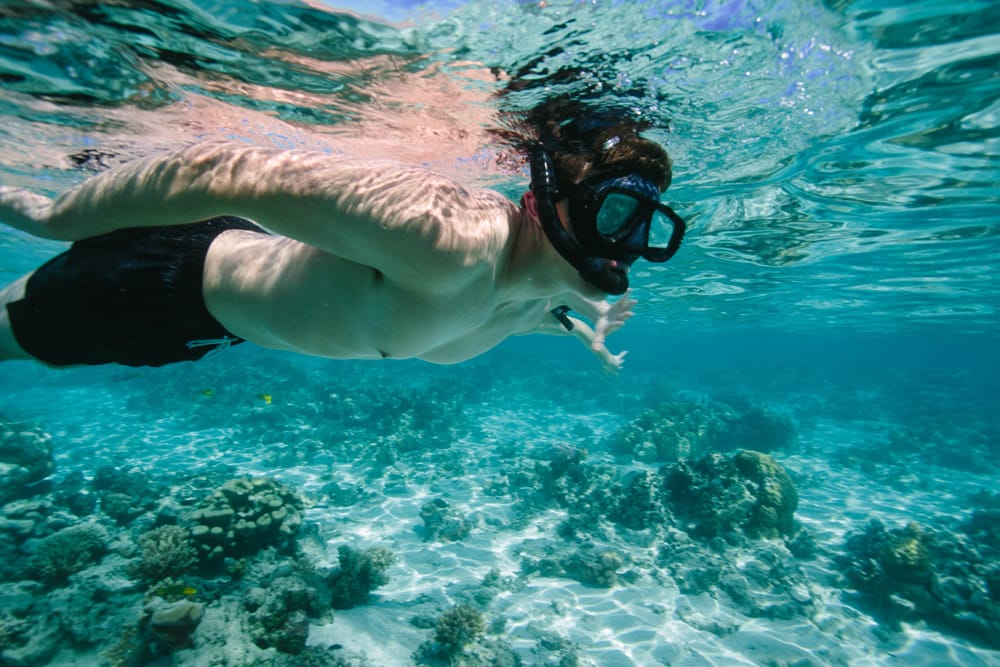 Located off of Viti Levu's west coast, the volcanic Mamanucas offer their fair share of Fijian activities, cultural delights and excursions for every member of the family. For those seeking more of an adventurous getaway, there are plenty of dive sites for both novice and advanced divers, with excellent visibility and considerably warm temperatures.
Namotu Wall
Brimming with schools of colourful fish, turtles and reef sharks, this dive site is perched on the edge of a 1000m drop off on the outer barrier reef. Due to the plunge, it is best reserved for experienced divers and offers an abundance of marine life and colourful photo opportunities.
Castaway Passage
Setting itself apart from the other dive sites in Fiji, the Castaway Passage is unique in its position, set at a break in the Barrier Reef, allowing large volumes of water to flow through, offering a continuous scene of marine life, including manta rays, sharks, marlin and other pelagic fish. It is said to play host to the unexpected!
Salamanda Shipwreck
Be transported back in time with a dive down to the depths of the SS Salamanda, a shipwreck measuring 40 metres that is now covered with anemones and soft corals. Be patient and you might see the crabs or shrimps come out from their hiding place for a glamorous photo or two. This is perfect for divers who like to capture atmospheric photos within the depths of the Pacific Ocean.
What's on offer:
Calm dive sites for novice divers

Numerous passages on the outer edges of the lagoon for advanced divers

9-30m depth

25 to 29 degrees celsius
Staying at Lomani Island Resort allows you to enjoy diving tours with Subsurface Fiji, a multi-award-winning, 5-star PADI diving company. Earn your certification or take your first underwater dive — whatever your level, the resort will organise dive trips to 44 dive sites throughout the Mamanuca Islands. The waters around the Lomani Island Resort offers the perfect calm and blissful environment from which to learn to scuba dive, as well as close proximity to the deeper, more adventurous waters for experienced divers.
4. Outer Navula Barrier Reef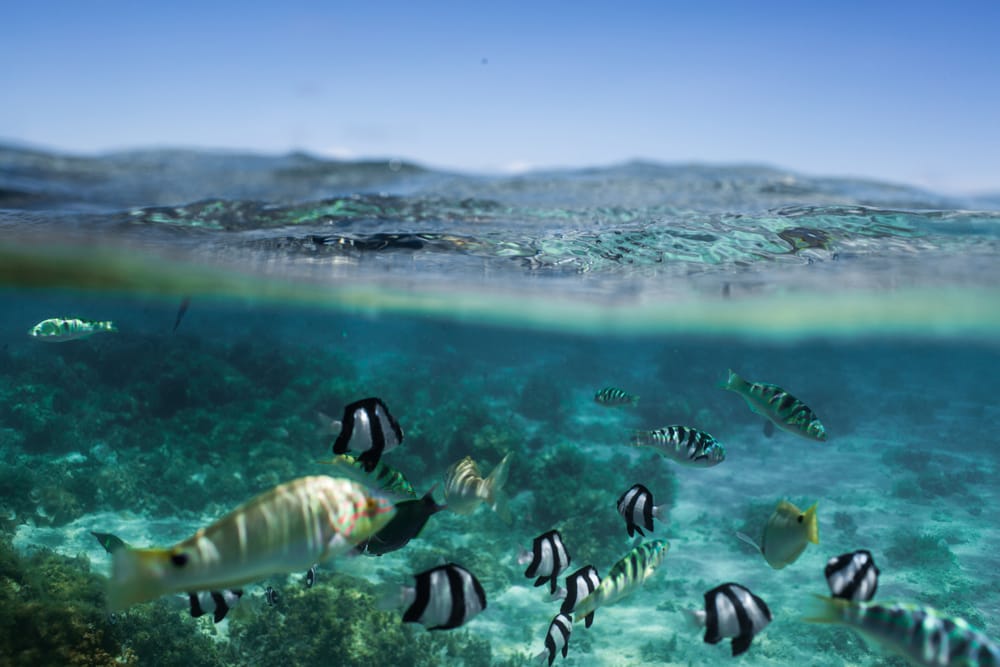 Proving less revered than its Fijian sisters, the Navula Barrier Reef nonetheless offers a wide variety of dive sites including wall dives, swim-throughs, caves, canyons and idyllic coral reefs. Headed up by the Scuba Bula Dive Centre, there are a range of sites catering for beginners as well as those with a larger number of dives under their belt.
The North Reef Fish Wonders
Offering a diving depth of 5-16 metres this site is perfect for beginners, photographers and those seeking a mesmerising night dive. Divers can expect an abundance of soft corals, an eighteenth-century anchor as well as large schools of red snappers and white tip reef sharks.
Cloudbreak
Fame for its amazing surf, this site also offers a great diving spot, Cloudbreak Wall, at a depth of 22 metres. Taken by the current, it offers a perfectly surreal yet relaxing drift dive along a hard coral wall covered in beautiful fan corals, notably offering divers a fantastic scene of turtles, eagle rays, manta rays and whale sharks.
The Rainbow Cascade
This site really is as magical as it sounds. At a depth of 30 metres, scuba dive down to a kaleidoscope of multicoloured soft corals hanging from the wall. This dive site is highly recommended for advanced divers as it does include a swim-through which exits mid way down a sheer wall. It's definitely worth it for the abundance of marine life that serenade this dive experience.
What's on offer:
Wide variety of diving sites from wall dives to caverns and swim-throughs

Depths from 5-16m to 50-54 metres

24 to 30 degrees celsius
The Fiji Marriott Resort at Momi Bay offers guests the reward of blissful seclusion whilst still boasting an array of fun activities and day tours. Staying in an overwater villa affords the opportunity to scuba-dive and snorkel directly in the shallow waters steps from your villa, which is great for beginners and younger divers. The resort is also situated in a prime location to take advantage of diving trips to the outer Navula Barrier Reef where the underwater world shines most brightly.
5. Great Astrolabe Reef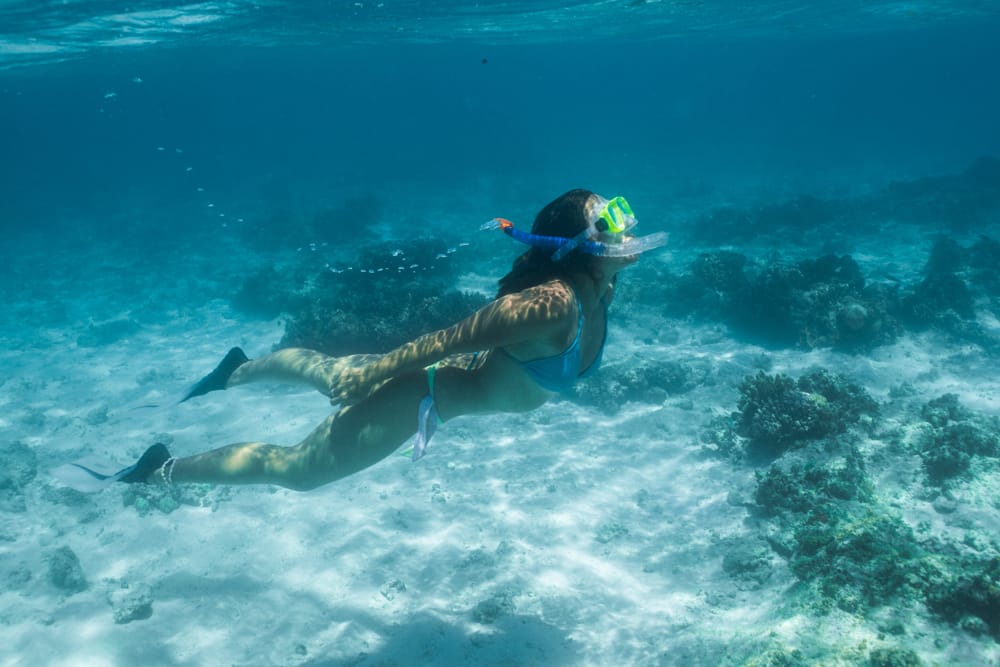 Taking the scuba-diving world by storm for decades, the Great Astrolabe Reef has blown away even the most advanced and experienced divers. Regarded as one of the world's top diving spots and the fourth largest, the diversity of marine life and coral structures is more varied here than anywhere in the archipelago. Located on Kadavu island, the 100km long diving expanse benefits from the fact that it is one of the least visited islands of Fiji.
Due to its remote nature, dive experiences are exceptionally clear and natural formations remain undisturbed. Decorating the striking underwater scenes, marine life spotted here includes reef sharks, manta rays, turtles, barracudas, hammerheads and many many species of fish.
Eagle Rock
Reigning supreme as one of the Great Astrolabe Reef's most famous dives, the site offers a mixture of pinnacles, narrow swim-throughs, rugged walls and rocky seabeds. As well as a display of eagle rays and large schools of fish, it is the beautiful hard corals that really make this diving site one to remember.
Alacrity Rocks
Offering a playground of misshapen arches, tunnels and basins, navigate the beauty of this site in something of an underwater obstacle course. The astonishing shadows of light as they filter through the darkness of the reef creates prime photo opportunities and an atmospheric dive to say the least.
What's on offer:
4-34m depth

Beginners to advanced divers

25 to 32 degrees celsius

Coral structures, reef sharks, manta rays, dolphins, turtles, whales
Located approximately 100km south of Suva, the largest metropolitan city in Fiji, it's the perfect base from which to soak up the beauty of the Great Astrolabe Reef and then return to the energy of this area of Fiji. The Grand Pacific Hotel is one of Suva's oldest residences, renowned for its range of dining options with six different venues.
If you're a diving enthusiast or you're eager to have your first diving experience, Fiji's offering of diving sites is vast and diverse — there really is something for every ability and every interest.