Asking around, I find a good handful of people have never heard of Guam, Micronesia. However, word of its uniqueness is beginning to spread. With a 17.1 percent visitor increase between 2015 and 2016, it seems people are starting to take notice. It's no surprise: Guam boasts a rich culture, gorgeous beaches, year-round tropical weather conditions and some of the most hospitable inhabitants in the world. You could call it a well-kept secret. What's so special? Well, here's to Guam: I'll break down the facts and figures to present you with 8 reasons why you should consider it for your next holiday!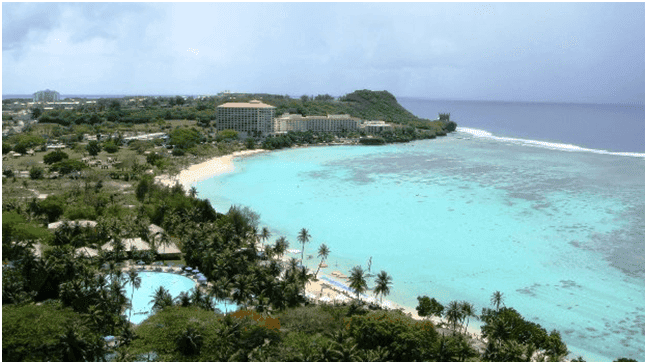 1. Prime Location:
Situated in the Western Pacific Ocean, Guam is the largest and southernmost island of the Mariana's, nestled above the equator and to the East of the Philippines. Did somebody say perfect weather conditions? Commonly referred to as 'America in Asia', it is actually a territory of the United States, having been the first Pacific Island to be discovered by Westerners. Occupied by the Spanish until 1898, but originally settled by the Chamorros 4,000 years ago, you can understand why it's multi-ethnic and brimming with culture and diversity.
2. Interesting Landscape:
Given its cozy seat above the equator, you can imagine how warm the water might be. Surrounded by coral reefs, an abundance of sea life reside just below the turquoise surface. The Mariana's (which make up part of Micronesia) are volcanic Islands, having come into existence as the Pacific plates moved. None of Guam's volcanos are active, though they make for a fascinating view. Throw in some waterfalls (Sigma and Talofofo Falls) and Caves (Pagat and Marbo) and you've got a lot to explore! Steep coastal cliff's in the north, combined with mountains in the south diversify the otherwise typically tropical appearance of the Island. White sand beaches are a-plenty. Tumon Bay is the most popular to visit, though secluded beaches can be found elsewhere across the Island's 544 km² radii. Meanwhile, Chamorro villages and ancient latte-stone pillars give insight to Guam's history.
3. Hospitable People:
"Hafa Adai!" is how you're greeted. Guam's indigenous Chamorro people are warm and welcoming, keen to share the gift of their island with visitors. Of mixed ancestry, and with the influences of multiple nations over the years Guam can be described as both modern (given its American ownership) and traditional. The prehistoric concept of "doing good for each other" (inafa'maolek) is a constant and is evident in the respect and sense of community displayed in Chamorro culture. What better place to visit than one where you're made to feel you belong?4.
4. Unique and Complex Culture
Guam has a contentious and diverse colonial history, between the Spanish-American wars that saw America capture Guam, and the temporary occupation by the Japanese in WW2. You'll capture a sense of this whilst there. Generally, the culture reflects the traditional Chamorro customs, where dance, songs, games, fashion and the language are all individually a unique experience. The locals have big hearts, yet also know how to throw a party! Each of Guam's 19 villages throws an annual 'village fiesta', and will happily include visitors. Meanwhile, some places – such as the basically- untouched village of Inarajan and the coastal village of Umatac – give an authentic taste of Guam's history.
5. Delicious Food
Being the diverse hub that it is, Guam specializes in local and international cuisines. Nonetheless, it's a place where you'll want to dine like the locals. Chamorro food has clear Spanish and Mexican influences, a favorite being 'kelaguen': a combination of lemon, onion, hot peppers, salt and grated coconut used to season seafood and meats.
6. Activities For All Types
Depending on how you want to experience the culture, a multitude of activities await. Hiking (referred to as 'bonnie stomping' by the locals) is a brilliant means of enjoying Guam's landscape. For those willing to explore the tropical waters you can snorkel and scuba dive. Alternatively, parasailing will enable you to enjoy the ocean from a birds-eye perspective. Guam is celebrated for its shopping, whether at duty-free stalls or the culturally rich local markets. Chamorro Villages are a must, featuring local dishes and dancing. Lina'La Beach and Culture Fair is another means by which the Chamorro people demonstrate their culture. If history is your thing, WW2 museums and national parks will give you insight. There is much to see and do on Guam. Yet if none of the above are of interest, then who can resist relaxing on one of Guam's pristine beaches?!
7. Luxurious Resorts
Guam hosts a quality selection of comfortable first-rate resorts. Tumon Bay is the main place visitors accommodate, given the accessibility of the airport and top destinations. The exotic capital, Hagatna, is nearby. Here, beautiful beachside resorts such as the more boutique Fiesta Resort Guam and the deluxe Hyatt Regency can be found.
Check out these hotels in Guam
8. Glorious Sunsets
I cannot go without gushing about Guam's spectacular sunsets. "Red at night, shepherds delight." You'll see such majesty every evening, thanks to the perfect weather!
Romantics: look out! Proposals and weddings aren't uncommon on this Pacific Island gateway. Alternatively, if you're in the right place, live music may just accompany the view, popping the cherry on top of an inevitably unforgettable day.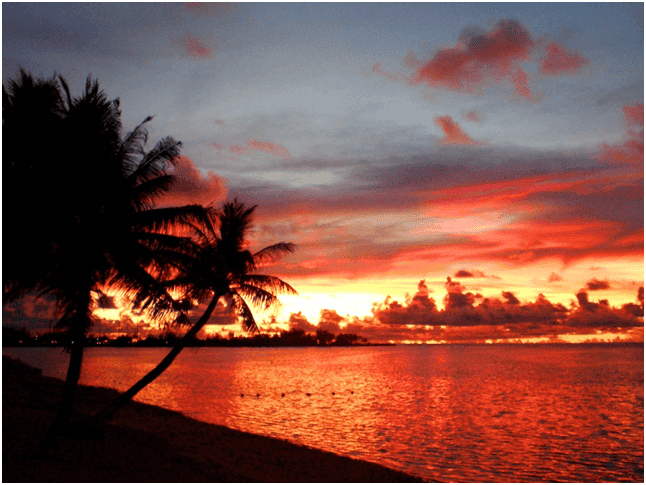 Getting around Guam
Buses and trolleys provide affordable transport around Guam, connecting most major hotels to shopping centres and districts. It is also easy to grab a metered taxi with a cheap starting flag rate of US$2.40. Taxi fares increase by US$4 for the first mile and with increments of S$0.80 per subsequent mile.
Currency in Guam
The legal tender in Guam is the U.S. Dollar.
Entry Requirements
US citizens are generally allowed to enter Guam and re-enter the US with a valid US photo ID card, though passports are recommended.
Guam's entry requirements make concessions for the US Visa Waiver Program (VWP). Citizens or nationals of VWP Designated Countries may travel to Guam without a visa for the purpose of pleasure, for a period of 90 days or less, with prior approval obtained from the Electronic System for Travel Authorization (ESTA) and with qualifying travel arrangements and supporting documentation
Visitors to Guam are recommended to hold a valid passport/travel document with minimum validity of six months beyond the period of intended stay. Visa requirements vary for different countries of origin.