HOW TO GET TO PALAU
---
Going To Palau
Flights to Palau land at Airai, or Palau International Airport, which serves direct flights from Babeldaob to Guam, Seoul, Taipei and Manila.  Chartered flights are available through various operators. A cruise to Palau would call at Malakal Harbour on the island of Malakal.
---
Where is Palau on the map?
Palau is here on the map.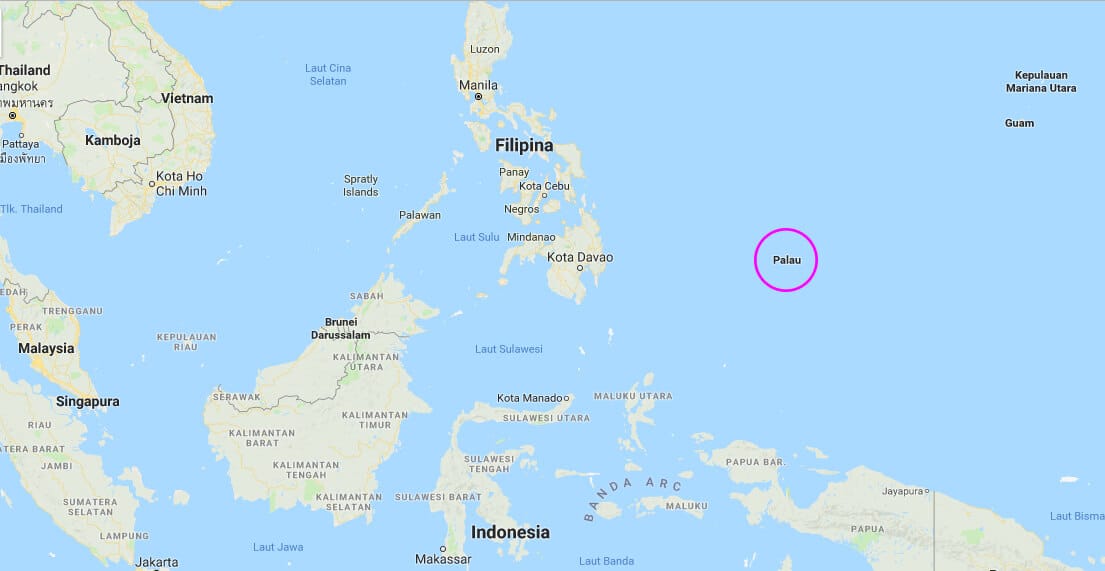 ---
Accommodations in Palau
Palau offers plenty of accommodation options, no matter whether you intend to save or splurge. Palau hotels and resorts can be found in Koror, where you can find budget to luxury options with private views of the beach.  For a more homely, minimalist vibe, consider home stays or guest lodges that provide meals on your request. Some of these may not be near or within Koror and may be booked through holiday packages from dive shops.
Check out these accommodations in Palau
---
Where to eat in Palau
Dine at Palau's Elilai Restaurant, serving Pacific Rim cuisine complemented by breathtaking views.
Situated atop a hillside in Ngerkebesang Island with an uninterrupted view of the lagoon and the west side of Babeldaob, Elilai Restaurant is just minutes from downtown Koror.
The restaurant offers a well-balanced menu featuring exquisite Pacific Rim cuisine prepared with fresh local ingredients including Palau's renowned seafood and organic greens sourced from local farms.
Enjoy fresh fish, crab, grilled steaks, hand made pasta and homemade desserts accompanied by a vast selection of fine wines, signature cocktails and the largest beer selection on the island.
There's a complimentary shuttle to and from the restaurant and you can book here.
---
Getting around in Palau
Palau has no railways and not all its highways are paved. Nonetheless, Koror is easily navigable by bus and cab. Taxis are common but not metered, so do check the rates and prepare to negotiate with your driver if necessary.
Car rentals in Palau are also available so do note that driving is on the right. Private boats and domestic airlines serve as the main modes of transportation for travelling between islands.
---
Palau's Currency
The US Dollar is used as the official currency and many hotels and tourist facilities allow limited foreign currency exchange. It is also worth noting that tipping is optional but appreciated.
---
Entry Requirements
Ensure your passport has at least 6 months of validity period.
Visas are not required for tourists visiting 1 year or less.
For more information on the entry requirements to Palau click here.
---
Palau Weather & Climate
With an annual average temperature of 27°C, Palau's tropical warmth is part of its appeal. Rainfall occurs intermittently throughout the year but more so during the July to October period.
Typhoons are rare due to Palau being outside the typhoon zone.
For more information contact
Palau Visitors Authority
Address: PO Box 256, Koror, PW 96940
Phone: +680-488-2793/1930
Email: [email protected]
Website: www.pristineparadisepalau.com
Fax: +680-488-1453
---