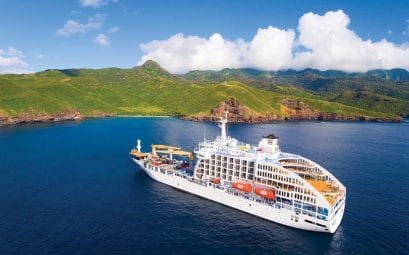 For a special occasion, it's hard to go past in Tahiti. Indeed when author James Michener entered Moorea's Cook's Bay, surrounded by dramatic mountain peaks, he said the scene was exactly what he had in mind when he "invented" Bali Hai, a special island, immortalised in the musical South Pacific. Moorea was featured in the film as was Bora Bora.
And the famous tagline "Tahiti looks nice" for an Australian TV commercial promoting luxury soap was visual short-hand for evoking how this French Polynesian island group had become the dream holiday location; how Tahiti is now close to the top of the bucket list for many.
Fortunately, getting to this exotic destination these days is less a pipe dream and a far easier reality. From Australia, your Tahiti holiday starts with almost direct flights with one stop or two short stops (around one hour) in New Zealand; Air Tahiti Nui as well as Air New Zealand with Virgin Australia and Qantas will take you there. Direct flights also connect Tahiti to other major destinations including Los Angeles, Paris, Honolulu, Tokyo, Rarotonga, Easter Island and Nouméa.
You can easily fly here but why not enjoy a different taste of luxury? Cruise away to this island paradise. No need to worry about transfers or the hassle of moving rooms! Cruise coral-fringed lagoons and snorkel, swim or relax in the warm tropical waters, all at your own leisure.
Explore the natural wonders of Tahiti as well as its fascinating culture in comfort on, for example, Aranui Cruises. Aranui 5 cruises to nine islands around Tahiti with 17 ports of call on the 14-day voyage. The 103 comfortable cabins and suites all have en suites and air-conditioning while the new vessel's many deluxe cabins also feature a private balcony. A tip – for those looking for an economical option for their Tahiti holidays, shared dormitory style cabins are also available.
Spread over eight decks, the casual dining restaurant uses local fresh produce to create tasty dishes. Kick back and chillax in one of four bars, the lounge or library. Activities include dance classes as well as history, art and culture presentations. Relax and cruise away your cares!
Whether you opt to indulge your Tahitian holiday by staying at a motu or explore by cruising the sea, you'll first arrive at Tahiti's international airport. The Faa'a International Airport is located on Tahiti Island, 5km from Tahiti's capital of Papeete. In addition, domestic carrier Air Tahiti transports passengers to around 40 local destinations, including popular choices of Raiatea/Rangiroa, Huahine, and Bora Bora.
Fifty shades of blue
It's on Bora Bora that the tropical island fantasy and ideal Tahiti holiday greets you. An almost surreal-looking tranquil lagoon glows many shades of blue, protected by an amazing coral reef. This oasis, encircled by more than 30 small islands with dozens of overwater resort bungalows, in turn surround the classic, cloud-shrouded volcanic peak of Mount Otemanu.
Perfection describes the weather! Plenty of sunshine blesses Tahiti throughout the year with just enough rain to keep the vegetation lush and the exotic flowers colourful. The same ones that grace artists' canvases – and feature in the traditional leis that greet you on arrival for your Tahiti holiday. With temperatures from 24 to 30 degrees Celsius and surrounding waters of around the same blissful warmth, the whole of Tahiti is a fabulous outdoor tropical spa!
For an indulgence and special occasion, it's hard to go past the Intercontinental group of hotels. With spectacular views of Mount Otemanu, the five star InterContinental Bora Bora Resort & Thalasso Spa has elegant, luxurious overwater villas, lush tropical gardens and offers a choice of water sports and activities. Being eco-friendly, deep-sea water is used in its air-conditioning system for cooling. From the same nearby South Pacific deep-sea waters, nutrients are created and used in the resort's Deep Ocean Spa – Tahiti's first seawater therapy spa.
Want a four-star Bora Bora option for your Tahiti holiday? Near a gorgeous beach is the InterContinental's Le Moana Resort with stylish overwater bungalows extending over the turquoise lagoon.
If you're a nature lover, over on Moorea in a sheltered bay between the mountains and the sea is the InterContinental Moorea Resort & Spa. Among 18 hectares of lush, unspoiled scenery featuring over 200 plant and tree species, spacious bungalow are set. Want to be pampered? Why not? That's what a Tahiti holiday is all about! Indulge yourself at the original Tahiti spa, the renowned Hélène Spa. Also there's an exciting choice of restaurants, bars and boutiques. For kids and adventurous big kids, there's the Moorea Dolphin Centre, a turtle care centre, a dive centre, and water sports facilities.
Want to be closer to town and shopping but still indulge in the Tahiti holiday fairy tale? Your answer is the four-star InterContinental Tahiti Resort & Spa! In Papeete on Tahiti's main island, this resort is only two kilometres from the airport and city shopping. Showcasing a lush 25-hectare tropical garden, a choice of overwater bungalows, lagoon-view and garden-view rooms, the  premium accommodation offers panoramic views over sparkling ocean and stunning Moorea.
Looking for authentic souvenirs? Well, speaking of Papeete, you need to drop by its municipal market, Le Marché. Open daily from 7.30am to 6pm (Sundays until 9am), this is the place for local Tahitian products and produce. Woven hats, shell necklaces and baskets are sold on the ground floor. Go upstairs and you'll find pareos, carvings, quilts, and other handicrafts.
If you're feeling hungry, not far is Vai'ete Square. Famous for informal dining, colourful food wagons serve favourite local island dishes as well as French and Chinese cuisine.
Want to get a fabulous overview of Tahiti holiday highlights? Take a circle-island tour! Popular for over 100 years, the route covers over 114km of stunning coastline and cliffs with tranquil beaches. Famous stops include waterfalls, lookouts and fascinating heritage sites.
So follow in the footsteps of artist Paul Gauguin and writer Robert Louis Stevenson, experience the relaxed Polynesian way of life and enjoy the vacation of a lifetime. The ultimate exotic getaway, a Tahiti holiday is a perfect romantic destination as well as a tropical visual feast.