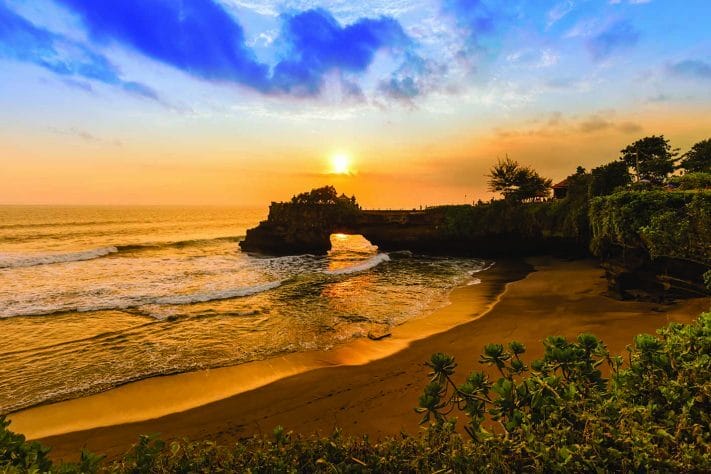 — Seminyak & Canggu —
With its central location, burgeoning nightlife and accessibility to major tourist attractions, this area is a perfect alternative to Kuta.
To the north of Kuta and Legian, are stylish Seminyak and Canggu. There are no shortage of villas between Seminyak and Canggu luxe villas paired with five-star services and facilities offering you your own private piece of paradise.
Seminyak
Seminyak, has a reputation among tourists for being more sophisticated and having a more stylish nightlife than Kuta. The shopping centres and busy streets of Kuta are just 15 minutes to the south, and the more rural area of Canggu is just a 25-minute drive to the north.
Seminyak has also become extremely popular for its wide range of world-class restaurants featuring all cuisines and eateries lining the beach. The multitude of upmarket boutiques, galleries, shops and markets make for fascinating shopping trips.
Seminyak has become the luxury spa destination in Bali. By local standards, treatments may seem expensive but are probably half the price, or less, than you would pay at home. Most hotels offer an in-house service and in-villa treatments are widely available.
Canggu
Further north of Seminyak is Canggu that is widely used to refer to the eight-kilometre coastal stretch running north from the village of Berawa, just north of Seminyak, to the village of Cemagi, just south of Tanah Lot.
The once rural farmland full of green rice paddy fields is now packed with luxury villas, yoga studios, boutiques, cafes, restaurants and beach clubs. Its beaches draw in surfers from all around the world. Most of the action can be found near Batu Bolong, a beach best known for its longboard-friendly break and Old Man's, a lively beer garden and surf club.
Just north of Canngu, one of Bali's most important temples can be found. Over thousands of years, the tiny island of Tanah Lot was gradually formed as a result of erosion by ocean tides. Surprisingly modest, it comprises of two shrines with tiered roofs, two pavilions and a few small buildings. Access down to the temple is through a sideshow alley of souvenir shops and market stalls. It is a highly spiritual place, and visitors will often see people making the trip to meditate nearby or walking to the water in order to receive the ministrations of priests.