There are a lot of rice terraces in Asia, but the Philippine Cordilleras is a unique World Heritage Site that should be on any serious traveller's bucket list.
The Cordillera Central is located on the Filipino island of Luzon.  Its dramatic mountain ranges span slopes of 70 degrees and altitudes of 1,500 metres, and offer world-class hiking trails.
The region comprises four rice terraces.  There's Banaue (Batad and Bangaan), Mayoyao,  Klangan (Nagacadan), and Hungduan.
Let's check them out in turn…
---
So, why Banaue?
The unique experience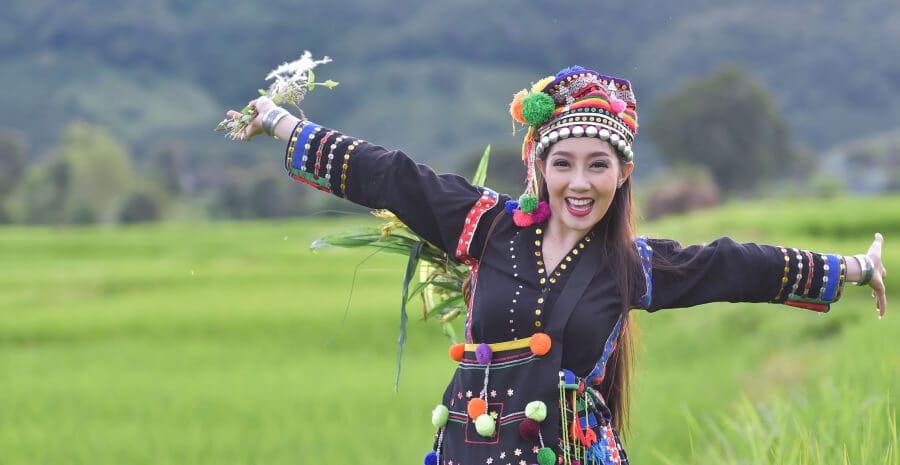 Home to just over 20,000 people, Banaue is a small municipality in the Ifugao province of the Philippines.
Here, we find the tiny remote village of Batad.
Batad has been a UNESCO World Heritage Site since 1995, honoured for its rice terraces of between two and six thousand years old.
The village has a population of around 1,500, and it is not easy to get to. But it's so worth the effort.
---
The freedom
Batad is remote.
This little village is very much cut off from the world.  There is no internet access and no mobile phone reception.
You will find no tarmacked roads or motorised vehicles.  The last few kilometres of your journey there will be by foot, on muddy lanes.
And there are no banks or ATMs.  So, be aware: you will need to take enough cash to keep you going for the length of the stay.
A night in Batad is an unparalleled opportunity to unwind in a genuinely breath-taking landscape.  This is real isolation and the perfect place to disconnect.
---
The hiking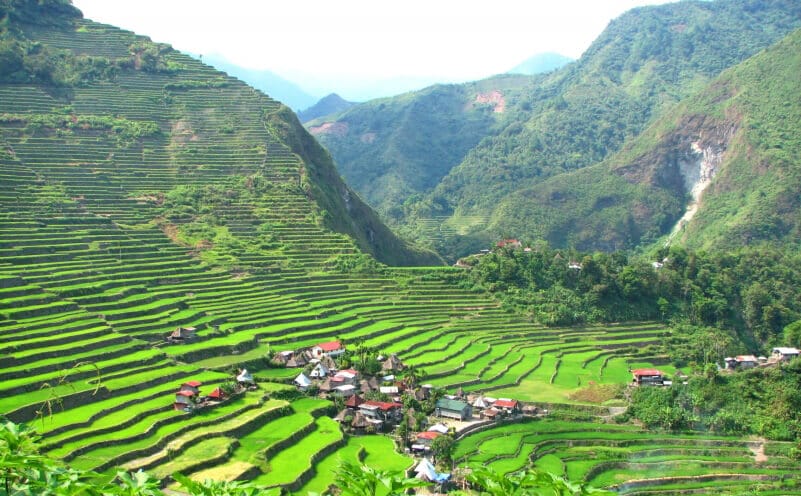 The hiking in Batad is world-class.  It's also demanding and exhilarating, so think ahead and be well prepared.
Get a tour guide.  They aren't expensive, especially if you're sharing the cost with a group of fellow travellers.  Some of the treks are tricky to navigate, and there are always risks and potential dangers.  But a guide will keep you safe and ensure you're back at your lodgings before dark.
A local guide will also have local knowledge that you just can't find in the books.
And of course, hiring someone from the area helps give something back to the community.
You will want to be at peak fitness to make the most of your time in Batad. It's steep steps and muddy trails all the way.  The hikes are hard, but even navigating the village itself can be a challenge.
Invest in a walking stick and get some cardio in before you arrive.
One of the most popular hikes is up to the Tappiya Waterfalls.  At around 1.5 hours each way from Ramon's Homestay, the walk is fairly easy and requires only a moderate fitness level.  If you set off by 2.00 pm, you should be there and back before it gets dark.
You could easily find Tappiya Waterfalls on your own, so you don't need help.  There are some risks though, which obviously adds to the adventure, so you might want to hire a guide.  That will cost you about 600 PHP for a group of four hikers (maximum).
Check out some photos of Tappiya Waterfalls in Batad here, and find more useful information about the trek.
The Awa View Deck is another popular hiking destination.  The Awa View Deck is a passage is about two hours from Ramon's Homestay, used by locals to get between Batad and Sitio Patpat.  Set off no later than 1.00 pm to make sure you're back before dark.
The views of the village from the top of the Awa View Deck are breath-taking, but you will need to be in excellent shape to get up there.
Guides are available for around 800 PHP for a group of four hikers.
---
The cost
Batad is an inexpensive destination.  A solo traveller staying just one night won't need more than 3,500 PHP.  That breaks down as,
1,350 for travel
250 for accommodation
500 for food and drinks
1,400 for tour guides.
The fixed cost of a tour guide makes it much cheaper to travel in a group.  So, for two of you, for example, you'd need just 2,525 PHP each.  And the bigger the group, the lower the rates.
---
Ok, I'm sold.  How do I get to Batad?
Getting to Batad is not any kind of stroll, but it's an adventure.  See the map below for an overview of the region.
So, first: getting to Banaue.
To Banaue from Manila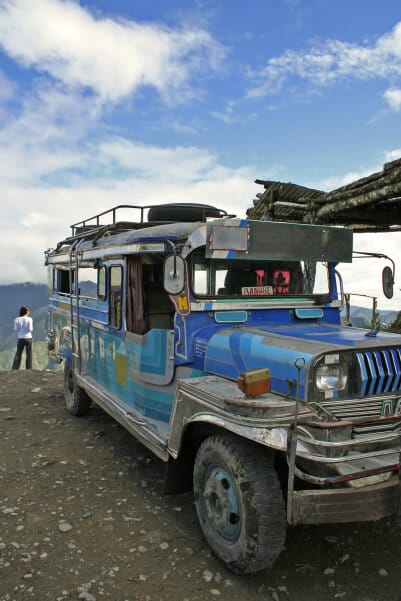 You'll take the overnight Ohayami Trans bus from Manila to Banaue.  You can use either Ohayami Trans or 12Go Asia for information, timetables, and to make reservations.  A ticket will cost you 490 PHP each way.
It's a very good idea to book in advance because the buses can get busy, especially during popular tourist seasons, and there are only one or two per day.
The bus leaves the Ohayami station, near UST (Lacson Avenue cor. Fajardo Street), at 9.00 pm or 10.00 pm.  The journey takes nine or ten hours in total, and you should arrive between 6.00 am and 8.00 am the next day.
During the off-peak season, the bus from Banaue to Manila leaves at 7.00 pm and arrives at 5.00 am.  At peak season, there's an extra bus at 6.30 pm.
---
To Banaue from Sagada
Sagada is a province away, so a lot of visitors will organise their itineraries to allow to visit both.  This is a very good idea, but the journey is a little trickier.
You will catch a public jeepney from Sagada to Bontoc.  They run every half an hour between 6.30 am and 9.00 am, and hourly between 9.00 am and 1.00 pm.  They cost just 45 PHP.  The journey should take you about 40 minutes.
From Bontoc, you will travel by van to Banaue.  This will take you about 1.5 hours.  There are three per day, and they leave the tourism office at 8.30 am, 10.00 am and 1.00 pm.  Tickets cost about 150 PHP.
You can find a Sagada Travel Guide here with information on travelling back from Banaue.
---
To Banaue from Bontoc
There is also a bus that goes directly from Bontoc to Banaue.  At 150 PHP, it costs the same as the van, but there are only two trips per day.  They leave at 7.00 am and 9.00 am, so may not suit your schedule.
And now, this is where we leave the beaten path…
---
From Banaue to Batad
Once you arrive in Banaue, your first stop will be the tourism office.  You will need to register here, and then pay an environmental fee of 20 PHP.
Saddle is the closest you can get to Batad by road, and you'll travel there by jeepney or tricycle.
If you're travelling in a group, you might want to look into hiring a jeep to get to Saddle.  They're 1,500 PHP each way, but fit up to 20 people, so a big saving if you're a big group.
From Saddle, you will have a bracing 20-minute trek down to Batad village.
And on arrival in Batad, you will be required to pay a further 50 PHP for another environmental fee.
To get back to Saddle the next day, there is a public jeep that goes from Banaue twice daily.  You will need to do some investigation to find out the timetable and departure point though.  Tickets cost 150 PHP.
Or, you could rent a tricycle for the journey.  They cost 150 PHP and accommodate up to three people, so they're cheap.  But granted, they're not the most comfortable means of transport…
Tricycles and jeeps can both be booked in advance, and you can arrange to have them meet you in Saddle for your return journey.
If you fancy seriously testing your limits, there is also an option to walk.  You should take the public jeep to Bangaan or Mayoyao.  Go as far as Batad Junction.  From there you will have an intense six-kilometre hike.  Half uphill and half down, and all muddy trails.  Be warned: it's very tough.  You might prefer to conserve your strength for Tappiya Waterfalls later in the day.
---
And once I get to Batad?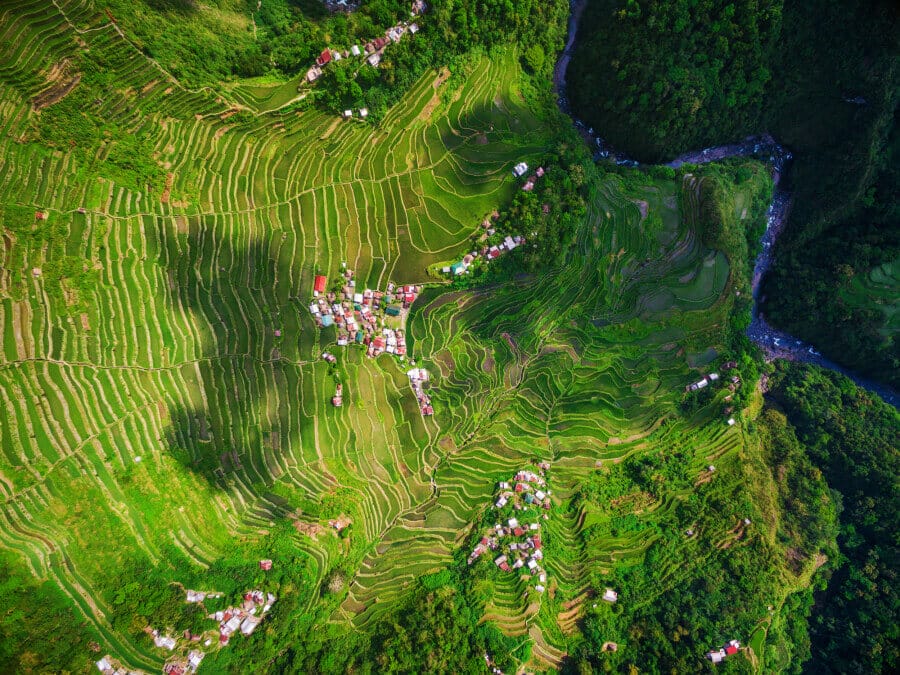 Assuming you're only staying for one night, you need to get started straightaway.
You'll arrive in Banaue at about 7.00 am, in time for breakfast at 8.00 am.  At 9.00 am, you'll leave for Saddle by jeep or tricycle, and then trek from there to your inn.  You can take a couple of hours there to relax and conserve some energy for the afternoon's activities.
After a midday lunch, you can set out for Tappiya Waterfalls at 1.00 pm, and be back in time for dinner, followed by an early night, at 6.00 pm.
On day two, start with an early breakfast and then leave for Awa View Deck at 8.00 am.  You should be back in time for lunch at 1.00 pm, and check-out at 2.00 pm.
You will be trekking back up to Saddle, where you can hire a jeep or tricycle to get you back to Banaue.
---
When is the best time of year to go?
Batad has fairly mild weather all year round, with temperatures in the region of 75°F (24°C).
You will find real variation in the scenery and the rice terraces in the different seasons though, so plan ahead.  Do some research into planting and harvest seasons in the region.  There is conflicting information online, and it is worth knowing what to expect before you arrive.
The coldest time of the year is of course between December and March.  You can expect the rice terraces to be barren and muddy during this period.
The terraces are green in the planting season, which starts in April.  They become lusher by June and July, and it starts to get rainy too.
August and September are beautiful, though rainy, and there's a risk of landslides.  So, October and November are without a doubt the best times to visit.  They're also the most popular months though, hence the busiest.
Get there early, in October, to make sure you don't miss the harvest, and to enjoy the green landscapes and blue skies.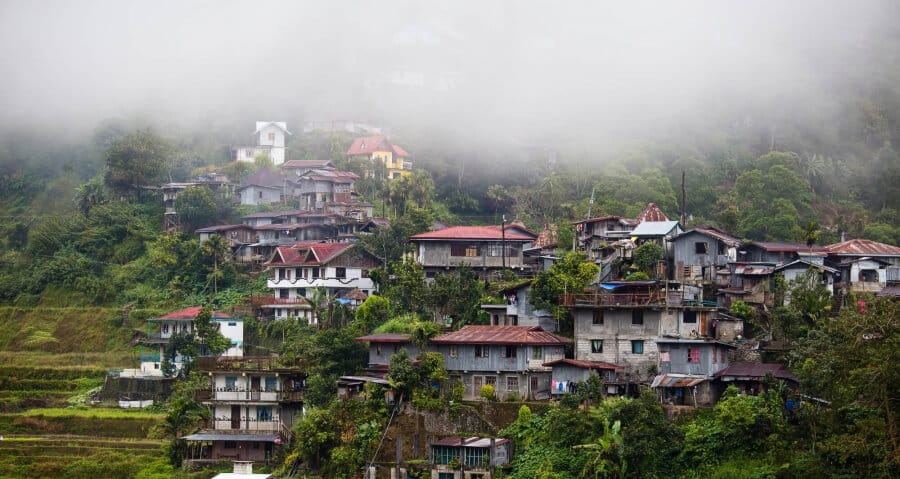 ---
And finally: first things first!
Get travel insurance
Seriously.  You need it.  Anything could happen, and if you have an accident while hiking in the Cordilleras, you'll be grateful to have it.  It's not expensive and there are some excellent deals.
I've heard very good things about World Nomads.  The standard package insures you for you to 5 million USD for medical expenses, and you're also covered for delays, missed flights connections, and lost or stolen passports and luggage.  Have a look at World Nomads here and get yourself a no-strings travel insurance quote.
---
Book in advance
It's wise to make plans and book in advance whenever you can.  You'll be on a fairly tight schedule, and visiting remote places, so make reservations to ensure you can have what you need when you need it.
The home-style restaurants in small villages like Batad can't accommodate large groups, for example.  So, book ahead to make sure you get fed.
Similarly with transport.  Reserve tickets in advance to make sure you've got a seat on the connections you need.  You can get timetables and make bookings on websites like Ohayami Trans and 12Go Asia.
---
Where to Stay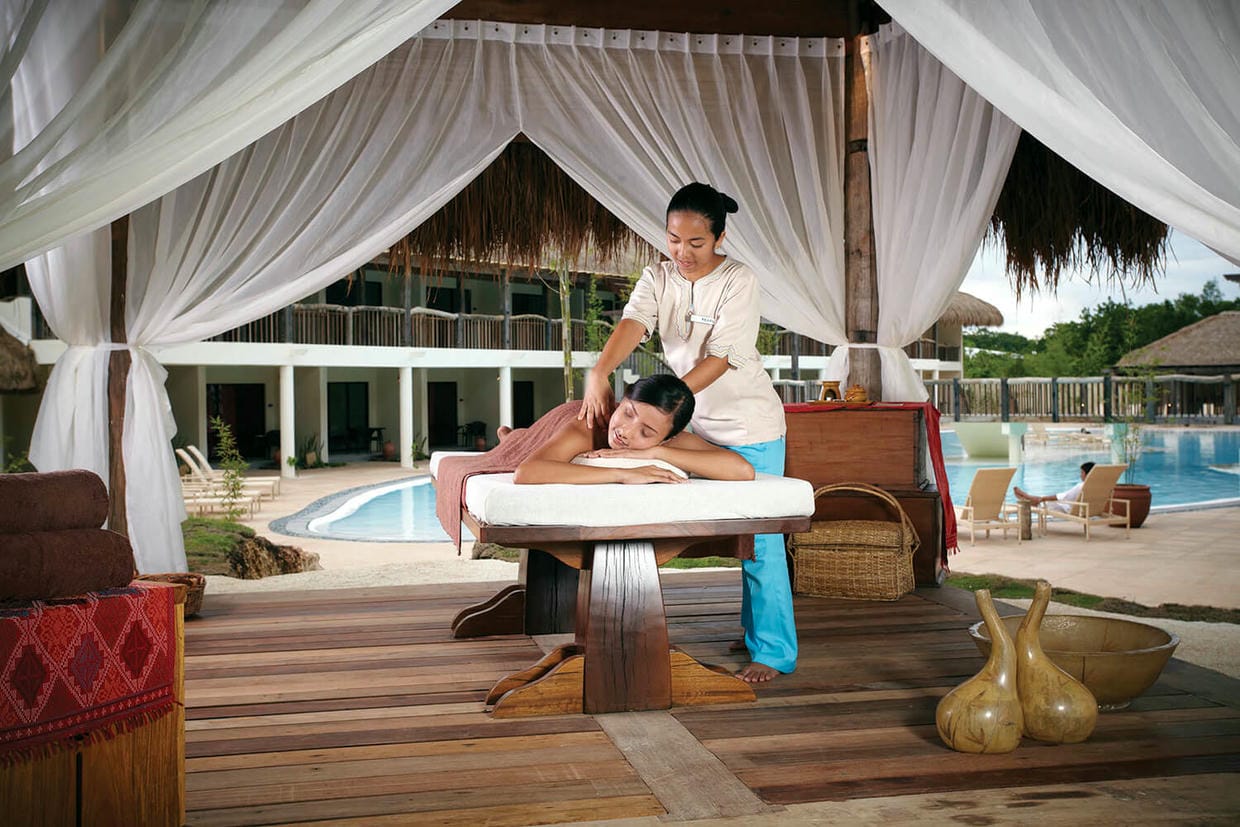 Bluewater Resorts, a wholly Filipino-owned group of resorts, showcases the best of Filipino culture combined with modern luxuries. Bluewater Maribago, Bluewater Sumilon and Bluewater Panglao.
There is an abundance of activities available including jet-skiing, scuba diving, windsurfing, paddle boating, sailing, kayaking, snorkelling, island hopping, and fishing excursions. Or induldge in a selection of wellness treatments at the Amuma Spa.
---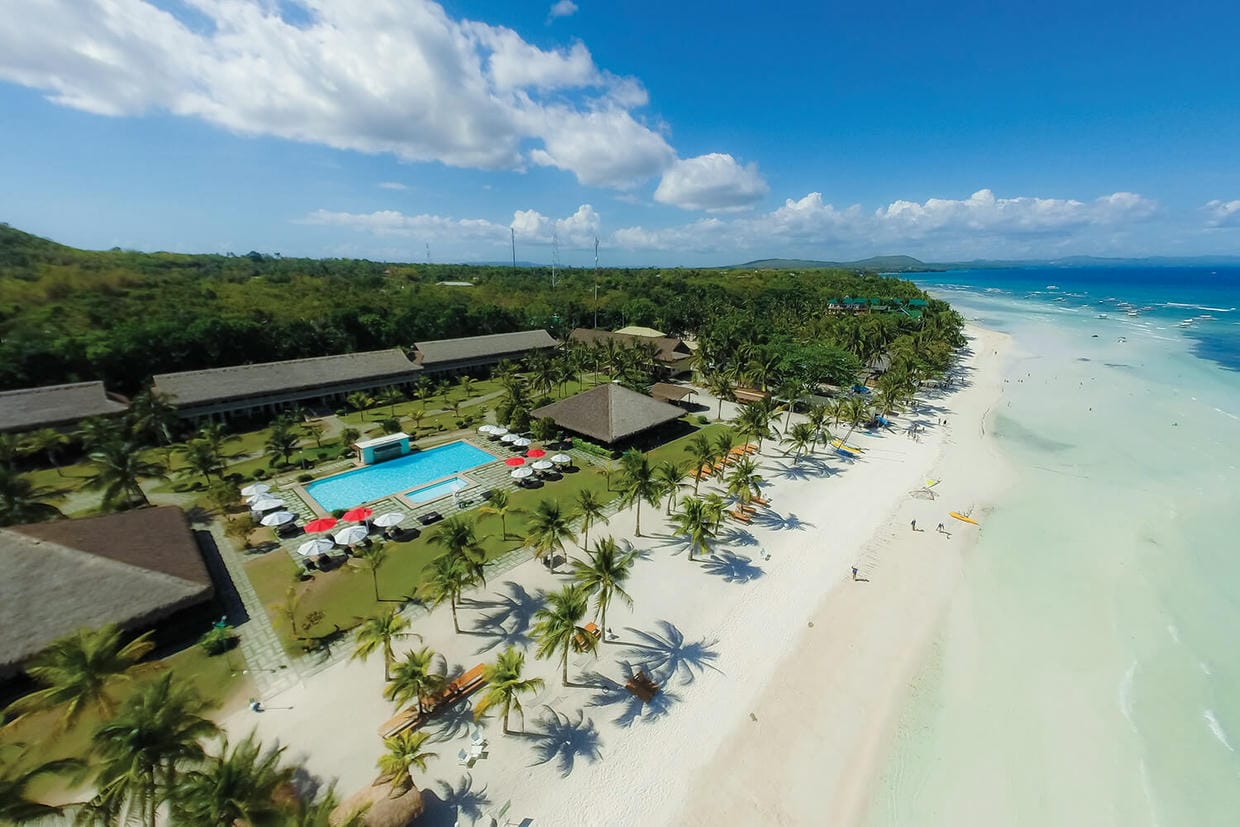 After undergoing a major renovation of rooms and facilities, Bohol Beach Club has opened its doors once again. Even the most discerning travellers will be delighted with the new rooms and suites as well as the modern facilities.
Far from the maddening crowds and unwanted distractions, Bohol Beach Club boasts the best private beach on the island with pristine waters and powdery, white sand. Peace, serenity and privacy are guaranteed with the well-designed resort maximising space as much as possible.
---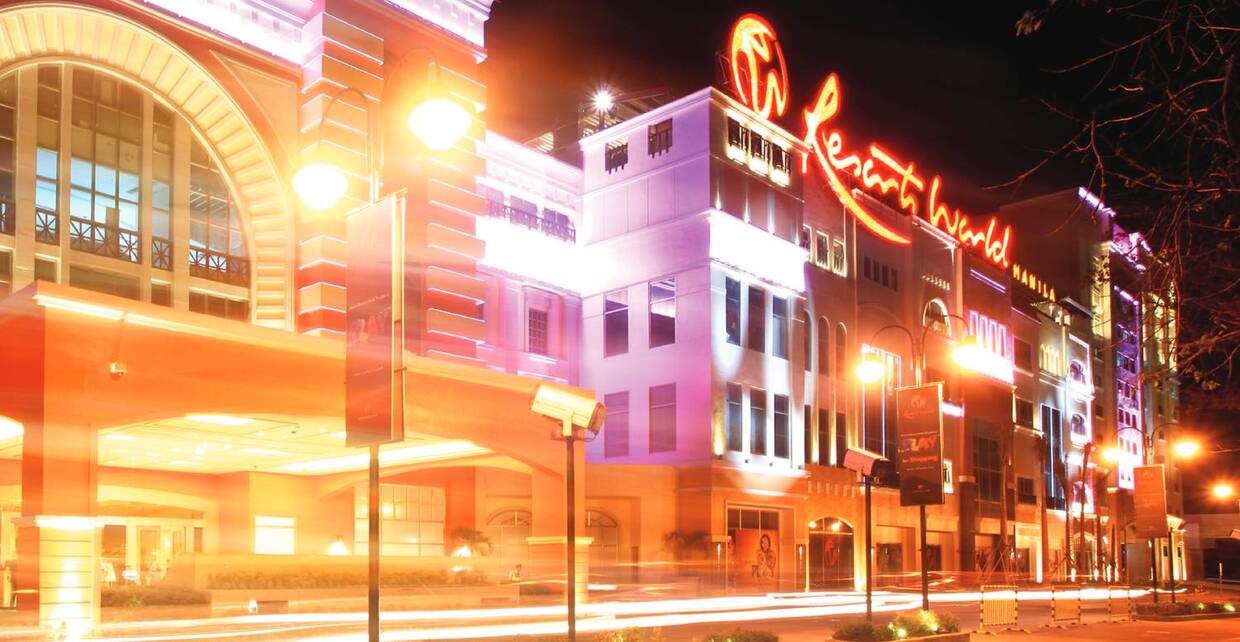 Offering something for every kind of traveller, Resorts World Manila is the Philippines' first integrated entertainment and tourism resort.
Located just across from Ninoy Aquino International Airport Terminal 3, Resorts World Manila provides unbeatable comfort and convenience. Runway Manila, a fully air-conditioned elevated pedestrian link bridge directly connects the terminal with Newport City and Resorts World Manila, allowing guests a safe and environmentally-sound way to reach their accommodations in just a few minutes.
---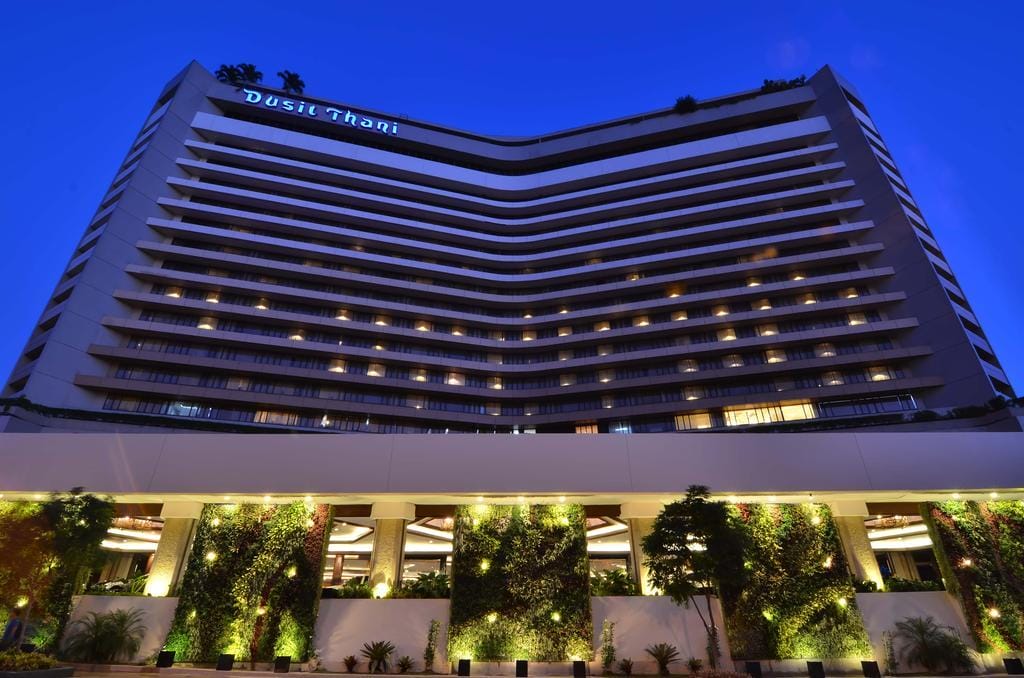 Dusit Thani Manila offers timeless Thai hospitality and Filipino creativity in the heart of Metro Manila.
Here discover the serenity of a tropical oasis where the synergy of inspirations makes up the luxurious experience that Dusit Thani Manila offers.
Located in Makati City, Metro Manila's financial district and commercial hub, Dusit Thani Manila offers the perfect location for a well-balanced stay, combining modern facilities and communication systems for business, accommodations of utmost comfort, as well as the most luxurious amenities for relaxation, dining and wining, and pleasure.
---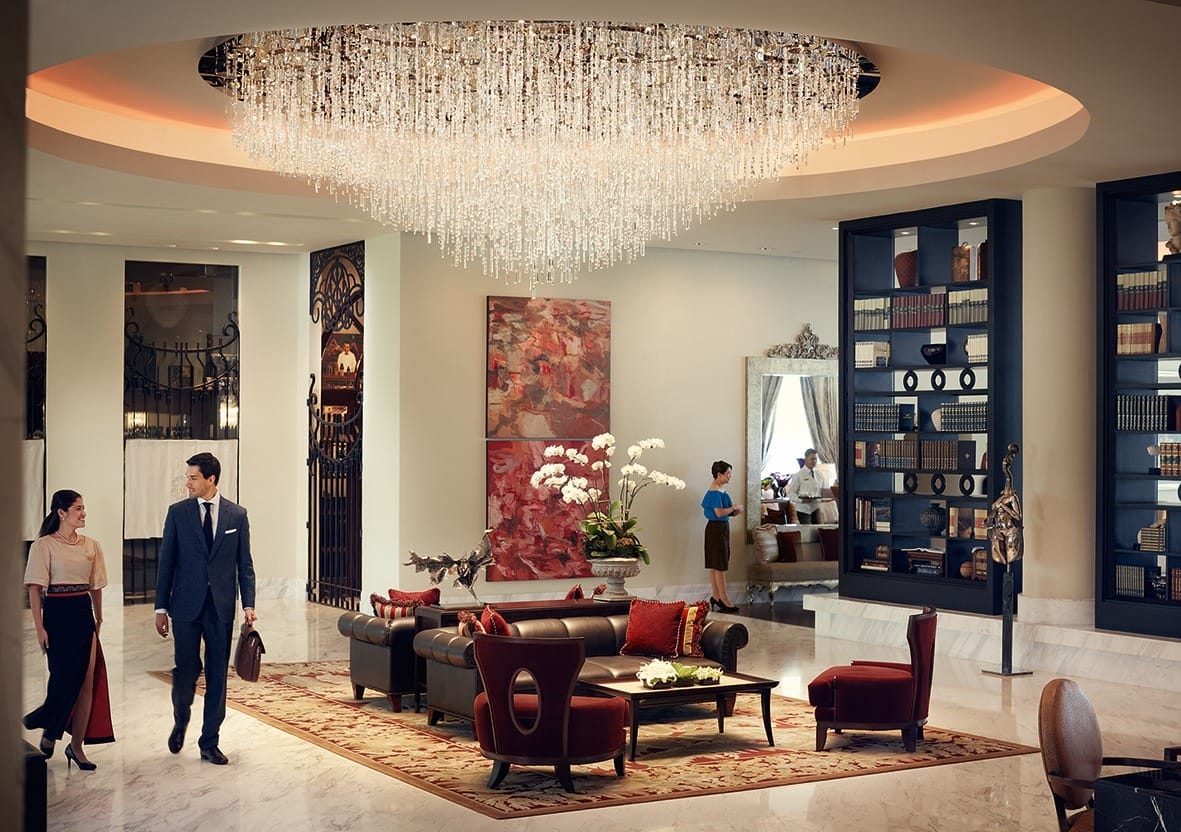 Unrivalled charm, endlessly enchanting with understated elegance, refined and contemporary luxury; Raffles Makati is a legendary oasis of calm and sophistication nestled in the most prestigious address of Makati Avenue in the financial and cultural hub of the Makati district.
The hotel is within walking distance to fashionable boutiques, fine dining, countless historical and cultural attractions, and a glamorous nightlife are within easy reach. The 32 elegant, spacious suites are designed to be contemporary yet reflective of the local cultures and offer a sense of warmth and comfort with wooden flooring, oriental carpets, state-of-the-art technology, high speed internet, and floor-to-ceiling windows that command impressive views of the cityscape.
---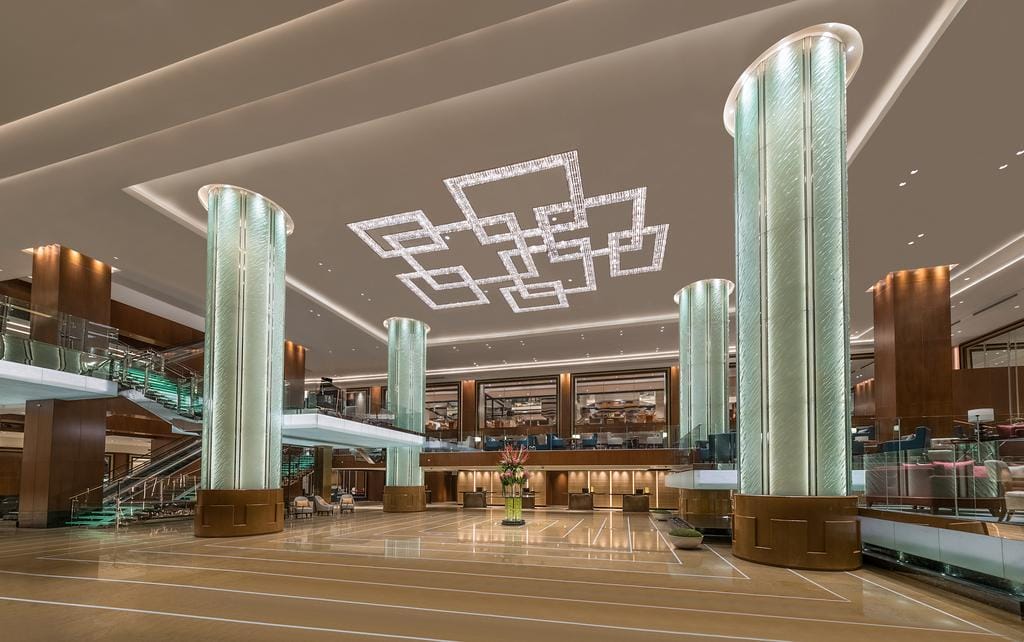 Experience the grandeur of Grand Hyatt Manila, An urban oasis and retreat away from the bustling city life.
With picturesque sunset views of Manila Bay and Makati's stellar skyline, the hotel is located in the northern part of Bonifacio Global City (BGC), the most vibrant, fast-growing and progressive financial, commercial and entertainment district in Manila.
The hotel sets a benchmark for grand living in a relaxed yet entertaining setting. Its 461 elegantly appointed guestrooms, Grand Club rooms and suites are adorned with honeyed wood paneling, maple hardwood floors, pristine richly veined gray-white marble bathrooms, en suite, spacious walk-in closet, and huge floor-to-ceiling picturesque windows frame breathtaking views of the city skyline.
---
Novotel Manila Araneta Center Hotel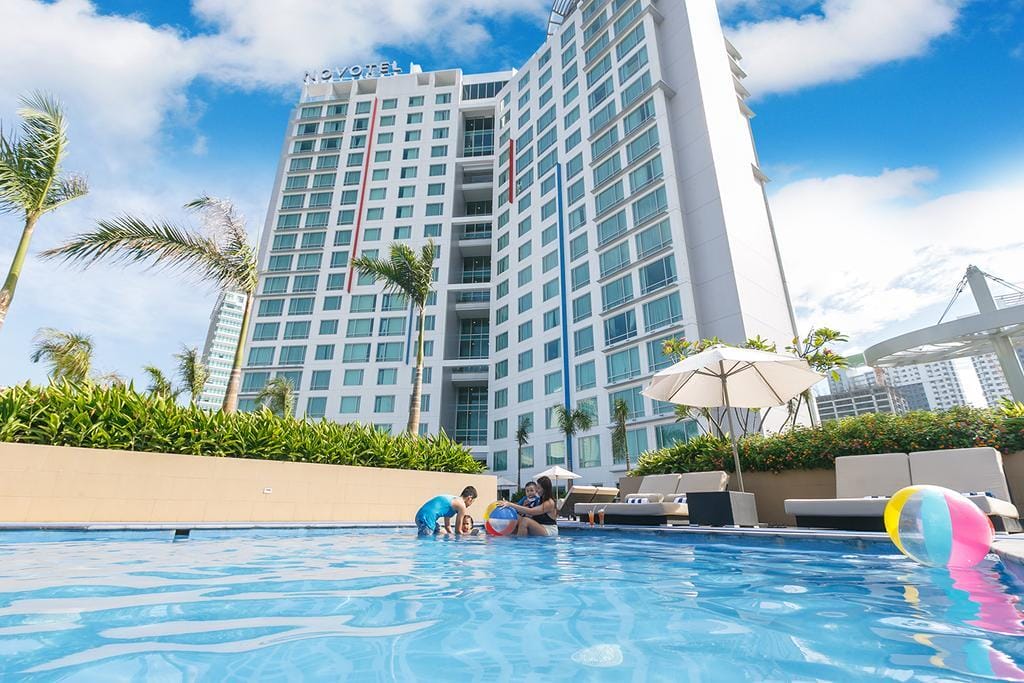 Whatever your reasons for visiting Manila, you're sure to delight in one of the 401 modern guestrooms and suites at the Novotel Manila Araneta Center.
Be it for business or pleasure, Novotel Manila Araneta Center is the perfect base to explore Quezon City, located right beside the iconic Smart Araneta Coliseum and a few steps from Gateway Mall, Kia Theatre and the farmers market.
---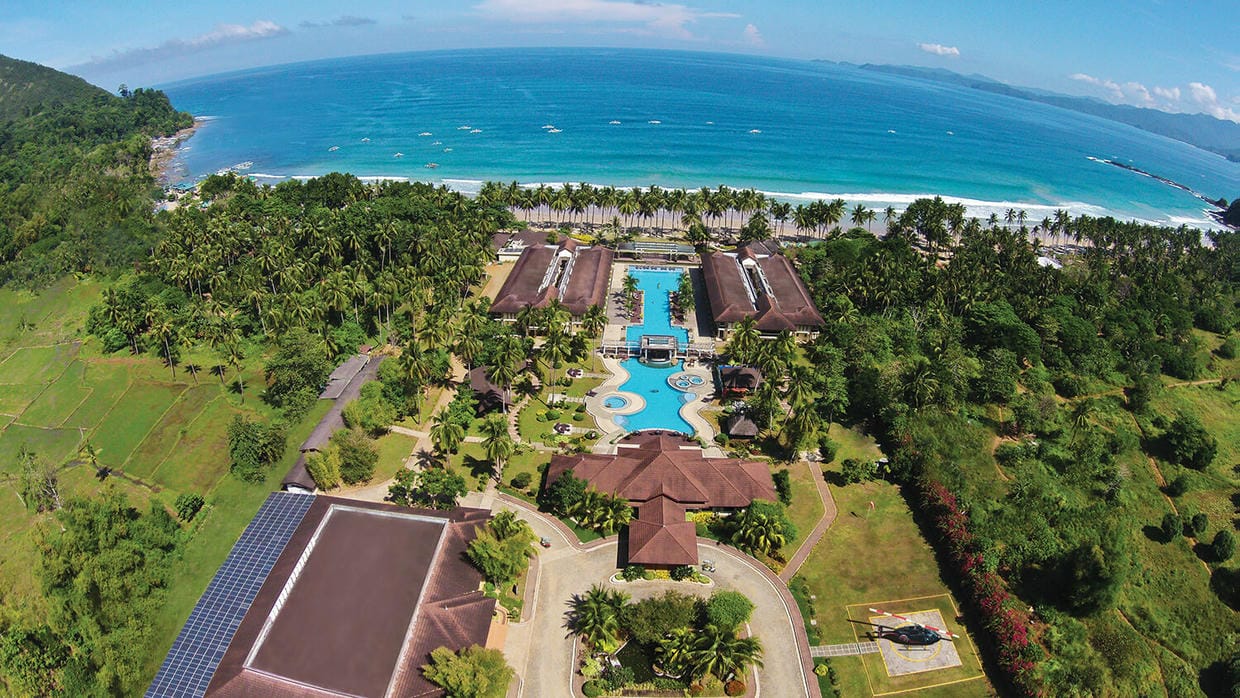 Sheridan Beach Resort & Spa is the premier luxury resort located on the world's top island, Palawan.
Nestled between towering mountain ranges and the pristine shore of Sabang Beach, this charming world-class resort is the first green resort in the Philippines to practice environmental sustainability in one of Palawan's most protected areas. Here the adventure of a lifetime awaits guests who want to explore the rich landscape that Sabang offers.
---