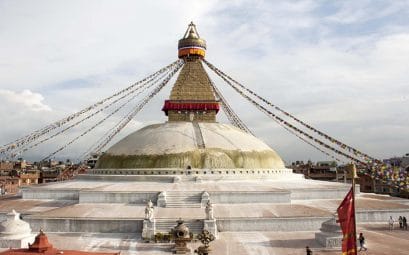 Where to Stay
Accommodation spans the spectrum, from international-standard hotels in Kathmandu to very basic and economical tea houses dotted around the countryside.
Getting Around Nepal
Most of the valley attractions around Kathmandu can be reached on foot but the easiest way to get around is by bicycle, tempo (three-wheeled bus) or auto-rickshaw. Taxis (which aren't all metered), cars with drivers, mountain bikes or motorbikes can be hired for the day. There are no self-drive cars, or trains although both China and India are exploring extending their rail links to Nepal. In early 2008, China began building a railway connecting the Tibetan capital of Lhasa with the market town of Khasa on the Sino-Nepal border.
Meanwhile public buses are the main form of transportation and are incredibly cheap but slow and uncomfortable. Tourist buses between Kathmandu and Pokhara are a better option. Royal Nepal Airlines and other private airlines offer domestic services but book domestic flights in advance and confirm your ticket.
Climate in Nepal
Varies from tropical heat in the Terai to freezing cold in the mountains. In the mid-hills it's temperate with warm summers and cool winters. The rainy season is from June to August.
Clothing
In Kathmandu light clothing with a jacket for evenings in the warm months of May to October. For the rest of the year, warm clothing, particularly from November to February.
Time Zone
AEST, 4hrs 15mins; GMT +5 hrs 45mins.
Currency
Nepalese rupees in banknotes of 1000, 500, 100, 50, 20, 5, 2, 1. The rupee is made up of 100 paisa.
While tipping is not expected it is becoming more common in upmarket restaurants in Kathmandu. Porters on treks, however, should be tipped around Rs 100 per day.
Visa and Health
Passports and visas are required except for Indian nationals. Tourists can obtain visas on arrival.
Yellow fever vaccination is required if arriving or transiting from infected areas. Inoculations against typhoid, paratyphoid and hepatitis are recommended. Other health risks are altitude sickness, malaria and meningococcal meningitis.
Getting There
TIA in Kathmandu is the only international airport of Nepal. Royal Nepal Airlines (RA) is the national carrier and flies from Kathmandu to Delhi, Dubai, Bangkok, Hong Kong, Shanghai, Osaka, Singapore and Kuala Lumpur.
Other international carriers to Kathmandu include Air Arabia, Air China, Air Sahara, Biman Bangladesh, China Southern Airlines, GMG Airlines, Gulf Air, Indian Airlines, Jet Airways, Korean Air, PIA, Qatar Airways, Royal Druk Air, and Thai Airways.