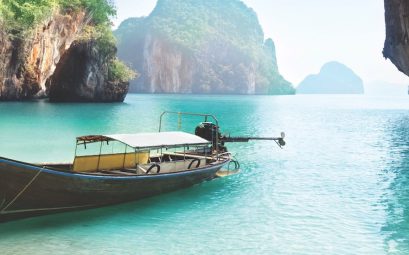 Going To Phuket
Flights to Phuket International Airport come in from many airports in the region and include direct charters to Europe and Australia. Low-cost direct connections are available from cities like Macau, Seoul and Busan too.
Several domestic airlines fly to Phuket from Donmueang Airport and Suvarnabhumi Airport in Bangkok. There are no direct train services to Phuket, but you can hop on one of the sleeper trains leaving Bangkok's central station, or a public BKS bus at Bangkok's Southern and North-Northeastern Bus Terminal.
If you are driving to Phuket, it is connected to the mainland by the Thao Thepkasattri Bridge. Ferries and speedboats to Phuket are the way to go if you are entering from the neighbouring islands.
Accommodation in Phuket
Accommodation in Phuket has choices aplenty, but you are advised to book at least a couple of months earlier during the high season from November to May if you are eyeing hotels and resorts in popular locations. Online bookings are usually cheaper, with best rates guaranteed, compared to walk-ins. As a guide, the lowest air-con room rates begin at around 1,000 baht in beachside areas and 500 baht away from the beach. Resort rates start go from just under 100 USD and up.
You can also rent two to three bedroom furnished houses and luxury villas at a range of prices, depending on the season, location and size. Another alternative is the homestay, thanks to the rise of accommodation-sharing sites like Airbnb.
In general, lodgings in town are cheaper than those near the beach. Those who are not looking to splurge can head to the budget hotels and hostels near Phuket Bus Terminal 1 around Old Town. From there, the beach is still accessible by bus or rental motorbike.
Getting around Phuket
Public transport is very limited in Phuket. A radial bus network links Phuket Town to the beach towns. Most lines operate at half-hour intervals with songthaews, which are converted pick-ups serving as buses. Drop offs can be requested and there are no set stops. Do note that there are no cross-beach connections.
Phuket has three types of taxi – many songthaew-style minivans, called tuk-tuks, a smaller number of sedan-style cabs and random vehicles serving unofficial taxis. Tuk-tuks have no meter and hard bargaining is usually required or you will risk getting overcharged. Metered cabs are safer, comfortable and usually cheaper. However, they may be harder to find, so it is highly recommended that you arrange one by phone.
Motorcycle taxis, with drivers sporting fluorescent numbered vests, are another way to travel short distances in Phuket. Phuket car or motorcycle rentals are also available, but the roads are often chaotic and accident-prone because of poor adherence to traffic rules, road markings and reckless behaviour.
Island-hopping is done by longtail boats or ferries. Some are available for charter at a higher cost but buying one-day pass will be more economical.
Currency of Phuket
The currency in Phuket is the Thai Baht. Currency exchange booths are usually open 12 hours a day, seven days a week.
Entry Requirements
All tourists entering Phuket and other parts of Thailand must possess a passport that is valid for at least 6 months beyond their intended length of stay. Most visitors to Phuket will clear the immigration checkpoints at Bangkok's Suvarnabhumi International Airport or Phuket International Airport.
A visa is not necessary for many tourists (do check the Visa Exemption list) who are there for less than 30 days. Those who need one may apply for a Visa on Arrival, which is valid for 15 days at the cost of 15 baht. A 60-day Tourist Visa must be applied from the Royal Thai Embassy if you wish to reside for a longer period.
Climate
There are two seasons in Phuket: dry and wet. The dry season takes place between December and April, after which rainfall increases. Temperatures are consistent around 30°C, with some humidity.