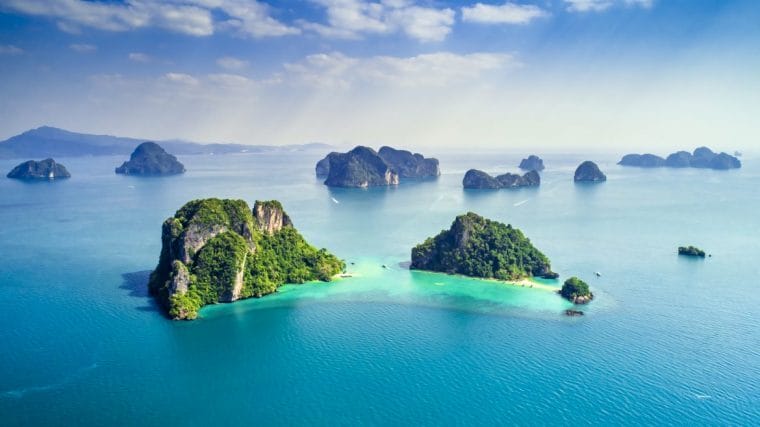 A holiday in Phuket gives travellers the chance to escape to pristine beaches, crystalline waters, sumptuous cuisine and a pulsating nightlife.
Phuket has it all. Dubbed 'Pearl of the South' by the tourist industry, Phuket is Thailand's largest, most populous and most visited island. A whirl of colour and cosmopolitanism, Thailand's only island province revolves around and thrives on tourism but still retains a spark of the real Thailand.
Phuket has a long history. In centuries past, it was an important trading post. Two centuries ago, extensive tin mining drew thousands of Chinese labourers to the island and their influence has remained, leaving the province of Phuket with the highest percentage of ethnic Chinese in the country. The southern and coastal areas of the island were predominantly inhabited by Muslim fisherman.
Whether it's world-class diving in the Andaman Sea, golf at the world standard championship courses or exciting eco-adventures in tropical forests, it is the place to extend your horizons. Take an exhilarating speedboat ride to the surrounding islands or enjoy a serene cruise around mystical Phang Noa Bay.
Or why not enjoy the vibrant nightlife at legendary Patong Beach with its bewildering mix of restaurants, bars, discos, live music clubs and cabarets. Inexpensive deals abound for this stunning destination and there is a wide variety of holiday packages available that need not break the budget.
Phuket is more than a provincial capital; it is also a fascinating location for enthusiastic shoppers with all kind of budgets. You will find items ranging from antique Asian art and crafts, clothing boutiques, household knickknacks to bolts of famous Thai silk with bargaining the order of the day. With its idyllic tropical weather, Phuket is a favourite with beach lovers. There are, broadly speaking, two seasons: the dry and the wet. The dry season begins in December and lasts until April, when the rainfall increases. Wet or dry, temperatures remain remarkably consistent, nestling around 30°C and always with a dash of humidity.
Just a 45-minute speedboat jaunt and a 90-minute ferryboat ride from Phuket are the towering limestone outcrop of the twin Phi Phi Islands.
The larger and inhabited island, Phi Phi Don attracts hundreds of visitors to stay on its lovely shores. It is paradise perfected with beautiful beaches, stunning rock formations and vivid turquoise waters teeming with colourful marine life. Without roads, there is no hustle and bustle, no reason to hurry. Longtail boats make the many secluded beaches around Phi Phi Don accessible.
The sheer limestone walls of the smaller Phi Phi Leh are dotted with caves and passages and the island's shallow blue-green lagoons and coral gardens are a snorkeller's paradise.
So whether you want to snorkel the day away, relax in the sun, dance 'til dawn at a club, or indulge in Thai specialty cuisines, it's not difficult to see why Phuket is considered the ultimate holiday destination in Thailand.