Honolulu's Waikiki beach is renowned for its sparkling and gentle waves and framing the vista of the beach is the jaw-dropping panorama of Diamond Head. The beachfront and the surrounding boardwalk are sheltered by a multitude of high-rise apartments, hotels, shops and restaurants. Of all the hotels on Waikiki beach, one stands out more than any other and that is the Royal Hawaiian Hotel affectionately known as the Pink Palace. Most afternoons Waikiki beach turns on amazing sunsets and 'The Pink Palace' is the place to be while sipping a Mai Tai cocktail as the sun disappears and melts into the ocean.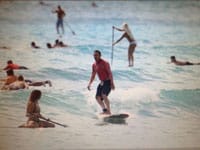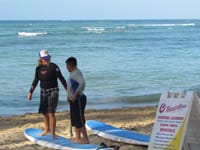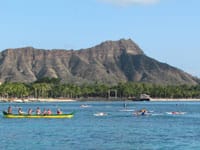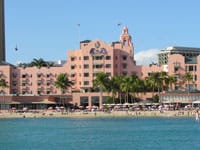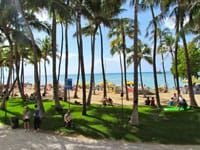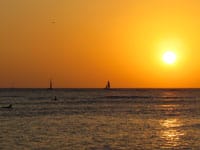 Elvis Presley made the Mai Tai cocktail very popular by featuring the drink prominently in the movie Blue Hawaii.
As I near the beach for the first time I see cameras flashing and tourists buzzing around a large bronzed statue of legendary Hawaiian surf God, Duke Kahanamoku. The Duke first surfed the waves of Waikiki beach in 1908 (approx) and is known adoringly throughout the world as the father of modern day surfboard riding. Little did the Duke know that one day Waikiki would be the mecca for tourists to learn to surf.
Just behind the Duke statue on the sand, you'll find the 'Hawaiian Oceans Waikiki' where you can hire surfboards and also get lessons to surf by professional instructors.
One of the instructors is one of Waikiki's most colourful characters, 64 year old grandmother Karen Shmidt who is Waikiki's only full time female licensed surfboard riding instructor (there are other women instructors but none operate full time). I was introduced to Karen through a friend of mine and over a long lunch was soon to find out that this was no ordinary woman.
Karen was born in Chicago to a very strict middle class family. When she was a teenager, they moved to California's Huntington Beach and it was not long before this wild and active young girl rebelled against her conservative family. This was the 60's, sex, drugs and rock and roll. Free love was the norm and surfing and commune living was beginning to flourish. Karen quickly adopted her new lifestyle and as she quoted, " I tuned in and dropped out."
Karen immediately fell in love with the ocean and after leaving school got a job as a crewman on a 50ft yacht. Her love of adventure soon saw her heading to Colombia where she again found work crewing on a boat on the Buenaventura coast. In the early 70's there were a lot of Americans living in Colombia and it is here that she met her future husband, who also happened to be the captain of the boat she worked on.
While in Colombia (1970-1978), Karen travelled the country extensively and eventually got married, had her first child and started up a yacht chartering business together with her new husband, taking tourists to Panama and the many surrounding outer islands.
During this time, their mutual love for partying led them to an exorbitant lifestyle that caused their lives to spin out of control, so eventually they packed up and headed back to California where they attempted to settle down.
They only lasted in California for one year and with their young child in tow were on the road again. This time they headed to Mexico where they once again started up a chartering business out of Club Med and as a bonus imported local weed to California. During this time her second child was born. They partied continuously made and spent lots of money but their lifestyle again got out of hand. Her husband was becoming very abusive which led to a marriage breakdown, so Shmidt packed up and headed back to California where they finally got divorced.
Karen stayed in California till the mid 80's and then made a decision to move to Waikiki for a more serene lifestyle.
Landing in Waikiki with little money and no friends, Karen soon befriended the local beach boys due to her love of the ocean and instead of getting her life together as planned she started drinking and partying excessively yet again.
It was at this time in 1986 on Waikiki Beach that she met Hawaiian local beach boy legend Bobby Ah Choy. She first noticed him out in the surf taking photos from a stand up paddleboard, long before stand up surfing became popular.
After years of 'being sick and tired of being sick and tired,' Karen turned her life around with a complete healthy lifestyle change and commenced a relationship with Bobby Ah Choy. Surfing from this time on would become a major part of her life.
Ten years ago and with Bobby's guidance, Karen became a fully licensed surf instructor, which proved difficult to achieve as she was a "Haole,"(a non local), but with her determination and perseverance she achieved this goal and today is the only full time, fully licensed female surfing instructor on Waikiki Beach.
Many years of challenges and tribulations has made Karen the most inspirational person I have ever had the privilege and pleasure to meet. So, whenever you are in Waikiki beach Honolulu and want to learn how to surf or just get some tips or a refresher course on surfing, don't hesitate to introduce yourself to one of Hawaii's premier surfboard riding instructors.
TIPS
*Pack plenty of sunscreen, as lots of time will be spent on the beaches of Waikiki, Wiamea Bay, Sunset and Pipeline
*To discover Honolulu at a leisurely pace take a Redline bus tour
*Ensure you visit Pearl Harbour
*There is so much to see and do in Hawaii I advise you seek assistance from hotel staff for best local attractions available.
WHERE TO STAY
www.paradisesonline.com for all your accommodation
HOW TO GET THERE
Jet set Rose Bay
(02) 9371 8166
www.jetsetrosebay.com.au
Photography and words Kelly Tang