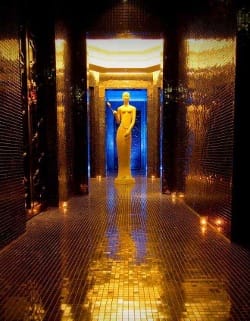 Miller Street Pyrmont – minutes from Darling Harbour, the Sydney Fish Markets, the Rocks and nestled amongst some of Sydney's oldest historical streets is not where you would expect to discover one of the most opulent and exceptional organic spa experiences.
From the moment you enter this establishment, the ambience is overwhelming. It is as though you could be in a six star resort in Bali or Thailand. The soothing music and the scent of aromatic oils fill the air and the decor dominated by black mosaics and gold detail adds to the exquisite atmosphere.
Upon entering Panpuri, the very professional staff welcome me with a warm greeting. I am soon led to a private area and seated in a reclining sofa and handed a Panpuri Organic Menu for the exotic treatment that I wish to indulge in. I'm offered a soothing herbal tea and a cool refreshing towel as my masseuse explains what each treatment involves.
The Panpuri Organic Spa menu is extensive.
After a brief consultation, I decide to indulge myself in the Mali Moonlight Massage (signature massage) and choose the Jasmine oil for my treatment.
Before my massage, I am treated to an Organic Tea Tree Foot Ritual that makes me feel like royalty.
The massage was excellent. However, the only low point was when I was informed that my treatment had concluded.
The experienced staff have all been handpicked from 5/6 star hotels around the world including exotic locations such as Dubai, Morocco, Thailand, Bali and many others.
I spend the rest of the day in a Jasmine haze.
For Reservations: Please Contact Panpuri Organic Spa,
Tel: 612 9660 1916 : Treatments are available from 10am-10pm
Photography and words Kelly Tang