Escape this Easter to Hideaway Beach Resort & Spa at Dhonakulhi, Maldives
With three Bank Holidays and three weekends falling in the Easter 2018 period, this year is the
ideal time to take an Easter break.
The tropical climes of the Maldives archipelago are a firm favourite with holidaymakers.
Unsurprising, given the 29-degree average temperatures, the silky sands, warm seas and cloudless
skies…
There are paradises to explore in the Maldives, and couples, families and celebrities flock here
from around the world to enjoy luxurious tropical beach holidays.
Consequently, there is a wealth of choice for holiday accommodation.
And the Hideaway Beach Resort & Spa at Dhonakulhi Maldives is among the very best.
THE HIDEAWAY BEACH RESORT & SPA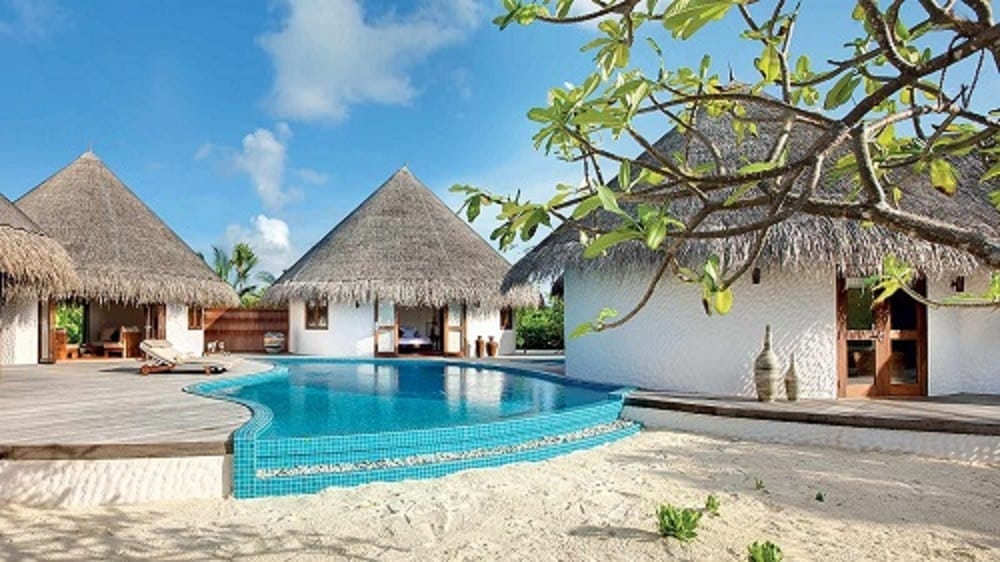 Located on the stunning Dhonakulhi Island, Haa Alifu Atoll, Maldives, this exclusive resort is just
a scenic 35-minute plane ride over the sea from the capital city of Malé.
The resort is nestled in an area of stunning natural beauty, offering a 360-degree view of colourful
house reef and enchanting nature trails, lined with coconut palm trees.
Bicycles are provided for those who wish to explore the island, and the warm turquoise seas are
truly irresistible for snorkelers and divers.
The resort boasts a world-class spa relaxation area, private pools, and a steam room and sauna.
There is a water park and sports complex, and guests can enjoy massages, and stress-relieving,
rejuvenating and anti-ageing treatments in the resort spa.
And with its well-earned reputation for elegance, luxury and high-end hospitality, the Hideaway
Beach Resort & Spa is launching an Easter holiday promotion with its White Platinum All-
Inclusive Plan.
IT'S TAKEN CARE OF
The White Platinum Plan takes care of guests' needs, from dining experiences to airport transfers to sports, activities and classes.
Guests are met at the Velana International Airport by resort personnel – or benefit from a return speedboat transfer from Hanimaadhoo Domestic Airport to the resort.
And upon arrival and departure, they enjoy complimentary access to the VIP lounges at the international airports on the island.
Once at the resort, welcome amenities are provided free of charge. The villas are stocked with Nespresso coffees, organic teas and mineral waters – all complimentary and replenished daily.
There is free Wi-Fi across the resort and in all of the villas, and the friendly and professional staff remain on hand to assist with all needs and requirements.
SPORTS, EXCURSIONS & ACTIVITIES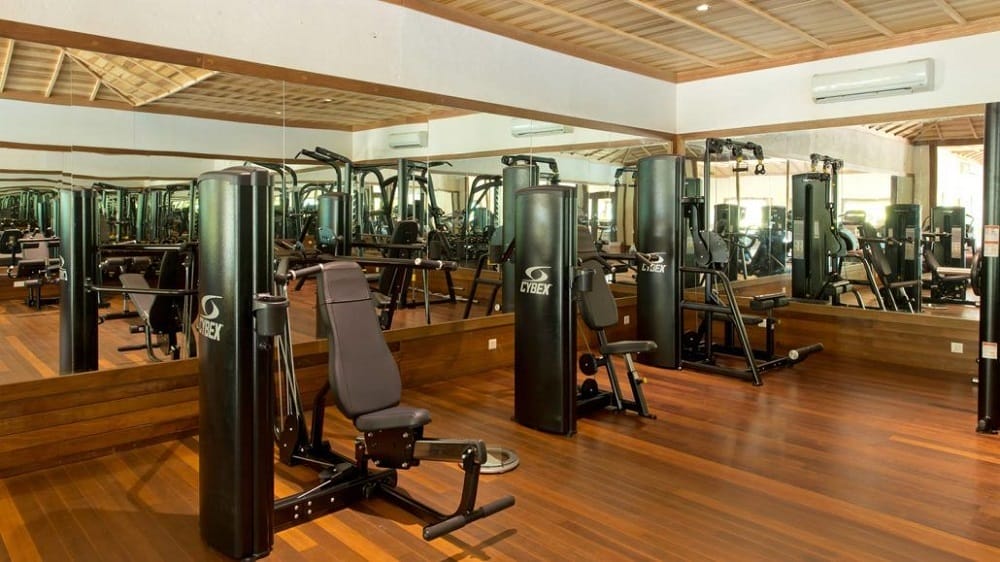 Activities include fishing trips, dolphin watching, and reef snorkelling. There is the Aqua Water Park, and a large sports complex, with facilities for football, volleyball and basketball, and a gym. There are complimentary yoga classes and a tennis lesson for each guest.
After a session in the gym, guests can benefit from a free 60-minute Balinese massage in the spa.
TENDER HEARTS KIDS' CLUB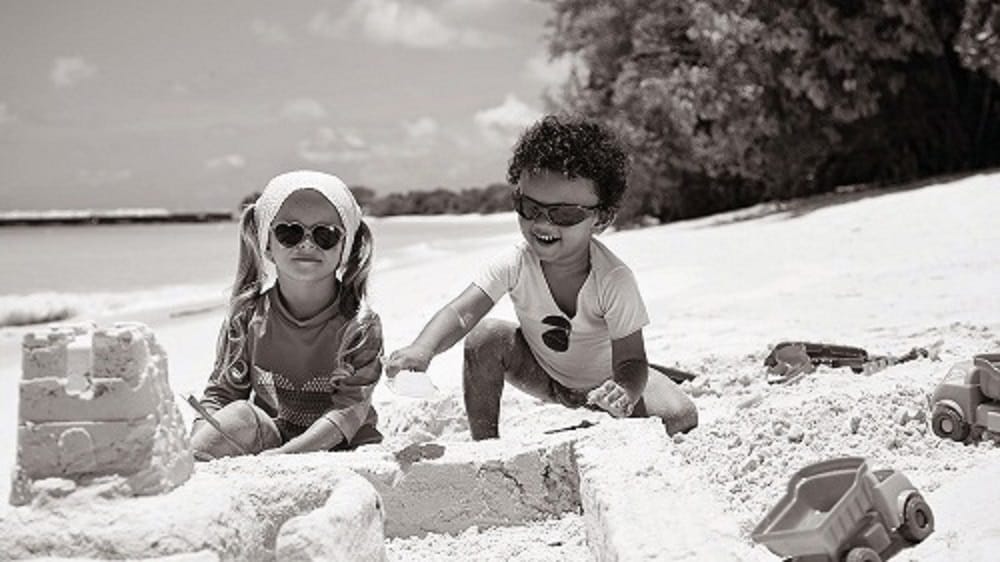 Guests enjoying a family holiday with children are also welcome to take a break from parenting responsibilities.
Children aged between 3 and 12 are welcome at the Tender Hearts Kids' Club, where they can enjoy a range of activities, guided by professional childcare staff.
Activities include cooking classes, fishing lessons, crab race, sandcastle making, treasure hunt, painting and drawing, and a local island tour.
ROMANTIC PARADISE ISLAND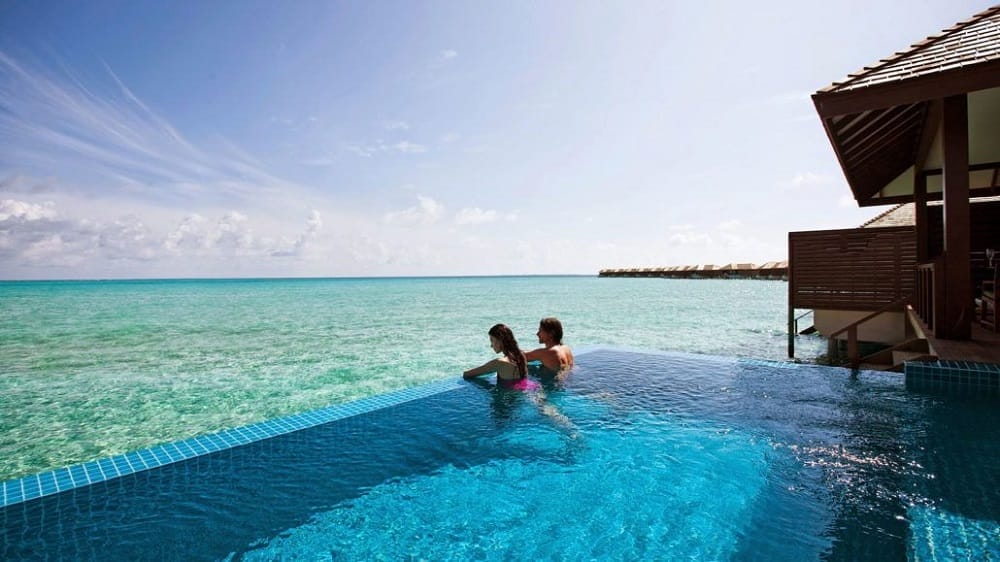 The Ocean Villa is a truly exquisite choice for visitors on a romantic break. Guests enjoy breath-taking views of the Indian Ocean, with a private pool overhanging the crystal waters.
There is also a private deck, giving direct access to the rich coral reef.
The villa has an oversized tub, and indoor and outdoor lounging areas for romantic dinners. It is also served by a private butler, who remains on hand to cater to guests throughout their stay.
CARE-FREE FAMILY HOLIDAYS
The water villa is ideal for families enjoying a holiday of a lifetime, spending time together: focusing on what really matters and leaving the work and planning to the professionals.
The villa offers a spacious patio, ideal for outdoor dining. There is also a private plunge pool and lounging areas for group activities.
ALL YOUR CATERING NEEDS
Whether guests are enjoying a romantic break or a family holiday, the White Platinum All-Inclusive Plan has been crafted to ensure that there is something for everyone, with tailor-made culinary experiences.
Served daily, there are 70 world wines available at the resort, including house champagne.
The villa mini bars are kept fully stocked, with beers, wines, soft drinks and snacks all replenished every day.
The resort is also proud to host a range of delectable restaurants for its guests.
MEERU BAR & GRILL:


With poolside dining and dinner on the deck, Meeru Bar & Grill is the perfect place to unwind at the end of the day.
Looking out over the ocean, guests can enjoy hand crafted pizzas, baked to perfection in a class wood-fired oven, or lobster straight from the water.
For guests enjoying the White Platinum All-Inclusive Plan, there is a daily two-course à la carte lunch, and lights snacks are provided between 4.00 pm and 6.00 pm every day.
MATHEEFARU: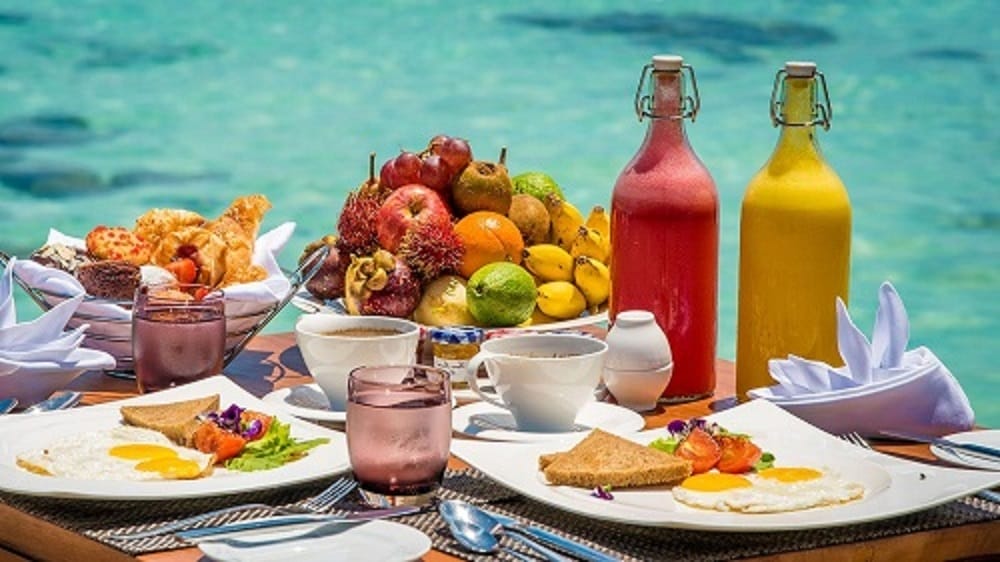 'Matheefaru', coral reef in the local language, is a sand-floored oceanfront restaurant, giving diners the opportunity to enjoy exceptional local cuisine on an open-air deck, under a sea of stars.
A firm favourite with foodies, the restaurant's over-water private dining pavilions are also ideal for romantic dinners. Breakfast and dinner are provided every day for guests.
SAMSARA ASIAN FUSION: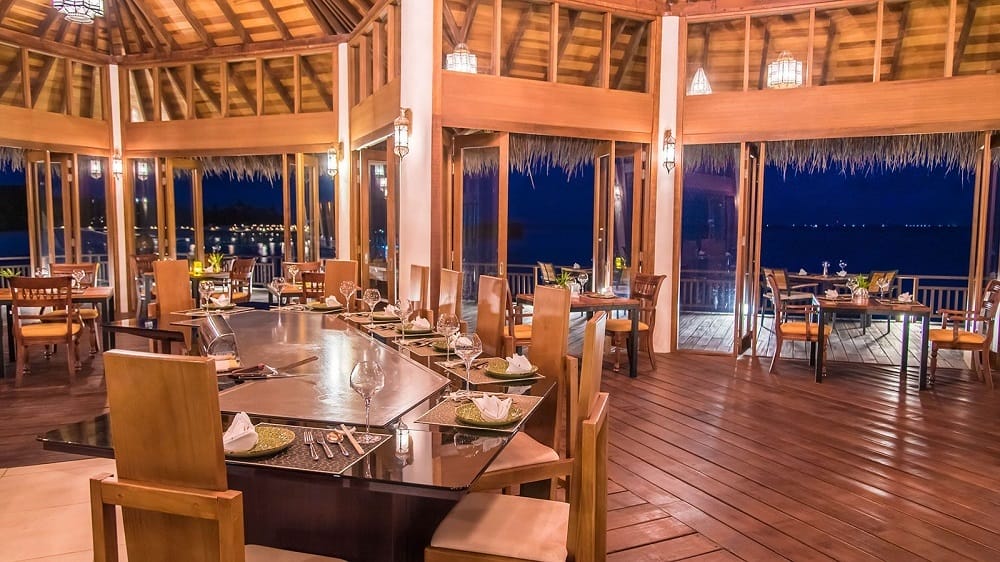 Serene and romantic, Samsara Asian Fusion serves cuisine that is a delightful fusion of Thai, Indian and Japanese influences.
The teppanyaki table is a firm favourite with visitors, and many choose to return again and again to savour the experience. Guests can enjoy one complimentary three-course à la carte dinner at Samsara Asian Fusion.
SUNSET POOL CAFÉ: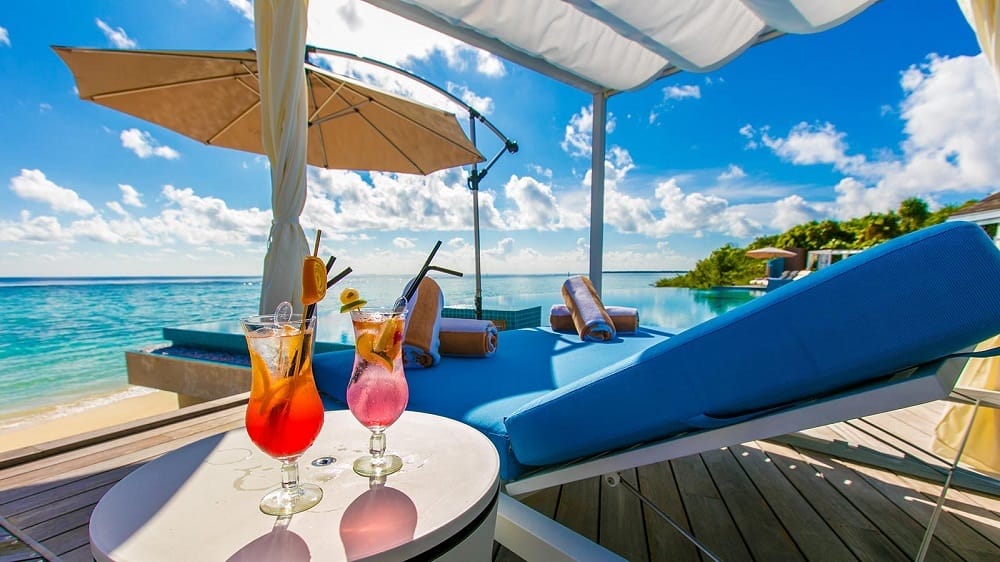 The Sunset Pool Café serves breakfast, lunch and dinner, and its stunning panoramic views of the island make it a popular choice throughout the day.
The flavour infused dishes have Asian and European influences, and there is a daily two-course à la carte lunch available for White Platinum All-Inclusive Plan guests.