The Shangri-La Fijian Resort is one of the Coral Coast's most popular family friendly re-sorts. This top Fiji resort caters for all tastes and ages with delicious, reasonably priced food at their 3 on-site restaurants.
What we like:
The fantastic Free Kids Club and 'Children stay and eat free!' policy (children under 12) make this a hard-to-resist option for a Fiji family holiday.
The Fiji resort has separate adult only areas, so that the Shangri-La provides a fun-filled and relaxing atmosphere for everyone.
The beautiful main pool, right next to the beach, has full-time lifeguards, and shallow areas for kids. Don't miss the giant inflatables waterpark in the lagoon. A firm favourite with guests!
What to try:
We recommend the stunning Takali Terrace with panoramic views of the South Pacific ocean.
There is also 24-hour room service for the ultimate in convenience.
Book The Shangri-La's Fiji special offer package: The Fijian Family Fun Getaway, includ-ing a daily breakfast buffet for the whole family, a second room for 25% off, airport trans-fers, a couples' massage, bike hire and a round of 18-hole mini golf.
---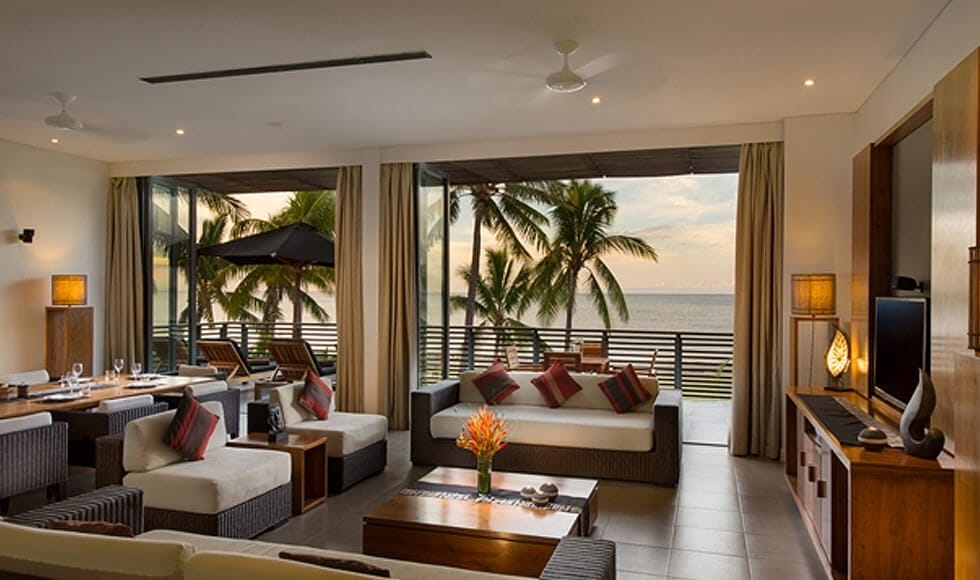 For a luxury family holiday on Denarau Island, look no further than the Hilton Fiji Beach Resort & Spa. Combine family fun and unbelievable relaxation at the Hilton Fiji, designed for convenience and comfort with modern luxuries.
What we like:
This Fiji family hotel has incredible facilities: seven pools, a top of the range fitness cen-tre, two beachfront restaurants- including the very popular Nuku Restaurant- and 1.5kms of private beach.
Children will love the action-packed Hilton Family Fun Kids Club, whilst parents can enjoy the serene adults only pools and Koro Adults Only Restaurant.
For Fiji's best family holiday accommodation on Denarau Island, book one of the luxu-rious Oceanfront Residences with a private plunge pool.
What to try:
Explore nearby local Fiji attractions like The Garden of the Sleeping Giant.
Spend evenings savouring Fiji's local seafood by lantern light at the 5 star Nuku Res-taurant.
Check out the Hilton Fiji's advance booking discount- 20% off the Hilton's Best Available Rate with advance booking!
---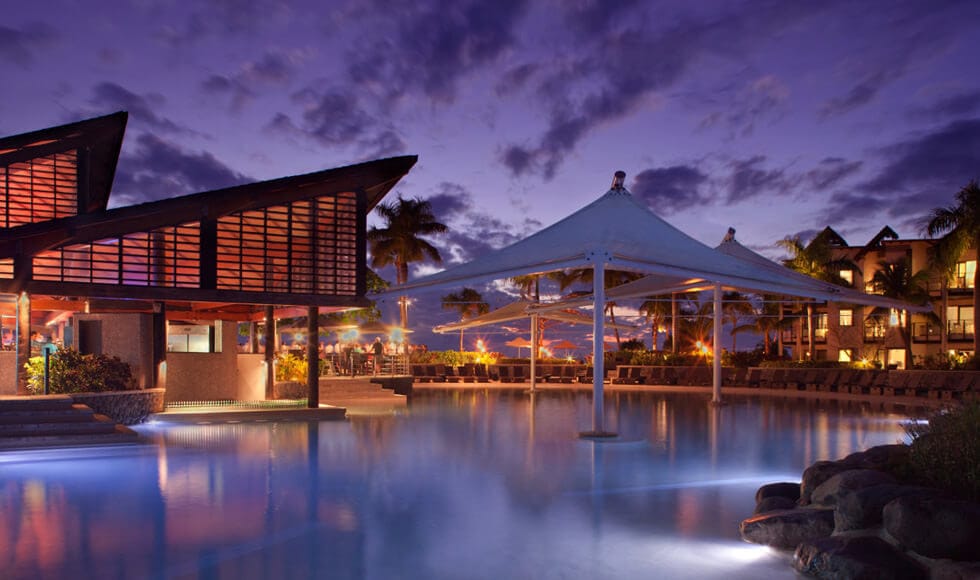 At the Radisson Blu Fiji your kids will feel like VIPs! The whole family will enjoy the Radisson Fiji's first class facilities.
What we like:
The Radisson Blue Resort Fiji has a 10 acre estate with private gardens, waterfalls, four pools, a whitewater tunnel slide, and a 2 minute walk to Denarau's 18-hole golf course.
The comfortable rooms are impeccably clean and modern with in-room movies from MagiNet, and a balcony or courtyard so that you can sit and enjoy the Fiji sunset over Denarau. Two bedroom suites are available for families.
The Radisson Blu Resort Fiji throws in complimentary activities like coconut bowling and a personalised kids check-in.
What to try:
Celebrate your Fijian family vacation with a memorable dinner at the Radisson Blu's Lomani Wai restaurant where you can dangle your feet in the water as you dine.
Book the Radisson Blu's 'Fiji Loves Families' package holiday deal now for a Fijian family holiday that includes: a daily breakfast buffet for the whole family, unlimited Kids Club access or 3 hours of babysitting services a day, half price meals and drinks for kids, 10% on the Wild Thyme or Signature Tables for a special meal for parents.
---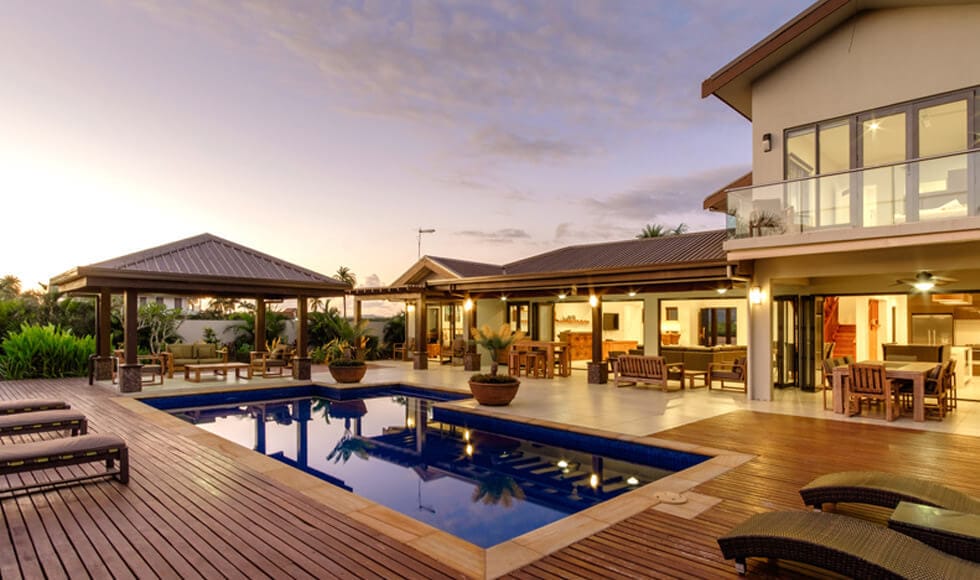 Naisoso Island Resort Villas, provide some of Fiji's most luxurious self-catered accommo-dation, perfect for families and large groups.
What we like:
Large luxury villas and premium holiday homes for all budgets and requirements. All just minutes from Fiji's Nadi airport.
All of Naisoso Island Resort's villas have king-sized beds, fully-equipped kitchen, pri-vate swimming pools, sun loungers, open plan living and dining rooms plus a separate media room with Sky TV.
The villas are fully serviced during your stay, but there are also laundry facilities, should you need.
The beautiful Naisoso Resort is completely safe, with 24 hour security and on-site management.
Great for team building and Fiji corporate incentive retreats!
What to try:
The Naisoso Island Resort Executive Chef can create a menu specifically for you and deliver meals to your villa for the ultimate VIP experience.
The friendly and efficient Naisoso Island staff will stock your fridge with fresh groceries before you arrive (on request) or book the on-site driver to take you shopping or any-where on the island.
There is a plethora of activities for all ages, including deep water access for all water sports and a yoga instructor and masseuse on-site.
Naisoso Island Resort Villas Limited Special Offer: 20% off if you book now with the code BULASAVER!
---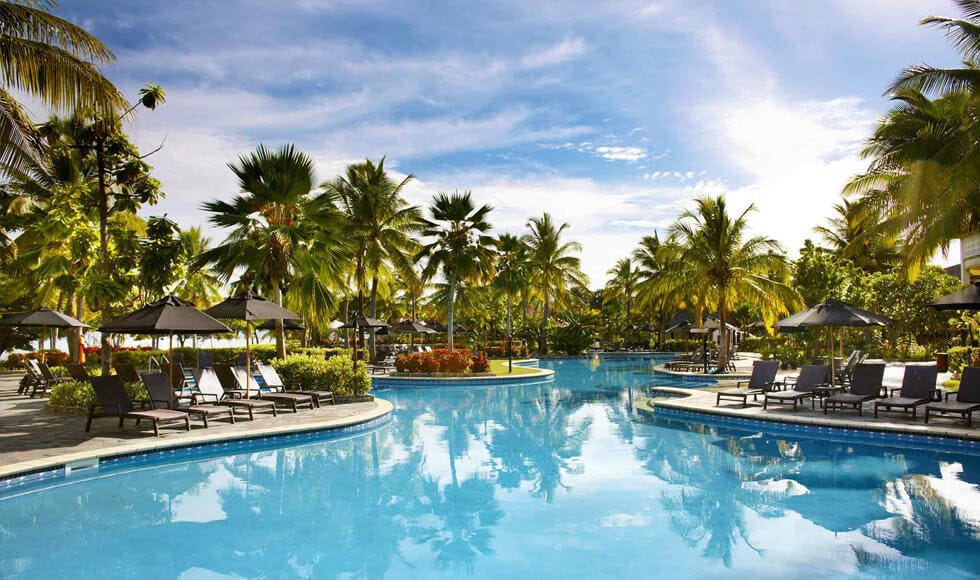 The Sofitel Fiji Resort & Spa is renowned in Fiji for French luxury and offers one of Fiji's best adults only holiday packages.
What we like:
The Sofitel adults only package deal provides access to Waitui Beach, a private adults only beach with a personal butler service.
The Sofitel Fiji also has a Jacuzzi, sauna, and spa with incredible massages for full body and spirit relaxation.
 For family holidays, a Childrens' Club and babysitting are available.
What to try:
The Sofitel Fiji Resort & Spa's gourmet cuisine! The resort has 5 restaurants, including the beautiful al fresco Salt Restaurant on the water's edge, V Restaurant for gourmet dining and Lagoon Restaurant for indulgent buffets.
The Breeze Bar will welcome you after dinner for cocktails and live music.
For a surprise Fijian elopement or vow renewal, book the Sofitel's on-site Wedding Chapel!
The Sofitel Fiji Resort & Spa has a 'Best Rates Guarantee'. Sofitel will match any rate found elsewhere and offer a further 10% discount if you find a better rate anywhere else for one of their resorts.
---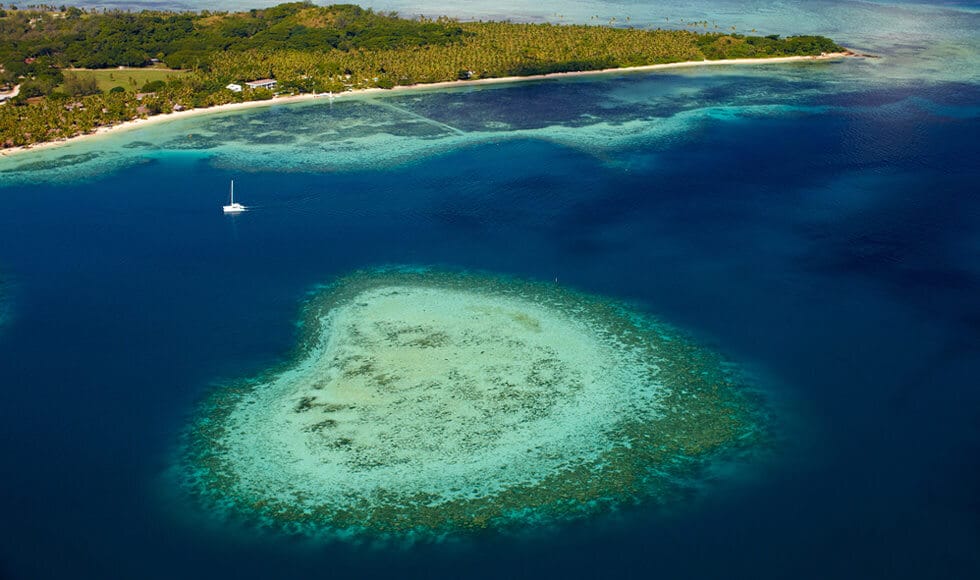 The Lomani Island Resort has great special offers for couples! Perfect for Fiji honey-moons, vow renewals and romantic getaways. Lomani is Fijian for 'love' and the Lomani Island Resort is Fiji's best boutique adults only resort, designed as an escape for lovers.
What we like:
The Lomani Island Resort has a tranquil and romantic atmosphere with only 30 rooms.
Choose from Deluxe Suites, Hibiscus Suites, Beachfront Bures and Beachfront Pool Bures.
All the suites and Bures are spacious, with a private patio or sundeck, king-sized bed and custom-made mahogany furniture.
When you return to Lomani Island Resort- and you won't be able to resist booking again!- you receive a complimentary $50 Food & Beverage credit.
What to try:
Book a destination wedding at The Lomani! The Lomani Island Resort offers a fantastic destination wedding package including a floral wedding arch on the beach, a wedding officiant, on-site wedding license registration and luxury extras like pre-wedding mas-sages!
For the most luxurious Fiji honeymoon, we recommend the Beachfront Pool Bures with their own private plunge pool, private outdoor shower, sundeck looking out over Malolo Lailai Bay.
The Lomani Island Resort 'Sweet Specials' holiday deal: With a 5 night stay, get a cou-ple's massage for free. Book a 7 night stay and receive a couple's massage plus a special three course Sunset Dinner for two by the beach.
Book the 'Honeymoon Bonus' offer and receive two Lomani sulus (a beautiful traditional Fijian sarong that you can wear by the pool), a fruit basket and bottle of sparkling wine.
---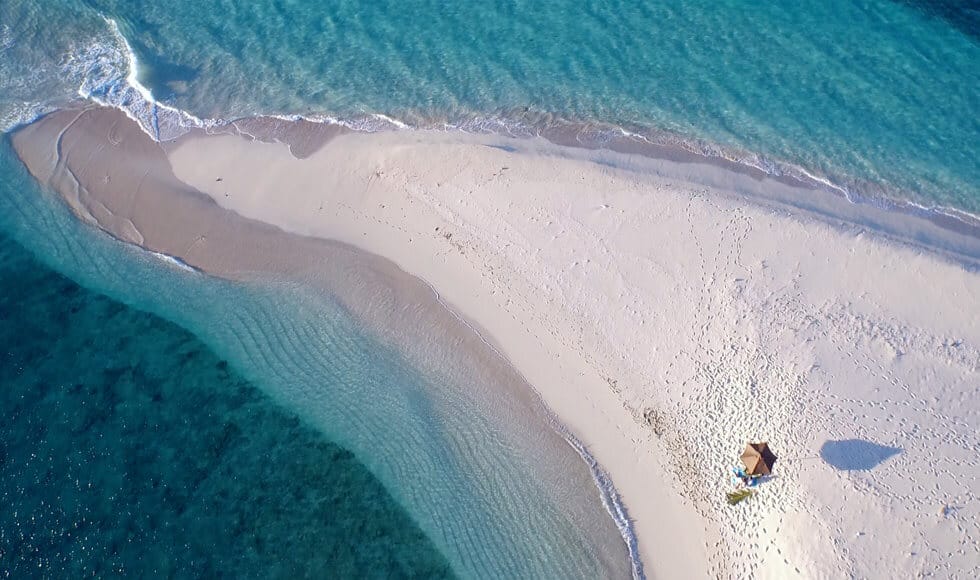 The Yasawa Island Resort & Spa is Fiji's best luxury all-inclusive holiday destination. The Yasawa Island Resort is also Fiji Honeymoon heaven.
What we like:
The Yasawa Resort is surrounded by 11 secluded beaches that have been voted #4 in the world by Expedia. Yasawa Island Resort is on the best island in Fiji!
Chic, understated Bures with spacious private decks with daybeds.
The award-winning Baravi Spa.
The Lomalagi Honeymoon Bure is a particular highlight. (Lomalagi and Yasawa are both Fijian words for heaven!) Hidden away from the rest of the resort, the Honeymoon beachfront villa has its own horizon pool overlooking your private stretch of golden beach.
All of your dining will be 5 star with meals created by International Chefs. Fresh local lobster is a particular specialty caught daily by local fishermen, especially for the Yasawa Island Resort.
The service from the happy, smiling staff is personal and discrete, nothing is too much trouble at Yasawa Island Resort & Spa.
What to try:
Swim in the famous Fiji Blue Lagoon, book a day trip to the Blue Lagoon Caves and pick from a huge range of water sports and island hikes.
Enjoy an unforgettable private champagne picnic on a deserted beach. You can choose between Champagne Beach, Lovers' Beach or Paradise Beach, each as breathtaking and romantic as the next.
Honeymooners and couples on romantic Fiji holidays will soak up the total relaxation. Just the sound of the waves, spectacular Fiji sunsets and incredible comfort.
---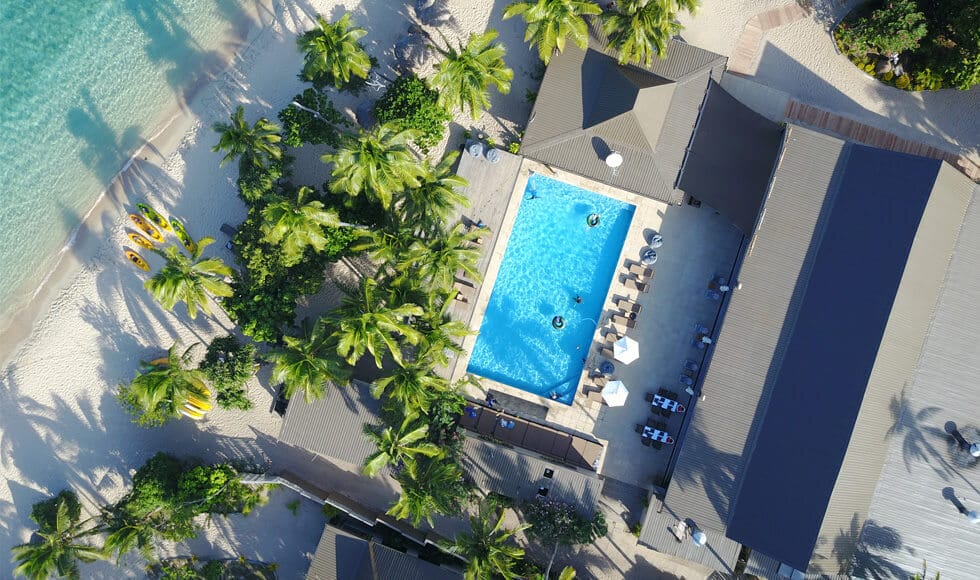 A Fiji holiday at Paradise Cove is perfect for an 'adults only' escape. Paradise Cove is a secluded resort with The 'Cove', an adults only sanctuary with a large pool, separate from the rest of the resort.
What we like:
The Cove Villas, Beachfront Villas, or Paradise Suites are all part of the 5 Night or 7 Night 2018 package holiday deals. All of Paradise Cove's rooms offer privacy, comfort and access to Paradise Cove's adults only facilities.
Included in Paradise Cove's incredible Fiji package holiday deal is their amazing food. Executive Chef Rainal Sahai creates a menu that changes every two days, combining Pacific Island cuisine with Asian influences, Indian techniques and Fji's very best exot-ic ingredients.
What to try:
Try the fresh cocktails from the fantastic Boat Bar.
For a truly exclusive experience, book The Beach House, with 2 bedrooms, 2 bath-rooms, a full lounge, kitchen, private Breakfast Butler, and your very own boatman to transfer you to the main resort facilities when you wish.
Paradise Adults only Holiday Package Deals:
5 Night Package with accommodation, full meal plan, airport transfers, and FJ$250 credit towards the bar or activities including div-ing.
7 Night Package: Book just two more nights and receive two free Fijian massages and a beachside dinner for 2. Limited last minute August holiday deal- Book 7 nights in August and get 'buy one, get the second one free' on airfare.
---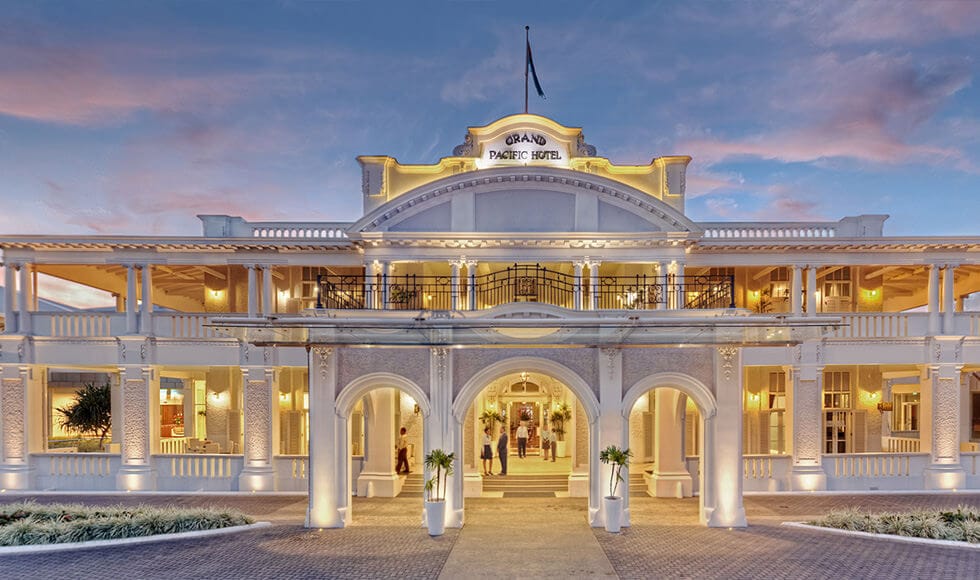 The Grand Pacific Hotel is a Fijian 5 star resort with a majestic history. For a glamourous Fiji honeymoon, The Grand Pacific is one of the best hotels in Fiji and an icon of the South Pacific.
What we like:
This iconic colonial hotel on Suva island has been newly refurbished to its former glory.
As well as a rich history, the Grand Pacific Hotel offers 103 spacious, modern, rooms evoking the grand colonial style and equipped with the highest standard facilities.
Six different dining options, from fresh pastries at the GBH Bakery to haute cuisine at the The Prince Albert Restaurant. The Grand Pacific Hotel has two restaurants, two bars, a lounge and an on-site bakery.
What to try:
For a romantic Fiji vacation, choose one of the six Heritage Rooms in the listed section of the hotel with french windows leading out onto the veranda.
High Tea on the outdoor terrace is like travelling back in time to the Roaring Twenties.
The Prince Albert Restaurant is considered the premiere restaurant in Suva under the direction of award-winning Executive Chef Mo Arun. Perfect for a romantic Fiji celebra-tion.
A Fiji destination wedding! Couples come from all over Australia, New Zealand and Asia for a wedding at the Grand Pacific Hotel. The Grand Pacific has an excellent team of Wedding Planners. Their attention to detail, professionalism and management skills are of the highest-standard.
---
One of the most exciting things to do in Fiji is to go scuba diving. The Garden Island Resort specialises in Fiji diving holiday packages.
What we like:
The Garden Island Resort is a diver's paradise. The dive resort is ideally placed on the beautiful Taveuni island, right next to Rainbow Reef, one of the best diving sites in the world.
Within 15 minutes of the resort there are 25 world class dives sites for you to explore and all levels of diving experience can be catered for.
The experienced local dive team will guide you through the wonders of some of the world's most spectacular displays of soft coral. We especially recommend trips to The Great White Wall and Nuku Reef.
What to try:
After your dives, relax on the balcony of your Oceanview Suite, which has interconnect-ing doors, perfect for families. Or lounge in luxury on the private patio of your Ocean-front Suite.
When you're not diving or taking it easy, explore the rest of Taveuni.
The island is filled with natural beauty like Bouma Falls and rich indigenous culture like Duivosavosa village, where you can join in with demonstrations of traditional Fijian crafts.
Choose between the 7 day or 10 day all-inclusive diving packages. Both include acco-modation in an Oceanfront Room, all meals (continental breakfast, 2 course lunch, 3 course dinner), 5 days of 2-tank boat diving, unlimited shore diving, airport transfers. The 10 day all-inclusive diving package includes an extra 2 days of 2-tank boat diving and an unforgettable night dive. Make sure to bring your underwater camera!
---
The Uprising Beach Resort is a small boutique Fiji resort with personal service.
What we like:
The Uprising offers a 'Best Rates Guarantee'. Contact the Uprising Beach Resort now for guaranteed competitive rates.
The Uprising has traditional thatched Fijian Bures and spacious split-level Com-modore Deluxe Villas with a private terrace and balcony. Every villa and Bure has outdoor showers with uninterrupted ocean views.
The Uprising cares about protecting the beauty and abundance of Fiji. As part of their social responsibility promise, the resort gives 10% of its profits to community projects, and is 100% carbon neutral.
Your beautiful accomodation also comes with complimentary tropical breakfast. Af-ter which, you can relax in one of the many hammocks hidden away in the Fijian resort's lush private gardens.
What to try:
The Uprising Beach Resort specialises in Fiji corporate team building activities. The specially designed Tree House Dormitory offers shared accomodation for 20 people. Perfect for your corporate incentive holiday in tropical Fiji.
Visit Suva's city centre- The Uprising is within walking distance of local shops and res-taurants and a short taxi ride into Suva.
---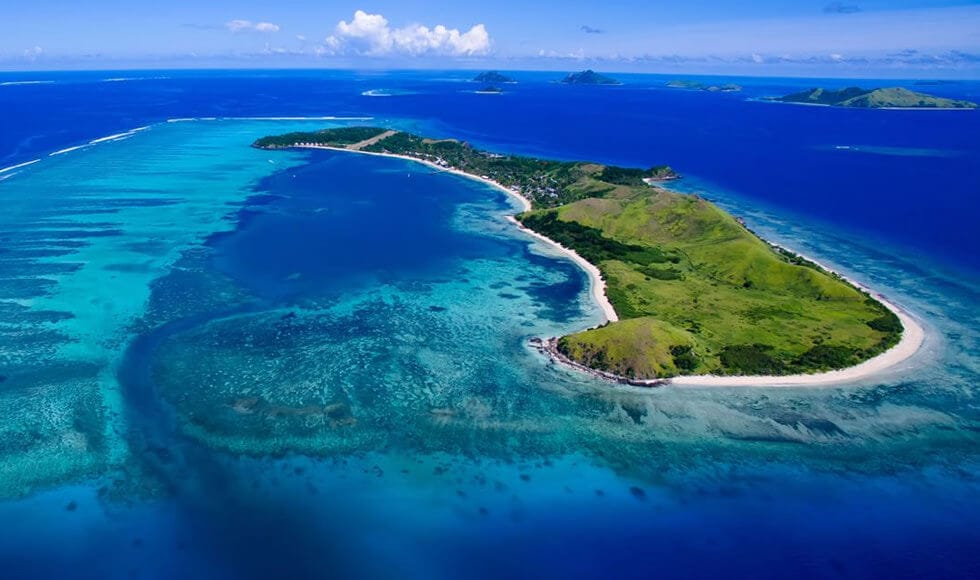 Mana Island Resort & Spa is one of Fiji's best value all-inclusive resorts on a private is-land in Fiji.
What we like:
Mana Island Resort & Spa's location is phenomenal. As the only resort on the island, you have the idyllic setting all to yourselves.
All of the resort's Bures have direct access to the lush gardens and most have an ocean view. The resort is nestled between the two best beaches on the island.
All of Mana Island Resort & Spa's rooms come with an all-inclusive plan included in the nightly rate so that once you are on Mana Island, all your meals are taken care of.
Plus the resort now has award-winning New Zealand Chef Richard Cross preparing all the delicious food included in your all-inclusive deal!
Choose from the Island Bure or Ocean View Room for great value, the Oceanfront Suites for large groups or families travelling together, and the Premium Beachfront Bure for complete seclusion and luxury- perfect for honeymoons and romantic holidays.
What to try:
Mana island has 300 acres of unspoilt rainforest and rolling hills for you to explore.
Mana Island is just off the coast of Nadi, and a hop-on-hop-off catamaran service can take you back and fore easily between Mana and Port Denarau.
The Mana Island Resort & Spa is ideal for Fiji water sports. Activities change every day and include windsurfing, snorkelling, scuba diving and kayaking, all organised by the experienced friendly Mana staff.
---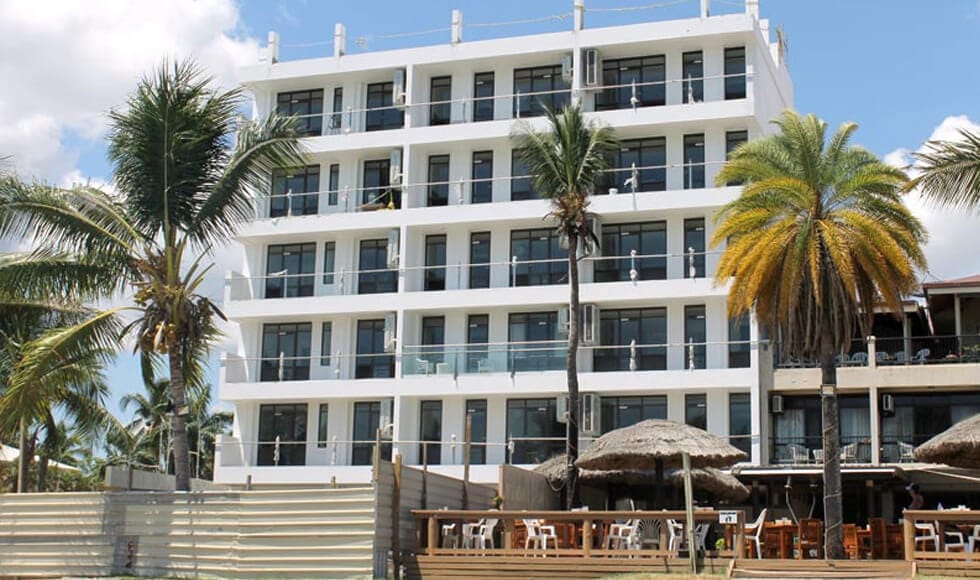 The Ramada Suites Wailoaloa Beach Fiji offer great value and are perfectly situated for business meetings, corporate trips and families who want to be close to Nadi town.
What we like:
The Ramada Suites Wailoaloa Beach has impeccable facilities in a brand new building on Wailoaloa beach.
All of the suites from the One Bedroom Beachfront Suite to the King Studio Suite have 360 degree views of the long beautiful stretch of Wailoaloa beach.
Families can enjoy the Ramada Suites' outdoor pool, access to Wailoaloa Beach and the Children's Play Area.
What to try:
The Ramada staff can help to organise exciting Fiji day trips such as the Robinson Crusoe Island Tour or the Sigatoka River Safari.
For business travellers, the Ramada Suites Wailoaloa has some of Fiji's best confer-ence and meeting facilities in the dedicated Business Centre. The Ramada Suites Wailoaloa Beach can take care of any business or event requirements you need!
Following the Ramada's worldwide reputation for impressive facilities, the Ramada Suites Wailoaloa has a gym, spa, hairdresser, cinema, restaurant and bar that you can try out on your Fiji holiday!
---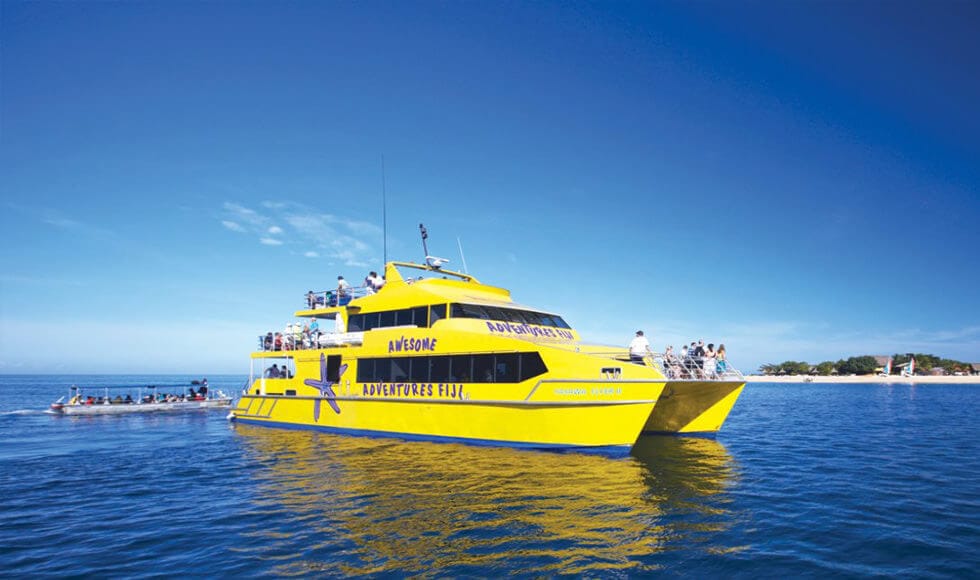 The Smugglers Cove Beach Resort & Hotel is great for a cheap Fiji holiday that doesn't sacrifice beauty or fun.
What we like:
Smugglers Cove's nightly rate includes free breakfast, a free scuba diving lesson in the resort pool, a paddle board lesson, use of the resort kayaks, free nightly entertainment and all airport transfers.
The Smugglers Cove Beach Resort & Hotel has a brilliant location right next to the air-port, Nadi town centre, and the best local bars and restaurants. Excellent for exploring the plethora of things to do in Nadi city centre and Fiji island hopping.
The rooms at Smugglers Cove have some of the best views in Fiji! Whether you choose a Family Suite or a Deluxe Premium Room, you will have a breathtaking view of the bay out to the Mamanuca islands.
What to try:
You can enjoy the stunning view from the terrace of the Ghost Ship restaurant.
Smugglers Cove Beach Resort & Hotel is renowned for its lively nightly music from the local band Tai and the Kavaholics, and its thrilling Polynesian and Hula Fire Dancing Shows. You'll be enchanted by the Fijian charm and warm, friendly local staff.
---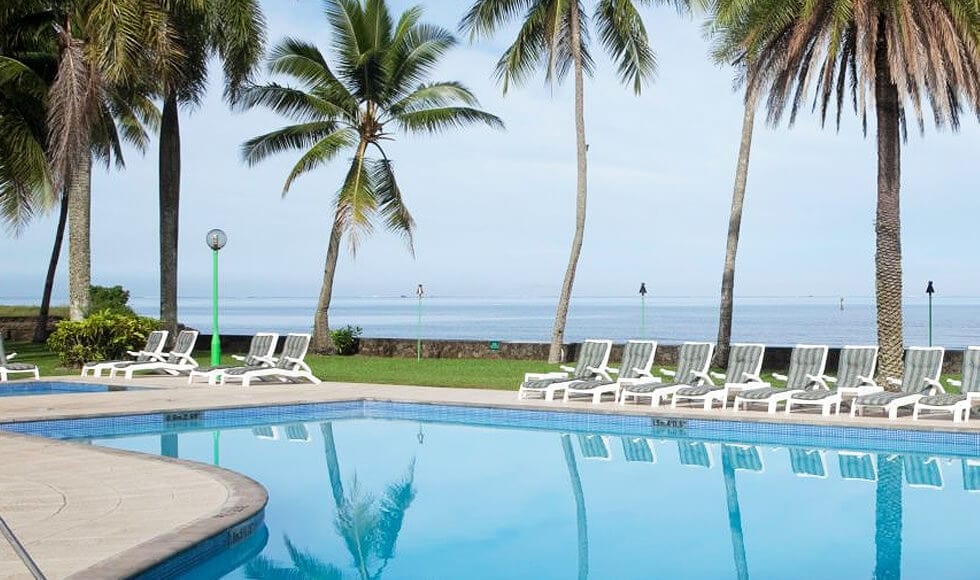 The Holiday Inn Suva offers brilliant Fiji holiday deals plus all the reliability and excellent service of the Holiday Inn chain.
What we like:
The Holiday Inn Suva has great value Fiji business packages and Fiji family holiday deals. Children under 12 eat and stay for free!
Join the IHG Rewards Club for exclusive members only benefits and points towards your next Holiday Inn holiday.
For a business trip to Fiji, The Holiday Inn Suva has an impressive 24 hour on-site business center. And the Holiday Inn staff always go the extra mile to help with booking tours, special occasions, business requirements and events.
The Holiday Inn Suva is always spotlessly clean and taken care of with indoor and out-door pools, a 24 hour lounge, and all water sport facilities.
All of the rooms have incredible ocean views with high standard Holiday Inn staples like flat screen TVs, high-speed internet, and balconies.
What to try:
Ideally located, the Holiday Inn is an easy walk into the downtown area for shopping and entertainment.
Don't miss the wood fired pizzas cooked in the outside pizza oven by the pool! They are a Holiday Inn Suva highlight and customer favourite.
At the Holiday Inn you will enjoy huge buffet breakfasts, and an extensive dinner menu with an impressive choice of cuisines to suit all tastes.
---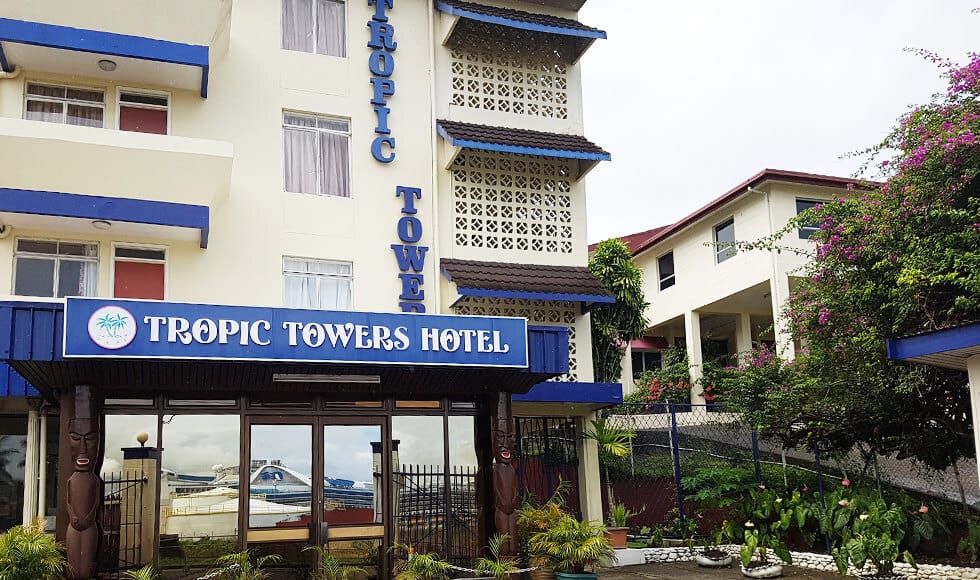 The Tropic Towers Apartments are Suva's finest self-catering apartments. A fantastic cheap Fiji holiday in the very heart of Suva city.
What we like:
The Tropic Towers Apartments offer very affordable rates, friendly staff, large, comforta-ble rooms with all the basic necessities. Great for large groups and families on a budget.
Each self-catering apartment has air-conditioning, an equipped kitchenette, and Wi-Fi available. Rooms with ocean views are available upon request.
The Tropic Towers Apartments are well cared for and maintained by a great team of ded-icated staff.
What to try:
There is a coffee lounge, bar, handicraft centre and 24-hour security team on-site for you to enjoy during your Fiji vacation.
The Tropic Towers Apartments are handily located only a 5 minute walk from the centre of Suva, Fiji's capital city.