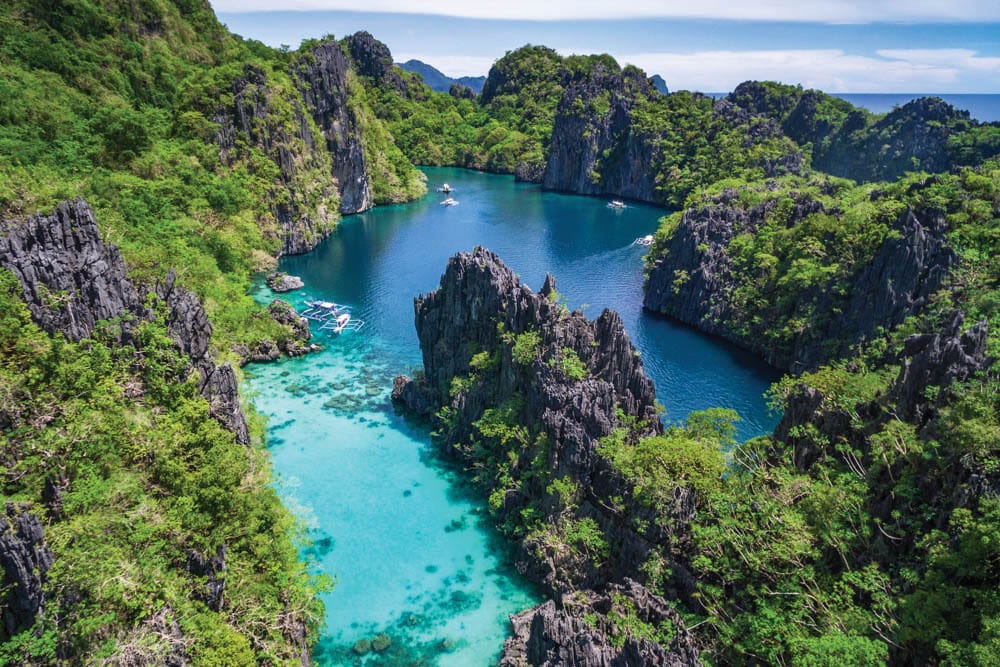 — PALAWAN —
Voted World's Best Island in 2013 and 2015, Palawan, often referred to as the last ecological frontier of the Philippines, has much to offer its visitors. Officially the Province of Palawan, it is an island province that is located in the Mimaropa region.
The biggest island in the Philippines, Palawan. It is part of an archipelago with more than 1700 islands on the western side of the country and its eco diversity includes grasslands, jungles, mountains and pristine beaches.
The northern part is characterised by incredible clear waters, white beaches that line the coast and many species of flora and fauna.
One of the most visited places, El Nido, is known for its sandy beaches, coral reefs and is the gateway to the Bacuit archipelago, a group of islands with steep limestone cliffs. The area has many dive sites, including Dilumacad Island's long tunnel leading to an underwater cavern.
When El Nido is crowded during the peak seasons and you prefer a quieter environment, Taytay is a great place to visit. It has loads of things for visitors to do. You can swim in the many hidden lagoons, kayak on beautiful Lake Manguao, swim around the beautiful waterfalls, snorkel or island hop.
The capital of the province is the coastal city of Puerto Princesa. It is a great base from where visitors can take boat trips through the huge limestone caves as well as the underground river in Puerto Princesa Subterranean River National Park. Around the city are great dive sites that are only five to 40 minutes from the beach inside Puerto Princesa Bay with the closest being White Beach and Red Cliff. They offer slopes and walls just seven metres under the surface where colourful fish, turtles and rays can be seen. Not to be missed is a visit to the 19th-century Immaculate Concepcion Cathedral.
The cheapest option for getting around Palawan is by local jeepneys and tricycles. Getting from one island to another is possible with daily boat trips available. Car and van rentals are also available.