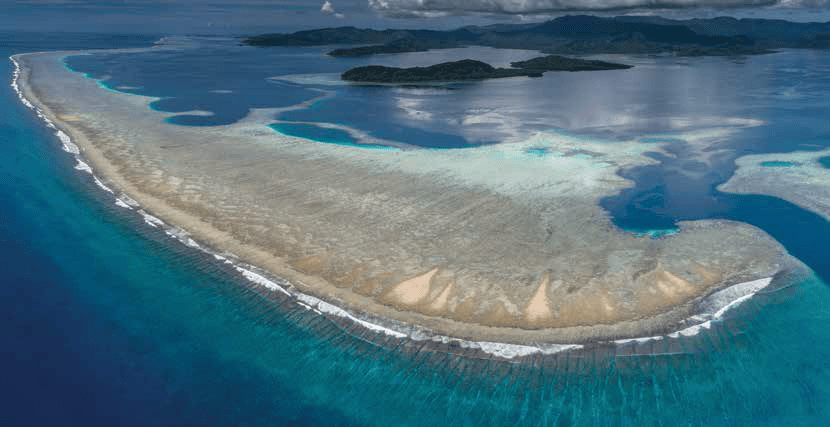 — Micronesia —
The islands of Micronesia are spread over a great distance, yet each has its own culture and topographical personality. Set in sparkling waters which change shades of colour from deep blue through to sea green, each one is ringed by coral reefs.
Your first glimpse of these 'pearls' of the Pacific are of specks of land surrounded by necklaces of white waves. Each island is covered in lush tropical vegetation, but the real action is underwater where there is some of the richest and most varied marine life to be found anywhere in the world.
Capital and major centres
The islands vary in size and political status. The most well known is Guam, which is an American territory and serves as a gateway to the other island groups.
The islands of Pohnpei, Chuuk (Truk), Kosrae and Yap elected to join a federal government known as the Federated States of Micronesia with headquarters in Pohnpei. Palau and the Marshall Islands voted to remain independent and have established autonomous governments. Saipan, Rota and Tinian became the Commonwealth of the Northern Mariana Islands (commonly referred to as the Marianas or Northern Marianas) with Saipan the capital.
The people
The whole of Micronesia has fewer than 500,000 people. The region was settled about 2000 to 3000 years ago by an ancient seafaring race from areas in South-East Asia who migrated into, and successively colonised, the islands. English is widely spoken in addition to a number of indigenous languages, including Chamorro, Palauan, Yapese, Chuukese, Pohnpeian, Kosraean and Marshallese.
Nature
The islands of Micronesia are naturally diverse and include high volcanic islands, such as Pohnpei and Kosrae, raised coral islands such as Guam and Saipan, and coral atolls such as the Marshall Islands.
The inhabited areas vary from villages without cars or electricity, to the sophisticated resort areas of Guam and Saipan.
The underwater wildlife is particularly diverse, with the islands of Micronesia offering some of the most pristine and biodiverse underwater environments, which make scuba diving here excellent. Birds and plants abound on all of Micronesia's islands.
The sights
Geologically, culturally and naturally diverse, the islands of Micronesia offer a wide range of natural and man-made attractions to suit every taste.
These differ from pristine underwater environments and lush island landscapes to sprawling resort areas with shopping and nightlife.
Where to stay
Each island differs in accommodation. The more developed islands such as Guam, Saipan and Palau have international hotels. Rota also has several new hotels and a resort with an 18–hole golf course. In the Marshall Islands guest accommodation on some of the outer islands is in traditional thatched huts with few amenities.
Food and entertainment
The islands that are best equipped for tourism offer world-class seafood restaurants. In Guam, Palau and Saipan enjoy a variety of cuisine including American, Japanese, Korean, Chinese, Filipino, Mexican and Chamorro.
In Pohnpei try the local drink, sakau. In Chuuk sample Japanese and local cooking while in Rota indulge in the best of the traditional Chamorro cooking. In the Marshall Islands, American, Western-style cooking and Chinese cuisine go hand in hand with Marshallese specialties.
Activities
Comprising approximately 2000 islands and atolls, Micronesia caters for all levels of diving. Here's a taste of what you can expect to find at the various destinations. Guam has an exceptional underwater world. The water is crystal clear, with 60 metres visibility commonplace, and you can expect to see coral gardens teeming with fish life, a unique blue hole and caverns. There are several wrecks of historical importance here including a Japanese Zero.
Also, the remains of a Spanish galleon, the world's largest side paddle-wheeler, and a 230–metre passenger liner can be found layered on top of each other. You can also trace the remains of both world wars at the double wreck of the Cormoran, a WWI German Gunboat, and the Toka's Maru, a Japanese freighter from WWII.
Saipan is famed for its beaches and some of the fiercest fighting between the Americans and the Japanese. As a result there are an estimated 18 sunken Japanese ships and many others as yet undiscovered. The majority of the wreck diving here is in Tanapag Harbour in depths of 12–18 metres with visibility up to 18 metres. The harbour has a ship believed to be the Shoan Maru, a B-29 Bomber, a Japanese seaplane, sub chaser, landing craft and a Zero fighter. An interesting snorkelling site is provided by two American tanks in two-and-a-half metres of water off Saipan World Resort.
The most adventurous site is the Grotto which starts at the base of 200 stairs. After submerging 18 metres down the cavern, you then swim through the tunnel to the outside wall of the island where visibility averages 30 metres.
Palau is known as one of the seven underwater wonders of the world, not surprising when you can stand atop a reef edge in knee-deep water and see it drop away to 320 metres vertically. It is believed that there are more than 50 WWII shipwrecks sunk in the lagoon. For a truly unique experience, how about diving in a land locked lagoon with 100,000 non-stinging jellyfish! Dive sites offer stalactite-filled caves, giant undersea tunnels and gorgonia fans that stand up to three metres tall.
Chuuk is renowned as having the best shipwreck diving in the world because of what is today known as the Ghost Fleet of Truk Lagoon. It consists of 50–60 ships and Japanese planes that were sent to the bottom after two days and a night of continuous strafing and bombing. The water temperature has served as a great incubator and the ships are now excellent artificial reefs, home to a variety of spectacular marine life. Underwater photography is a must here with the prolific coral growths that line the wrecks. The diving is yearround with visibility on the wrecks varying from 15–30 metres, and average depths between 12–40 metres.
Pohnpei is a maze of coral passes or channels leading from the outside sea into the inner lagoon offering great diving and superb coral formations, including deep gorgonia fans that can grow up to six metres in height. The shallow water is also the place to see barracuda, mantas and several varieties of curious reef sharks.
Yap is known as the island of manta rays because you can see mantas here consistently. A new find is the manta ray cleaning station where the mantas queue up to have parasites removed from them by small wrasses. These rays have a wing span of three to six metres and weigh in at approximately 460 kilograms.
Popular dives in Yap are Mill Channel, Manta Ray Pass and Goofnuw Channel. Mandarin fish are also becoming a diving attraction. When the sun goes down, these colourful little fish come out and stare at you!
Kosrae has consistently good diving conditions due to the triangular shape of the island. The great attraction here is the clear, clean water and live coral that encircles the island. August is usually the best month when visibility is up to 65 metres. Kosrae has a large population of turtles and during the mating season in December, their numbers escalate. Another great attraction is provided by the 150 dolphins that reside outside the reef.
Marshall Islands is Micronesia's atoll diving destination. Made up of 29 coral atolls, diving in the Marshalls can be enjoyed either within the lagoons or in the open ocean. Dive sites include lagoon pinnacles, walls, channels, reef points, and vast areas of virgin, unexplored reef.
The Marshalls are also home to an abundance of WWII ship and plane wrecks concentrated in the lagoons of Bikini, Kwajalein, Jaluit, Mili, Wotje, Maloelap and Majuro Atolls. Dive excursions to seldom visited outer atolls can easily be arranged with local operators and shark sightings are guaranteed.
Shopping guide
Jade, coral, ivory, gold and handmade silks, plus handicrafts such as trays, baskets, hats, headbands and purses are popular purchases. The islanders are known for their weaving of pandanus leaves and for their traditional stick charts which fishermen have used for centuries for navigation.
Climate
Tropical with little seasonal change. Average temperature on all the islands is 30℃.
Clothing
Casual clothing is recommended. Swim wear is acceptable near beaches and pools, but not usually permitted in public areas.
Currency
US currency is used throughout Micronesia. Outside of Guam and Saipan, the use of credit cards is very limited, although major hotels on all islands take them. Tips are accepted.