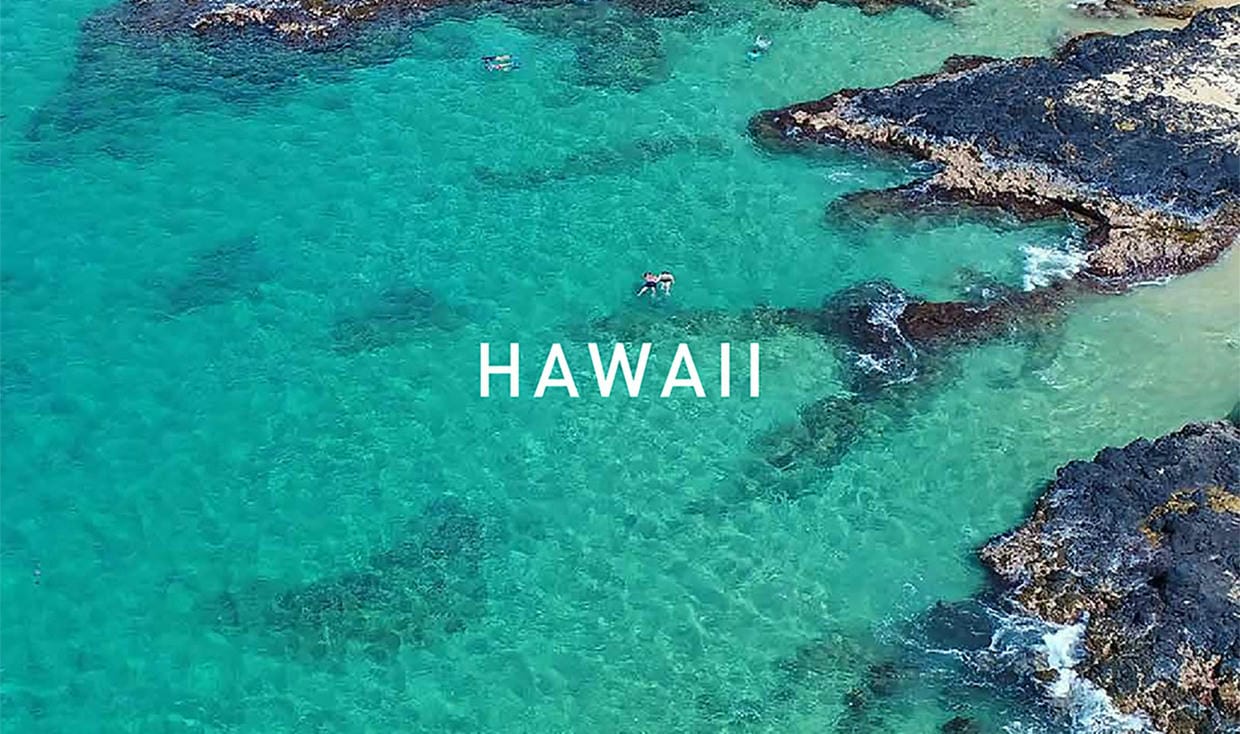 Located more than 5178 kilometres off the west coast of America, this tropical paradise of turquoise bays, white sandy beaches, lush tropical vegetation and balmy sunshine all year round, is renowned as one of the world's most famous vacation playgrounds.
Most of the 132 islands in this beautiful archipelago are no more than tiny atolls, the summits of a chain of submarine volcanoes that stretches almost to Japan. Hawaii is full of contrasts and extremes and it has 11 of the world's 13 climatic zones.
Capital and major centres
There are six major islands to visit in Hawaii. These are Oahu, with the city of Honolulu, the capital of Hawaii; Maui, the second largest island with the world's largest dormant volcano; Kauai which is known for its magnificent scenery and vegetation; Hawaii Island or the Big Island where Captain Cook is buried, and the ancestral home of Hawaiian royalty; and Molokai and Lanai, located off the coast of Maui.
The people
There are 1.4 million people of mixed races living in the Hawaiian archipelago. Hawaii's religions are as diverse as its cultural heritage. The official languages are Hawaiian and English. The diverse culture of Hawaii is expressed through language, music, art, theatre, dance, film and food.
History
The first inhabitants of Hawaii were Polynesians who arrived between the fourth and fifth century with plants and animals. Captain James Cook was the first European. He landed in 1778 to find a structured society with chiefs ruling each island. In 1920, Hawaii became a major tourist destination with the first non-stop flight from the US mainland. In 1959 it became an American state and Honolulu is now the 11th largest city in the USA.
The sights
On Oahu, see Pearl Harbor and visit famous Waikiki Beach. Hike to the top of one of Hawaii's most recognised landmarks, Diamond Head, for panoramic views of Waikiki and Honolulu. Hire a car or jump on the local bus to explore the beautiful beaches on the famous North Shore.
On Maui the main attraction is Haleakala, the world's largest dormant volcano reaching approximately 3000 metres. The best time to visit Haleakala is at sunrise. A drive along the stunning Hana highway is also a must while on Maui.
On Hawaii Island, there is Hawaii Volcanoes National Park and Parker Ranch, which is the third largest working cattle ranch in the US. There is also a space centre named after Hawaii's first astronaut, Ellison S. Onizuka. Visit Akaka Falls State Park and take a scenic self-guided walk that features two amazing waterfalls, Akaka Falls and Kahuna Falls.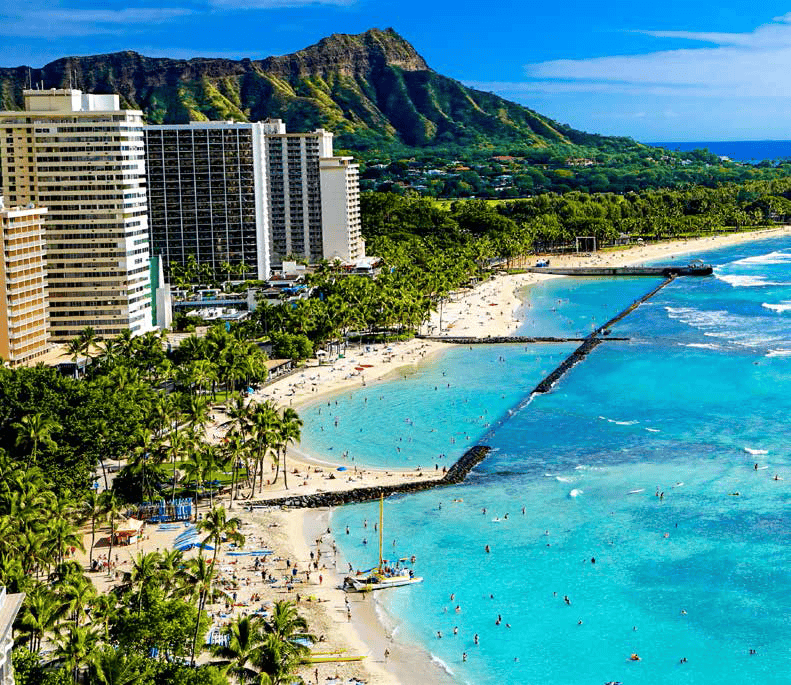 Kauai has Waimea Canyon and a number of magnificent botanical gardens. A sailing trip or helicopter ride along the breathtaking Napali coast is also highly recommended.
Molokai is home to historic Kalaupapa National Historical Park where victims of Hansen's disease were exiled in the 1800s. Today, the serene Kalaupapa National Historical Park is a place of preservation and education and is only accessible by mule ride, hiking tour or airplane from the small commuter Kalaupapa Airport.
The smallest inhabited island in Hawaii is Lanai. It's best dive spot, Cathedrals, has dramatic coral formations creating pinnacles and caverns rising from a depth of 21 metres to the surface. Kaunolu Village is an archaeological site featuring the largest surviving ruins of a prehistoric Hawaiian village.
Where to stay
Hawaii has accommodation to suit all budgets, and travellers can expect to find hundreds of hotels and condos in every category from luxury to budget. Camping is available in National, State, City, and County Parks.
Getting around
If you are considering visiting all of the islands, it is recommended that you allow a minimum of three weeks. The domestic airlines, Hawaiian, Mokulele Airlines and Island Air help to maximise sightseeing time. Helicopter sightseeing tours are popular and give you a chance to see places that may otherwise be inaccessible.
On the ground there are limousines, taxis and coaches available. Oahu is the only island with a bus service with an extensive route that covers the entire island. In addition, there is a ferry from Lanai to Maui and from Molokai to Maui. Renting a car or jeep is extremely popular in Hawaii, although it is not necessary in Honolulu as it has a good public transport network.
Driving is on the right hand side and, as most islands have only one main road, it is difficult to get lost. Night driving is not quite as enjoyable, as roads between towns are not lit and can be narrow.
Hiring a bike is a great option for visitors as it allows you to get off the beaten track and visit smaller towns.
Food and entertainment
Experience a traditional Hawaiian feast or luau, which usually includes dishes like poi, ground from the taro plant, kalua pork, an entire pig wrapped in ti leaves and baked in an underground oven or imu, poke, marinated raw fish, shellfish, or octopus, along with Polynesian-style entertainment and a hula performance.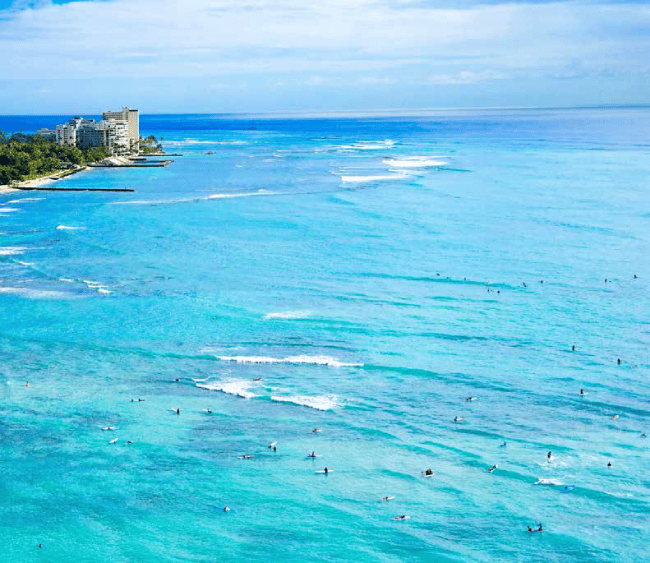 Aside from the Pacific Rim or Hawaii regional cuisine, which is a fusion of food and techniques from all of the countries and ethnic groups that have historically had an influence on Hawaii, Hawaii boasts many international restaurants serving various Asian and continental cuisines. There are also fast foods of every kind, and doit- yourself is popular as most condominiums have cooking facilities.
Activities
There is a wide range of activities for all ages including snorkelling, fishing, tennis, golf, windsurfing, sailing, and many other water based activities including magnificent surfing. Hawaii offers sightseeing tours, bushwalks, downhill cycling adventures, trail rides, and a range of indoor activities.
Whale watching season begins in late December and ends in early May, with peak viewing occurring between January and early April. November through February is big wave surf season on Hawaii's north shores.
Shopping guide
Artisans make copies of their ancient instruments made from gourds, stones, seeds, feathers, shells, lumber and bamboo. Also for sale are woven leaf hats, feather work in colourful hatbands, capes and bags, handwoven cloth, Lauhala leaves made into sandals, bags and wall ornaments. Beautiful Hawaiian applique quilts in island designs make the perfect gift.
Climate
With its warm and gentle trade winds, mild temperatures and sunny skies, Hawaii is an ideal vacation destination throughout the year. There are really only two seasons in Hawaii: summer from May to October and winter from November to April. The average daytime summer temperature is 29.4° C, while the average daytime winter temperature is 25.6°.
The wettest months are from November to March, with most of the rain falling in the mountains and valleys on the windward (northeastern) side of the islands. During the winter on many north shore beaches, Pacific storms drive ocean swells towards the islands, creating The Hawaiian Islands' legendary big waves.