It's that time of year again… Christmas! And with Christmas not only comes presents, puddings and punch but also Christmas parties! Whether it be on the harbour in a fabulous yacht, afternoon cocktails in a swanky bar or a casual laid back BBQ here are some great glam ideas that will get you out the door fast and into the soiree season looking sexy, fabulous and fearless!
1. Overdress rather than Underdress
That's right you heard me! It's the Christmas season so lets get merry! Invest in a plain coloured kaftan and dress it up with hot red or pink lips with a bright oversize clutch and sexy wedges for the comfort yet effortlessly chic factor. If you want to dress it down but still look glamourous opt for a crochet mini dress like the one in the pic and team it with a fun tote bag and sandals.
2. Throw on a coverup!
If you're over wearing the standard 'party' dress this season and want to try something different, throw a maxi kaftan on over the top!  Comfortable yet chic, maxi Kaftans can be dressed up or down and are just perfect for a day to night look.  Experiment with different length options, and flats or heels both work with this look.
3. Wear a bikini confidently
Between the christmas pud, champagne and cheese sometimes strolling around in a bikini seems somewhat daunting but please don't go for the oversize t-shirt! Cover up and look effortless with a full length robe. Crochet, Silk, print or sheer, robes can be worn casually at the beach or dressed up with heels and jewels by the resort side pool.
So this christmas be bold and experiment with colours – Don't be boring and head straight to your 'red and greens' try out turquoises, greens and bright whites – And most importantly wear them with confidence!
Have a safe and sexy Christmas and New Years all!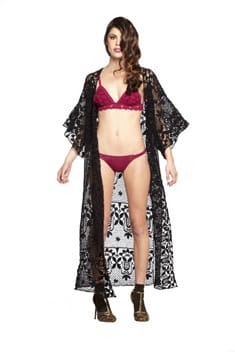 Much love
Lisa Maree xxxxx