SIAM@SIAM
Design Hotel & Spa Bangkok
By Kelly Tang
Bangkok for the past four years has been voted the hottest (hip and happening) exciting city to visit on the planet by Travel & Leisure Magazine. With so many beautiful and historical cities in the world this is an extraordinary achievement. So deciding on a hotel and choosing where to stay can be a huge headache.
On a recent trip to Bangkok, I had the pleasure of staying at Siam@Siam Design Hotel & Spa and so glad I did.
Funky, uber smooth and cool are adjectives that best describe this hotel. Perfectly positioned opposite Bangkok's National Sports Stadium and moments away from Bangkok's great rail (Skytrain) system and a short walking distance to most of Bangkok's premier shopping precincts. These include the deluxe shopping experience of Siam Paragon, Siam Square, CentralWorld, Gaysorn and the massive MBK centre.
Artwork, sculptures, colours and décor ensures this hotel offers so much more than the standard fare that most other hotels exude.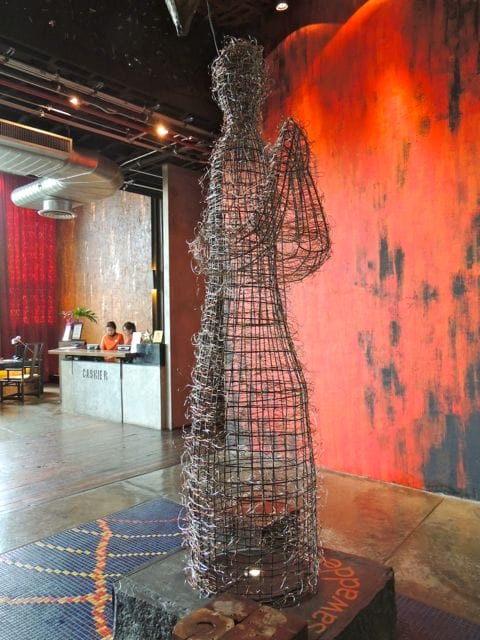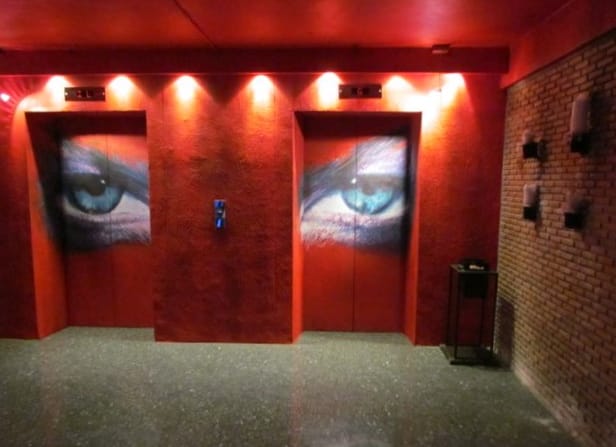 HIGHLIGHTS OF SIAM@SIAM:
The hotel has a great rooftop with 360 degrees views of the city. You will spend many hours sitting high above Bangkok's glittering skyline on the rooftop sipping cocktails or enjoying some of the roof restaurants excellent offerings.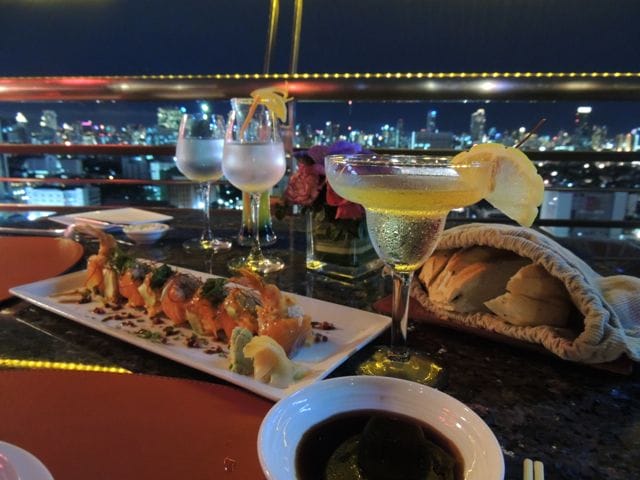 Rooftop dining
Siam@Siam has 4 restaurants and 4 bars including a mezzanine wine lounge and cigar bar. The hotel's live music adds to the funk 'n' soul that this hotel projects.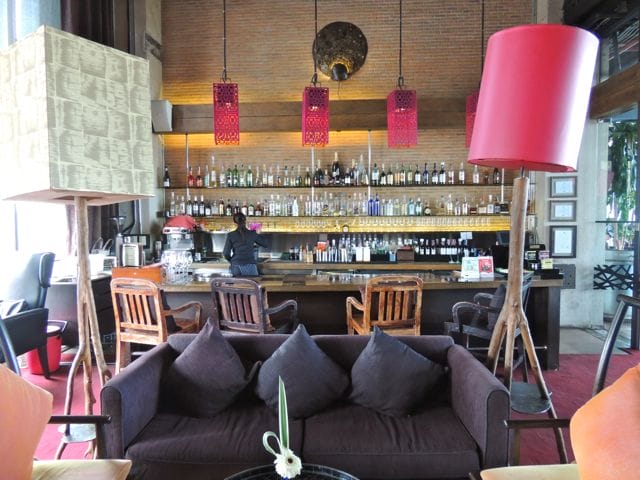 The business community is not forgotten of course, as three floors are solely devoted to business. Talking of business, hotel business that is, I have to commend management and all their staff with their professionalism. They were exemplary, friendly, always smiling and nothing was ever any trouble.
After your inevitable Bangkok tourist and shopping to do list is slowly worked through, book a spa treatment at Siam@Siam's 'Spa Ten Centre' and experience a truly indulgent time. I can recommend the 60-minute full body oil massage. It was pure bliss.
A variety of accommodation (203 individual rooms) all uniquely crafted along interior artistic themes are available to suit most budgets and rooms are delightfully decorated.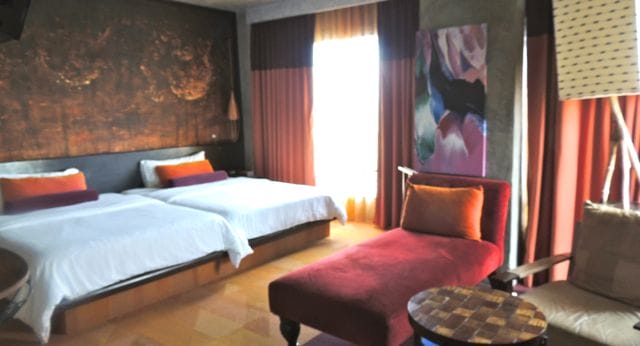 The infinity pool and relaxation area is an oasis in one of the world's busiest cities. Spend some time here to unwind and guaranteed you will feel stress levels slowly dissipate. The hotel also has a fully equipped gym and fitness centre with personal trainer on standby and after a workout visit their juice bar to get refueled.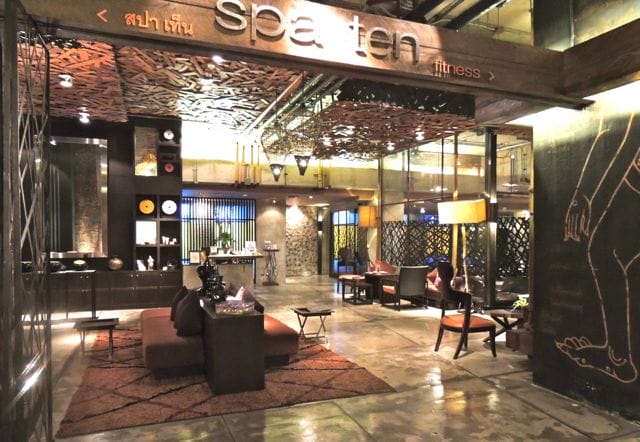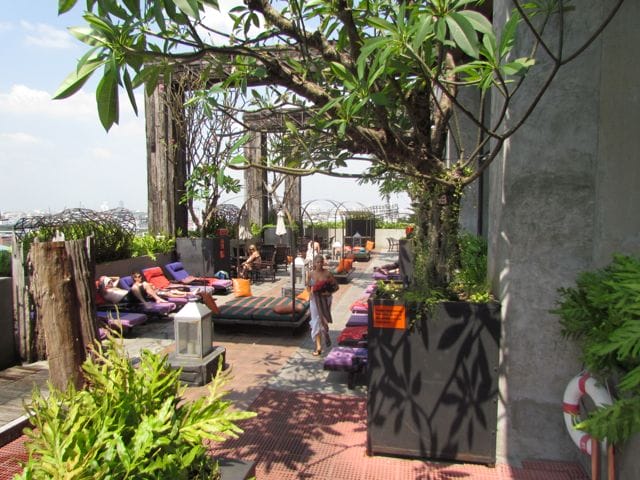 If your time in Bangkok coincides with any major sporting event at the National Stadium, get in the pool early for a ringside seat as it overlooks the arena.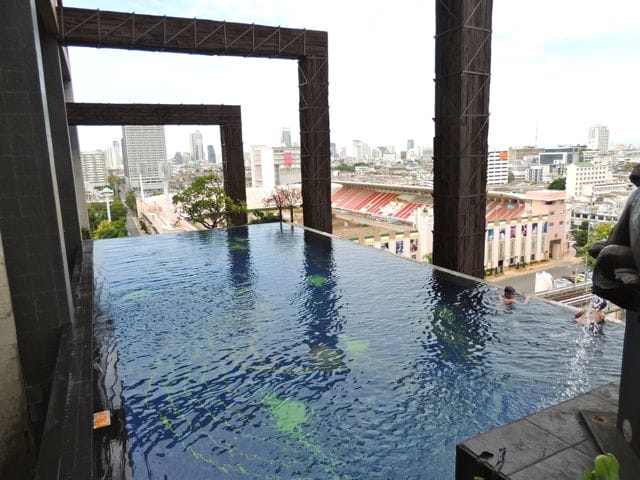 So take the stress out of deciding where to stay and book a room at Siam@Siam Design Hotel & Spa. You will not be disappointed.
SOME MAIN BANGKOK ATTRACTIONS
The Grand Palace and Wat Prakaew: Built in 1782, and for 150 years the home of Thai Kings and the Royal court, the Grand Palace continues to enthrall visitors with its beautiful architecture and intricate detail.
Floating markets: The pioneer of all floating markets, Damnoen Saduak continues to offer an authentic experience into the life of traditional market vendors. Early morning is best time to visit as market is liveliest.
Kao San Road: Travellers (it's a backpackers paradise) from every corner of the world congregate here. Travel agencies, clubs/bars, eclectic market stalls and restaurants all call Kao San home.
Wat Pho: Gigantic reclining Buddha and traditional Thai massage. Wat Pho harbours a fascinating collection of murals. The vast temple complex contains a landscaped garden with stone sculptures and stupas adorned with glazed porcelain.
Wat Arun: One of the oldest and best-known tourist attractions in Bangkok. The temple is an architectural representation of Mount Meru, the center of the universe in Buddhist cosmology. Best views of Wat Arun are in the evening with the sun setting behind it.
Chinatown: Chinatown is a colourful, exotic and pleasingly chaotic area, packed with market stalls and probably the highest concentration of gold shops in the city.
Weekend markets: Chatuchak Weekend Market is a must-visit place for tourists. The market is home to more than 8,000 market stalls. Is the largest outdoors market in the southern hemisphere.
See staff at the tour desk on the lobby level next to concierge for any tour information.
TIPS
You're in Asia where heat and humidity is prevalent so pack accordingly.
If hiring a taxi ensure the driver uses his meter.
Pack lightly and shop hard.
If you plan on hiring any kind of vehicle (car or bike) ensure you have an international drivers license. Cost is under $50 AUD and can be acquired from the NRMA. (Australia only)
HOW TO GET THERE
Jetset Travel Rosebay
(02) 9371 8166
www.jetsetrosebay.com.au
Words and photography by Kelly Tang