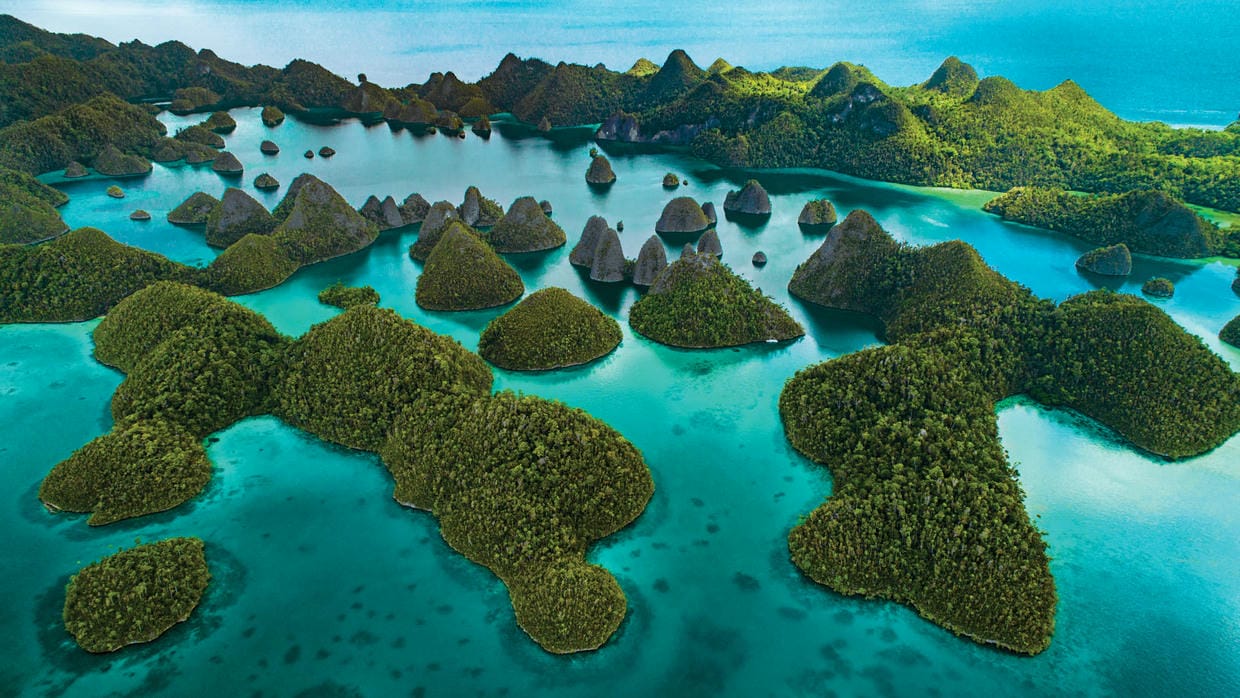 The size of Indonesia is over whelming and offers visitors a very individual experience.Whether you are shopping, visiting temples, enjoying the beaches and resorts in Bali, or venturing further to discover remote villages or the jungles of Borneo an Papua, visitors are sure to be amazed by Indonesia's diversity.
Capital and major centres
As the nation's centre of government, business and industry, the capital Jakarta is a modern society that reflects recent decades of remarkable economic growth. The mega city has a population of 10 million and is surrounded by the metropolitan area, Jabotabek, with a population of around 28 million.
The island of Bali, a tropical paradise and tourism hot spot, lies off the eastern tip of Java. A rich culture, beautiful landscapes, coastline and rural villages keep visitors returning in droves. The islands of Lombok, Sumba, Flores and others form a chain all the way to the easternmost province, Papua.
Sumatra, the world's sixth largest island, is located to the west of Jakarta. The equator divides it in two just north of Bukit Tinggi. The scenery in Sumatra is amazing, offering incredible mountains, rivers and almost 100 volcanoes, 15 of which are active.
Kalimantan, the southern two-thirds of the island of Borneo, was once, and still is for the most part, a vast, jungle-covered wilderness. Boats and ferries are the main modes of transport, and the native Dayak tribe is a main attraction. The highland region of Sulawesi offers national parks, and a festive culture that includes the famed funeral festivals of Tana Toraja on the south western peninsula. Further east still, in the islands of Maluku previously known as the Moluccas, lie the fabled Spice Islands. Many of these areas are just a two-hour flight from Jakarta, and an extensive and convenient network of air services connects the major cities and towns.
The people
The fourth most populous nation in the world, Indonesia's estimated 257 million people speak more than 500 different languages and dialects, and range from city dwellers to sea gypsies. Sixty percent of the people inhabit a mere seven percent of Indonesia's land area on the island of Java, while most of the archipelago remains unexplored.
Nature
Indonesia has one of the world's richest natural environments, offering an incredible diversity of animal and plant life. While a number of species of fauna are familiar to both Asia and Australia, there are many indigenous species in Indonesia such as the orangutan apes of Sumatra and Kalimantan, the giant Komodo dragons, the only ones of their kind in the world still roaming free, the one-horned rhinoceros of Java, the wild banteng oxen, tigers, and many other species now protected in wildlife reserves.
East of Komodo is the island of flowers, Flores, where Komodo dragons can be found along the west coast, the only other place apart from Komodo. Also on Flores is Kelimutu with three coloured lakes in the caldera of the volcano. These lakes change colour depending on the oxidation state of the water and go from bright red through to green and blue.
Papua, once part of the Australian landmass, has kangaroos, marsupial mice, bandicoots, ring-tailed possums, crocodiles and frilled neck lizards. Indonesia has 400 volcanoes and a spectrum of landscapes from lush green mountain slopes to warm sandy beaches; from rice fields to rain forests and mountains topped year round with snow.
The sights
The most visited islands tend to be Sumatra, Java and Bali, and there is a great diversity of landscapes and cultures in these regions alone. There are also many temples from the Buddhist and Hindu dynasties such as those in Borobudur, Prambanan and the Dieng Plateau, the palaces of the sultans in Surakarta and Yogyakarta, the Maimoon Palace of the Sultanate of Deli in Medan, and the Hall of Justice in Bali. There are remote villages, the ruins of ancient fortresses and museums, mosques and churches.
Where to stay
Accommodation in Indonesia ranges from deluxe hotels and resorts through to simple economy hotels, 'wisma' (guesthouses) and 'losmen' (rooms to let). Deluxe hotels complete with convention facilities can be found in places such as Medan, Yogyakarta, Surabaya, Bandung, Jakarta, Bali and Makassar, while Jakarta offers a good mix of elegant five-star hotels and quality three- and four-star establishments.
In Bali, accommodation is available in all price categories, in the mountains or along the beach. In Bandung in West Java two old hotels have been restored to their original art deco style. Most hotels in major towns have air-conditioned rooms, but budget hotels are very basic.
Getting around
Indonesia has a huge variety of local transport, with public minibuses found in cities and villages. Many towns have bemos, three wheeled pick-ups with two rows of seats down the side, while the bajaj is found only in Jakarta. Becaks, or bicycle rickshaws, operate mainly in the suburbs of Jakarta and Surabaya, and are increasingly being banned from the central areas of major cities.
In Bali, Yogyakarta and many other centres you can hire self drive cars, bicycles or motorbikes. Taxis are available in Jakarta, Surabaya, Bandung, Solo, Semarang, Medan and Bali. Fares are generally low, and most taxis use their meters. If you choose not to use the meter make sure to agree on a price with the driver before you set out for the destination.
Food and entertainment
As with the cuisine throughout Asia, Indonesian food is largely based on rice. Nasi goreng, fried rice with an egg on top, is one of the most popular dishes. Seafood, including fish, lobster, oysters, prawns, shrimp, squid and crab feature prominently in the Indonesian diet and the cuisine is bold, rich in flavour and heavily spiced. Coconut is also very common and is produced for its cooking oil as well as its milk and white flesh that are used as ingredients in many dishes. A rumah makan, 'house to eat', is generally the cheaper equivalent of a restaurant.
Markets are a good food source, especially night markets. Jakarta and Bali have a wide range of excellent restaurants offering all types of cuisine from ethnic Indonesian to Chinese, Japanese, and also Western and European fare. There's entertainment in Bali almost every day with exhibitions of Balinese dancing either in villages or at hotels.
Entry requirements
All visitors need a valid passport/travel document with minimum validity of six months beyond the period of intended stay. Free visa entry on arrival for 30 days is now available for Australians.
Activities
Beach resorts offer sailing, surfing, scuba diving and windsurfing. Many areas are legendary for good diving, snorkelling and surfing. Of the 60-plus golf courses in Indonesia, Bali offers three of international standard, including the Greg Norman-designed Bali Nirwana Golf Course.
The more adventurous climber can tackle Mt Bromo in Java or Mt Agung in Bali for a day climb, or try more strenuous climbs such as Gunung Rinjani, the volcano that dominates Lombok. Traditional spectator sports include bull races, bull fights, rowing and unique ram fights, all held during festivals.
Silat, a martial art, is regularly performed as a dance or an exercise and is similar to karate. Camp Leaky, in the jungles of Tanjung Puting National Park in Kalimantan, is the site of Dr Birute Galdikas' study of wild orangutans and is the longest continual study by one principal investigator of any wild animal, enabling visitors to witness the rehabilitation of these amazing primates.
On the island of Sulawesi is the impressive Lore Lindu National Park, home to over 200 species of bird, the cuscus, tarsiers, anoa (a rare dwarf buffalo) and babirusa (an animal resembling both a pig and a hippopotamus). The park has been largely untouched by tourism and offers many different treks. Within the park are ancient stone megaliths, waterfalls, hot springs and the large lake of Danau Lindu. Sea walking is a new and popular activity that allows anyone to walk at a depth of three metres along the ocean floor without carrying heavy oxygen tanks. The Sea Walker helmets permit close observation of the myriad fish and sea life Indonesia offers.
Shopping
While Indonesian cities have air-conditioned shopping centres, supermarkets and department stores with fixed prices, bargaining is customary in smaller shops and particularly in the markets. The wax-and-dye art of batik is one of the country's best-known crafts, and silverwork, wayang puppets and leatherwork are all found in Java. Wood carvings, leather goods, paintings, clothing, bone work,bronze castings and stone statues are all available in Bali.
Beautiful furniture and homewares are for sale or made to order in Kuta, and from a number of warehouses between Seminyak and Ubud. Sumba blankets, the song-kets of Sumatra, the silks of South Sulawesi and the jumpuntan (tiedyed) items of Palembang can all be found in Jakarta.
Climate
It is hot throughout the year with daily temperatures from 26°C to 33°C with the wet season from October to April. Wear informal, light cotton clothing. In the highlands a sweater may be required. Discreet clothing should be worn at festivals, ceremonies and villages. A sarong or sash may be required for temple visits.
Currency
The rupiah is the currency unit of Indonesia. Most major foreign currencies can be easily changed in city banks, bureaux de change and large hotels. Credit cards are accepted in major hotels and restaurants.