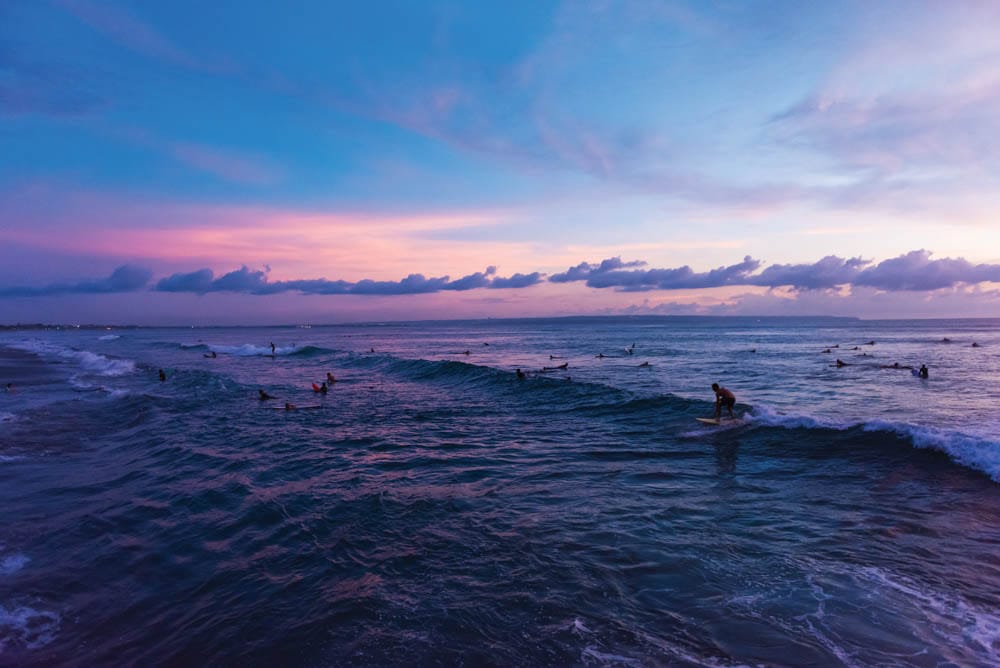 — BALI —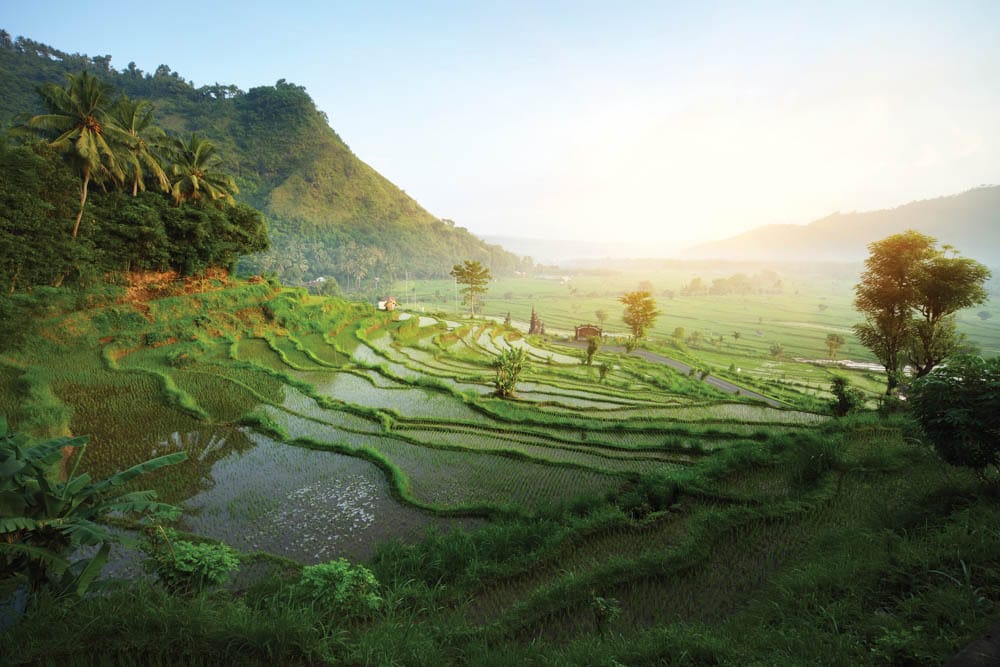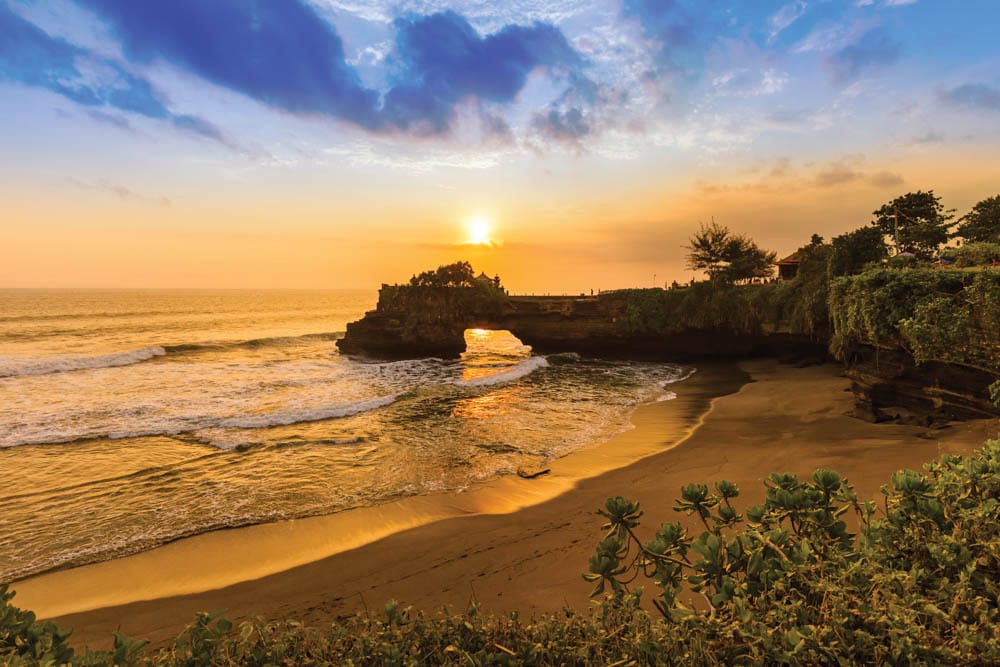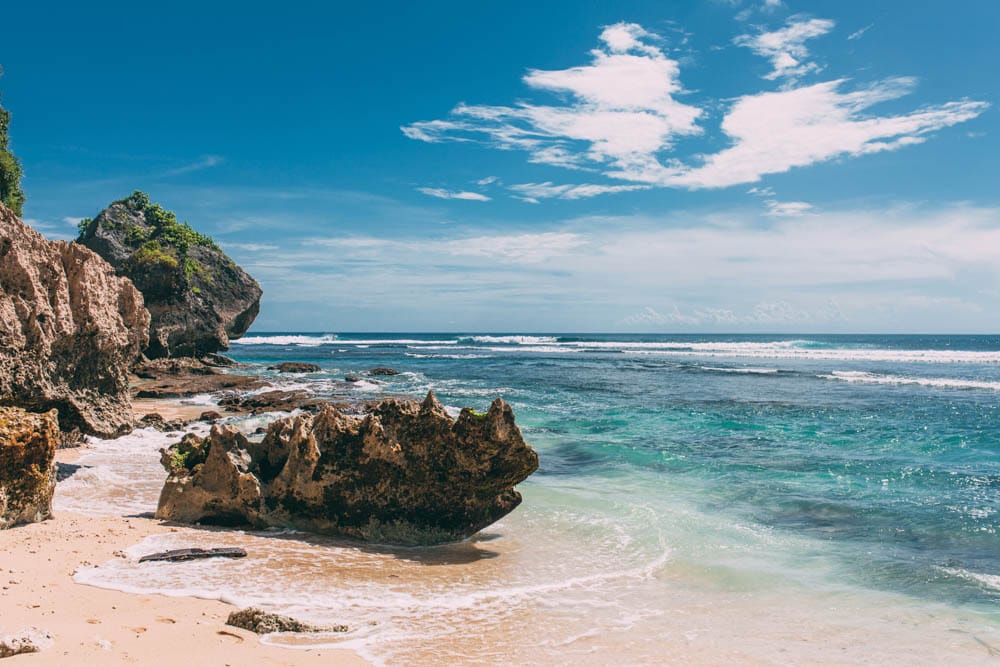 Bali is a tropical paradise with an abundance of fresh fruit always available. Bali boasts lush green forests, beautiful beaches and incredible rice paddies that spill down the sides of dramatic mountains.
It has a strong Hindu spiritual life, with thousands of temples and a rich culture of dancing, music, art, architecture, rituals and festivals.
The capital Denpasar in the south is a lively town, particularly after dark, when locals visit Pasar Badung, the biggest and busiest market on the island.
It is worthwhile hiring a car, jeep or moped, or chartering a private cab to visit the island's villages. Among those worth a visit are Celuk, which is noted for its silver and goldsmithing, and Mas for its excellent woodcarving. Near the village of Kutri is Pura Kedarman, which has a hilltop shrine with a panoramic view and stone statue of the eight-armed goddess, Durga. Ubud, at the base of the mountains, is the cultural centre of Bali and home of much traditional Balinese dance and music. This is where most accomplished painters, dancers, musicians, carvers and weavers live and work, so there are a number of excellent museums, art galleries and shops selling quality handicrafts.
Not far from Peliatan is Goa Gajah or the Elephant Cave, carved into a rock face. Visitors enter the cave through the cavernous mouth of a demon. Also near Ubud, Tampaksiring is a small town where the most impressive ancient monument on Bali can be found: Gunung Kawi. The temple consists of 10, seven-metre high, rockcut memorials.
The spectacular 16th century Tanah Lot is probably one of Bali's best known and most photographed temples. Perched on a rocky islet and encircled by the sea, droves of visitors go to see it at sunrise or, more commonly, silhouetted against a brilliant red sky at sunset. On Bali's western tip, the Bali Barat National Park covers nearly 20,000 hectares and includes 7000 hectares of coral reef and coastal waters. The region is ideal for trekking, has outstanding dive sites and pristine beaches. East Bali has Gunung Agung, and West Bali has the Gunung Batur crater, a magnificent sight at sunrise.
Penelokan, on the edge of the crater, offers superb views of Mt Batur and down to the lake. The village of Batur used to be inside the crater, but after a violent eruption in 1917 when thousands were killed, the village was relocated onto the crater's rim, with the village of Kintamani. Kedisan, by the lake, is the base from which you can take a boat across to Trunyan. Or walk for a couple of hours on the track around the lake to Toyah Bungkah passing through the old village of Songan. Nearly 1000 metres up the slopes of Gunung Agung is Bali's most important temple, Besakih.
North of Denpasar is the temple of Taman Ayun in Mengwi, spacious and memorable for its moat and large grassy outer courtyard; and Bedugul, which has a leisure park at the southern end of Lake Bratan and lovely botanical gardens. It is the south of Bali that is the real tourist mecca: the areas of Kuta, Tuban, Legian and Seminyak. Kuta has an incredible concentration of shops and services, as well as Bali's most famous beach—the only place in Bali where the surf breaks over sand instead of coral. Kuta and Legian come alive at night, with shops and market stalls selling every Balinese handicraft imaginable. Various cultural performances are staged nightly, with one of Bali's best Kecak (traditional dance) performances to be seen in Kuta.
The increasingly busy area of Tuban is situated close to the attractions of Kuta and Legian but with a more tranquil beach. Safer swimming combined with Bali's only watersports park, Waterbom Bali, makes it an appealing option for family holidays. Southern Bali, encompassing Nusa Dua, Sanur and Tanjung Benoa, is where most of the island's international five-star hotels are located. Sanur has a palm-lined beach and its waters are protected by reefs making it ideal for watersports. Reasonably priced restaurants are found in Tanjung Benoa and Bualu village, and the nightlife is relatively sedate. There are other beaches at Lovina in the north, and Candi Dasa in the east. Popular activities on Bali range from surfing, scuba diving and sea walking to indulging at pristine spas or attending an exciting cooking school.
As it continues to attract an increasing number of international visitors every year, dining in Bali is very cosmopolitan yet inexpensive. Bali has amazing fresh seafood and the local lobster, sold at prices that will have you coming back again and again, is not to be missed.
A huge range of international cuisines including Chinese, Malaysian, Italian, Greek, Moroccan and Mexican, to name just a few, are available. Be sure to enjoy local delicacies such as nasi goreng and sate campur.
Bali is also recognised as a shopper's paradise. Whether you are looking for casual or tailored clothing, locally crafted jewellery, handicrafts, antiques and artefacts or leather goods including leather coats, jackets and handbags, you will find it all at amazing prices.
Don't forget, bartering is the local custom at the markets so have fun and get the best price you can. If you need a quieter pace, try the fixed-price department stores in Denpasar.
Bali offers every standard of accommodation ranging from modest, yet charming bungalow-style hotels nestled in lush tropical gardens through to some of the most exclusive and sophisticated hotels in the world. There is without doubt something to suit every budget.
The abundance of cultural and historical sites here makes for a fascinating holiday.