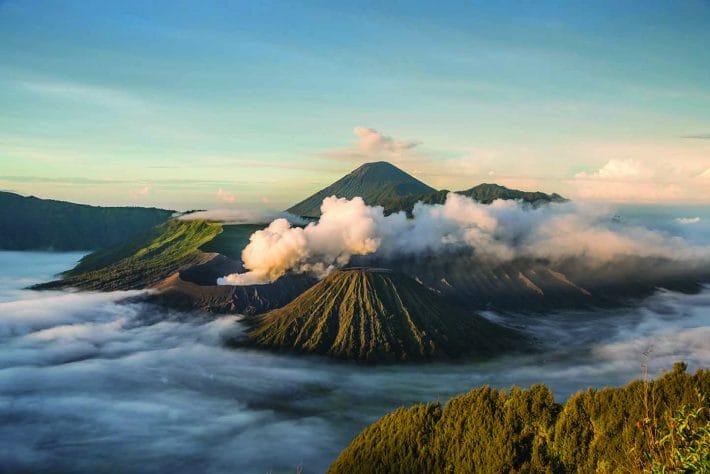 Java is Indonesia's political and economic heart. It is home to the nation's capital, Jakarta, and is proud of its well-preserved cultural traditions. It is blessed with mesmerising natural beauty, abundant wildlife and fascinating monuments of human civilisation.
Home to over 140 million people and the most populated island on the planet, Java has everything travellers could want. Its natural beauty is breathtaking with ever changing scenery that stretches from rice paddies to the sandy shores of beautiful beaches. It has active volcanoes and dense rainforests that contrast sharply to its cities.
While Jakarta is the capital of Indonesia, Central Java is considered its historic heartland. Among many places of interest is Yogyakarta, one of Indonesia's most liveable and lovable cities, with street art, galleries, coffee shops and cultural attractions everywhere you look. It's also a perfect base for Indonesia's most important archaeological sites, Borobudur and Prambanan. Borobudur is one of the world's most impressive temples and was built in about 800AD in the form of a stepped pyramid. Reaching 35 metres at its highest point, it features nearly 1500 carved story panels and 504 statues of Buddha. The vast structure was abandoned and lay hidden under foliage and volcanic ash for centuries before being rediscovered in the 1800s and is now a World Heritage Site.
About 90 kilometres north of Jepara in the central region, the dazzling offshore archipelago of Karimunjawa, a marine national park, consists of 27 coral-fringed islands, only five of which are inhabited. The white-sand beaches are sublime, swimming is wonderful and the pace of life as relaxed as a destination defined by coconut palms and turquoise seas should be.
In the east, Surabaya is a a gateway city for Mount Bromo and Bali. Mount Bromo is a part of the Bromo Tengger Semeru National Park. While it may be small when measured against other volcanoes in Indonesia, the magnificent Mount Bromo will not disappoint with its spectacular views and dramatic landscapes.
Travel within Java can be laborious and particularly so in the west though the rail network is quite reliable and efficient. However, it is well worth the effort to see the sights and gain an understanding of the fascinating local culture that is wonderfully expressed through art, music and dance.