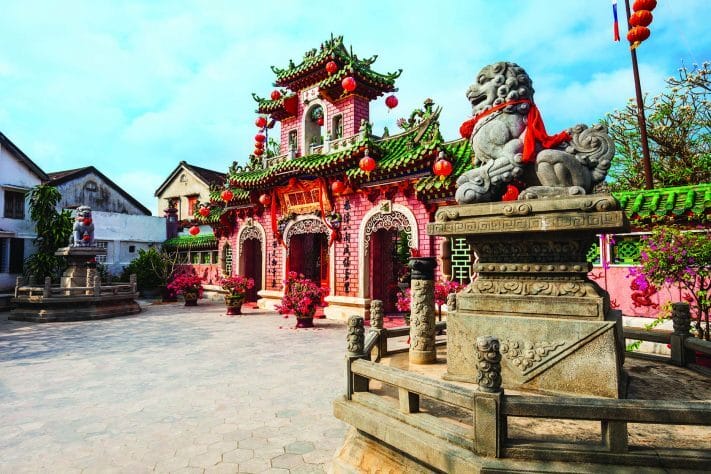 — VIETNAM —
Vietnam has incredible scenic beauty, featuring two main cultivated areas of the Red River Delta in the north and the Mekong River Delta in the south. It is made up of equatorial lowlands, high, temperate plateaus and alpine peaks.
Stretching over 1600 kilometres along the eastern coast of the Indochinese peninsula, Vietnam is bordered by China to the north and Cambodia and Laos to the west.
Capital and major centres
Whilst Ho Chi Minh City is the country's largest population centre, the capital, Hanoi is the political and cultural centre of Vietnam. Haiphong is the Northern region's main industrial centre and a major seaport, while Da Nang in the Central region, is promoted as the gateway to Indochina. Other major centres include Dalat in the Central Highlands, renown for its cool climate and beautiful mountain scenery and Kontum in the Central Highlands.
The people
Vietnam's population is about 90% Viet (Kinh) ethnic people and the rest are 53 other ethnic groups such as Tay, Nung, Muong, Cham, Khmer, Ede, and Hoa. The native language is Vietnamese with the northern and southern dialects differing slightly from each other. Now many Vietnamese young people can also speak English, French, Japanese, Chinese, and Korean.
Confucianism, Taoism, Buddhism and Christianity have all served to shape the rich spiritual life of Vietnam, along with the indigenous religion of Caodaism. The main temple for Caodaism is in Tay Ninh city, 90 kilometres northwest of Ho Chi Minh City. It offers daily ceremonies and educational tours.
Nature
Vietnam is lush and tropical with much jungle and vegetation ranging from the green Mekong River Delta to forests containing an estimated 12,000 plant species. The country's wild fauna is enormously diverse and includes elephants, rhinos, leopards, black bears and a variety of monkeys, birds and reptiles. Ho Chi Minh City's zoo and botanic gardens are a delightful place for a stroll, as are the tree lined avenues in the Cultural Park (Tao Dan Park).
Food and entertainment
Vietnam offers the opportunity to sample some truly amazing cuisine. There are said to be nearly 500 traditional dishes, ranging from exotic meats such as bat and cobra, to a variety of fish, vegetables, spices and sauces. As a guide, food in the Central region tends to be spicy, while the Northern region cuisine is mild. The Southern region has an understandable accent on pepper, as Vietnam is the world's largest producer of the spice. 'Pho' is the noodle soup eaten at any time of day and 'com' means 'rice dish'. Because Buddhist monks of the Mahayana tradition are strict vegetarians, many dishes contain tofu, mushrooms and raw, cooked and fermented vegetables. While Vietnamese desserts such as pastry, sticky rice and beans tend to be a little sweet for foreign palates, the selection of local fruits is amazing. Try green dragon fruit, jujube, longan, pomelo, three-seed cherry and water apple. A word of warning, smoking is still allowed in most hotels and restaurants in Vietnam, so it's advisable to get a table outside or by a window.
In Ho Chi Minh City, entertainment can be found at discos and hotel nightclubs, while bars and cafes are popular throughout the rest of the country. For a local experience, enjoy a 'Beer Hoi' at a road side bar. It's cheap, refreshing and a great way to meet the locals.
The sights
Vietnam's national parks include: Cat Ba, Ba Be Lake and Cuc Phuong national parks in the north; Bach Ma National Park in the Central region (sponsored by the World Wildlife Fund); and Nam Cat Tien National Park in the south to name a few. In 2003, another national park, Phong Nha-Ke Bang was recognised as a World Natural Heritage site by UNESCO. Phong Nha- Ke Bang National Park offers mountains that are ideal for climbing and exploring and it is also home to archaeological and historical relics along with a range of geographic attractions. The most recent to find favour with visitors is the Son Doong (Mountain River) Cave. Discovered in 2009, it is claimed to be the world's largest cave. The other UNESCO recognised sites in Vietnam are Halong Bay, the imperial city of Hué, the ancient quarter of Hoi An and the My Son Sanctuary, the Trang An landscape complex, central sector of Imperial Citadel of Thang Long – Ha Noi, and citadel of the Ho Dynasty.
Getting around
There is a major airport serving each of the three major tourism zones: Ho Chi Minh City serves the Mekong River; Da Nang serves Hué, Hoi An and My Son; and Hanoi provides access to Halong Bay and the mountains. Travel between the three gateway cities is available by air, train and bus. Overnight travel by train or bus is a popular choice for visitors and is inexpensive and relatively comfortable. Chartering a minibus or hiring a car and driver are other viable alternatives. Cabs (some metered, some not) operate in Hanoi, Ho Chi Minh City and most of the major cities. As a rule, it's best to avoid travelling by car in major cities during peak hour unless you are not in a hurry. Visitors can hire cyclos (pedicabs) to get around, or there is the option to travel the way the locals do and hire a motor scooter. With a population of about 95 million, it is easy to think that all Vietnamese people own a scooter. The roads are full of them. Traffic in the major cities is something that needs to be seen to be believed. Despite the vast numbers though, scooter traffic moves like water. It is constantly flowing, sometimes fast, usually slow and occasionally it will pool due to an obstacle, but then find a way to break through and move on. Walking can prove to be a bit of a challenge, as most footpaths are lined with parked scooters, left there by the locals while they shop or eat.
Shopping
Vietnam is known for its handicrafts, including lacquerware, mother-of-pearl inlay, ceramics, bamboo products, jewellery, silk goods, intricately carved statues and paintings. In Hanoi, two popular areas are Hang Gai Street and Hang Bong Street which stock embroidered tablecloths, greeting cards with traditional hand-painted silk covers, water puppets, clothing and antiques. In Ho Chi Minh City, Ben Thanh Market is a good place for shopping. (Vendors will willingly bargain but as a courtesy, do not ask the price of something unless you want to buy it.) Dong Khoi Street is an arts and crafts tourist bazaar.
Currency The currency is the Vietnamese dong. The US dollar is widely accepted and several big cities accept Euro. Traveller's cheques are easily exchangeable in banks and credit cards.
Climate
Vietnam has three climatic zones with temperatures ranging from 22oC to 27oC. In the north, the best time to visit is between October and March. Central Vietnam is protected by the Hai Van Pass Mountains and travelling is recommended year-round. In the south, there are two seasons—dry and rainy. March, April and May are the hottest months. Lightweight clothing is sufficient for the south all year round but warmer clothing is needed during winter (November through April) in the north and in the highlands.