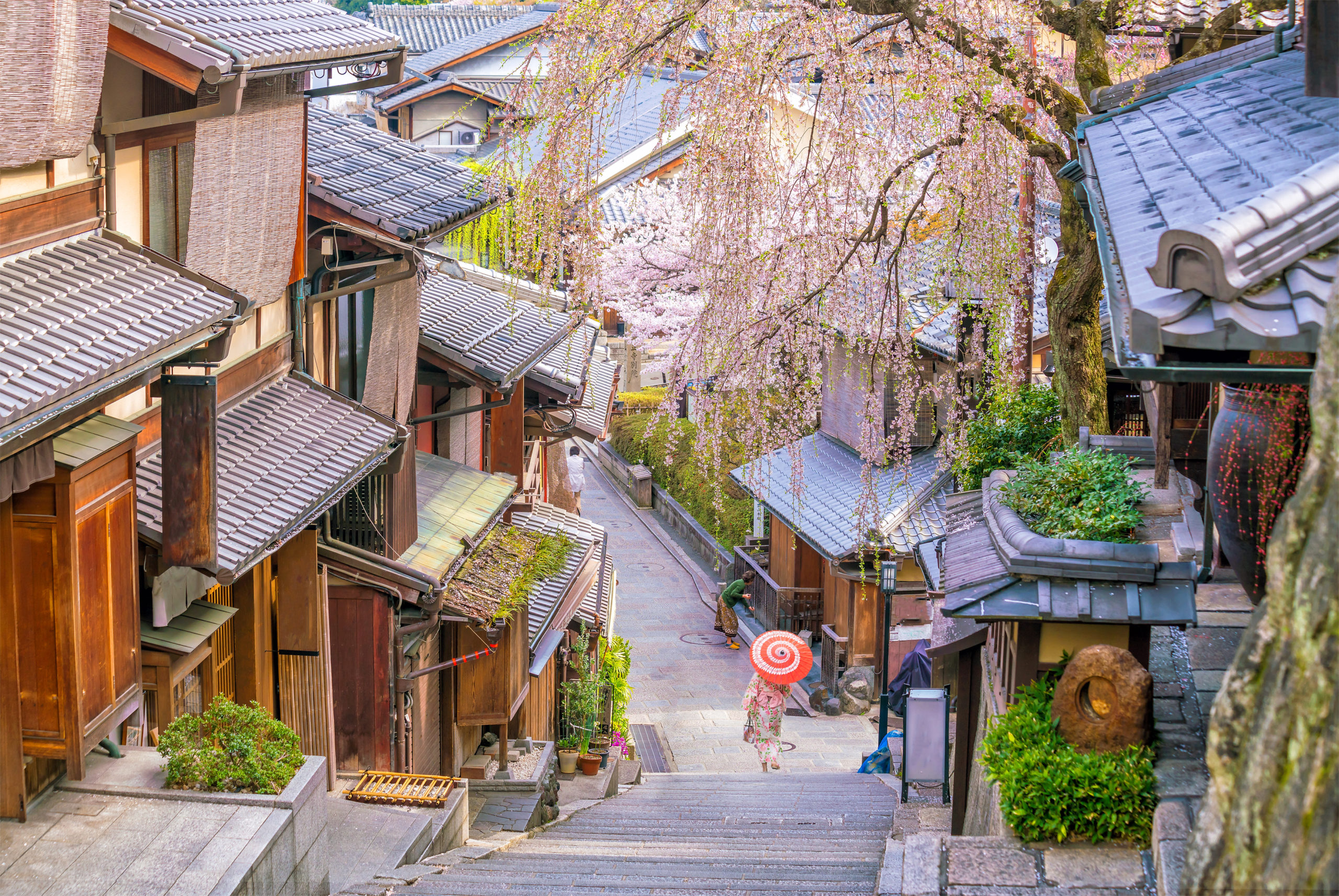 A beautiful, mountainous group of islands, Japan is a multi-faceted country, where the modern technological age rubs shoulders with centuries of age-old tradition.
The people
The Japanese are well known for their politeness and etiquette. Japan is one of the world's most crowded countries. Densities are especially high in the urban corridor between Tokyo and Kobe, where a large percentage of the country's population lives in a relatively small land area. There is one primary language, Japanese, and the two dominant religions are Buddhism and Shintoism.
Places to visit
The four main islands are Honshu, Hokkaido, Kyushu and Shikoku which are surrounded by many smaller islands. Most people confine their stay to the main island, Honshu. There is plenty of entertainment in the capital Tokyo, an enormous, sprawling city which does things on a grand scale. It has big hotels, big roads, big theatres and big shopping centres.
Kyoto, the ancient capital, is renowned for magnificent temples and shrines, elegant tea houses, traditional inns and scenic natural surroundings. It is a city graced by elegant timber buildings both religious and domestic, home to more than five hundred Shinto shrines and over a thousand Buddhist temples. Many of these have been designated as national treasures, such as the monumental, Kinkaku-ji, an exquisite pavilion covered entirely in gold leaf, and Ryoan-ji, with its stark Zen rock garden. Other places worth visiting on Honshu are Sendai, the capital of traditional crafts and Matsushima, a fishing village and seaside resort famous for its fascinating scenery.
Hiroshima is a forward-thinking city with attractive, leafy boulevards. A visit to the Peace Memorial Museum is a heartbreaking, important history lesson and the park around the museum, much of which was designed by Japan's great modernist Tange Kenzo, offers many opportunities for reflection. Itsukushima, also known as Miyajima, is a small island in Hiroshima Bay, best known for the Itsukushima Shrine, a UNESCO world heritage site. Its tori gate is one of Japan's most recognisable landmarks. During high tide, the tori appears to be floating on water, whereas at low tide, visitors can walk right up to the gate. The island is small enough to explore on foot, and visitors can stroll along one of the island's many scenic, charming walking paths. The island is also home to hundreds of wild deer that live peacefully alongside humans.
Shirakawa-go and neighbouring Gokayama were declared a UNESCO world heritage site in 1995. They are famous for their traditional gassho-zukuri farmhouses, some of which are more than 250 years old. Gassho-zukuri means "constructed like hands in prayer", as the farmhouses' steep thatched roofs resemble hands pressed together in prayer. The architectural style developed over many generations is designed to withstand the large amounts of heavy snow that falls in the area during winter.
Yakushima, a small island off the coast of southern Kyushu, is a magical island of natural wonders, home to ancient fairytale-like forests, crystal clear rivers and spectacular waterfalls. The dense foliage provides the perfect home for the Yakushima macaque and the Yaku deer, both of which are smaller than their mainland counterparts and can easily be spotted foraging near roadsides and along hiking trails.
Okinawa and the southwest islands offer a totally different experience from the rest of Japan with some of Japan's best beaches fringed with palms and turquoise waters.
Things to do
Japan is a long, highly volcanic archipelago. A paradise for outdoor enthusiasts, it's over two-thirds mountains, with bubbling hot springs at every turn. Hiking opportunities are abundant through a diverse set of climates and difficulty levels, from long, multi-day treks through national parks or leisurely day-trips from the city.
Japan has established itself as one of the world's top ski destinations with a wide selection of resort and après-ski options, and some of the deepest, driest powder snow on earth. The season starts in December and usually runs until mid-April. Near Honshu's west coast, the Hakuba region is less than a four-hour drive from Tokyo and offers terrain for every type of skier. Nagano, which was the host of the 1998 winter Olympics, has a large assortment of resorts, and is home to the Jigokudani Monkey Park where Japanese macaques come down from the mountains to warm up in the hot springs. On the northern island of Hokkaido, is the popular Niseko, which receives an average snowfall of 15 metres annually, as well as Rusutsu, Kiroro and Furano. Some excellent options for backcountry skiing exist in Japan, particularly in Nagano and Hokkaido.
For an authentic Japanese experience, Japan has thousands of onsen (hot springs) scattered across the archipelago which offer the ultimate relaxation after a long day of sightseeing. Other traditional Japanese customs to enjoy include the famous tea ceremony, flower arrangement (ikebana) and kabuki theatre. The celebrated cherry blossom (sakura) season typically takes place in early April. The Japanese celebrate this time of the year with Hanami (cherry blossom viewing) parties.
In the south of the country, there are tropical beaches for sunning, snorkelling and diving. An abundance of marine life thrives in the warm Kuroshio Current that flows north from the Philippines. Divers from around the world enjoy exploring the wrecks from World War II as well as the caves, tunnels and drop-offs. There are also nine World Heritage sites on the island including Shuri Castle, reminiscent of Chinese-style buildings, and the sacred site of Sefa Utaki where the gods descended to earth to begin the Ryukyu people.
Where to stay
There is something for everyone. You can enjoy five-star luxury, as well as a variety of cheaper hotels, hostels and guesthouses to suit your budget. A stay in a ryokan (traditional Japanese inn) is a memorable experience, and an opportunity to experience the traditional Japanese lifestyle and hospitality. Varying greatly in size, cost and style, ryokan incorporate elements such as tatami floors, futon beds, Japanese style baths and local cuisine.
Food
Japanese food is highly seasonal, drawing on fresh local ingredients. You can eat well on any budget in Japan, and cities have a good spread of international options, but mostly local cuisine. Shokudo are inexpensive, casual eateries that serve homey meals. Japanese-style pubs, Izakaya, serve small plates to go with sake or beer. Sushi-ya counter joints (either casual or high end) specialise in sushi. Yakitori restaurants are friendly counter joints where the food is grilled over hot coals in front of you. Kaiseki is Japan's haute cuisine, where ingredients, preparation, setting and presentation blend to create a highly ritualised, aesthetic and sophisticated dining experience. Do not stick your chopsticks upright in a bowl of rice or pass food from one pair of chopsticks to another as both are reminiscent of Japanese funeral rites.
Shopping
You can find a wide range of products in hotel arcades, shopping centres, department stores, and specialty shops at duty-free prices. Supermarkets, 100-yen shops and bargain markets are amongst other recommended places to explore. In the bigger cities, stores in wholesale districts sell a wide choice of merchandise, from saucepans to stereos, at wholesale prices. Japanese retailers, especially department stores, hold large scale bargain sales twice a year. Flea markets, known as nomi-no-ichi, are held in various parts of Japan. Taking place mostly in the grounds of temples and shrines, they are usually open from early morning to late afternoon.
Getting around
Japan is incredibly easy to get around thanks to its immaculate, efficient public transport. The shinkansen (bullet train) network runs from the southern tip of Kyushu (the southernmost of Japan's major islands) up to Hokkaido (its northernmost), and reasonably priced rail passes make it affordable. Major cities have subway networks that are signposted in English. Flying is an efficient way to travel from the main islands to any of the small islands with an extensive network of domestic flights and an increase of budget carriers. Numerous companies operate bus services in regional towns as well as in the cities. Long-distance buses linking cities are also operated frequently both during the day and at night. This is a more economical way to get about than by plane or by train if you are not pressed for time. Car rental services are available in most cities. However, because of urban traffic congestion, renting a car for intra-city travel is not recommended unless you have plenty of time and if you plan to visit less populated areas in the off-peak travel season.
Climate
Japan has four distinct seasons with temperatures ranging from above 30°C to well below zero. Summer on the Pacific coast is hot and humid, and winter is cold and dry. Summer on the Sea of Japan coast is dry while winter brings heavy snowfalls to the ranges. Spring is one of the best times of year to be in Japan. The temperatures are warm but not hot, there's not too much rain, and March-April brings the famous cherry blossoms. Excellent skiing is available during the winter months, while autumn is picturesque with its colourful foliage.
Currency
The currency in Japan is the yen (¥).
In cities, credit cards are widely accepted. In more rural areas, it is best to carry cash.