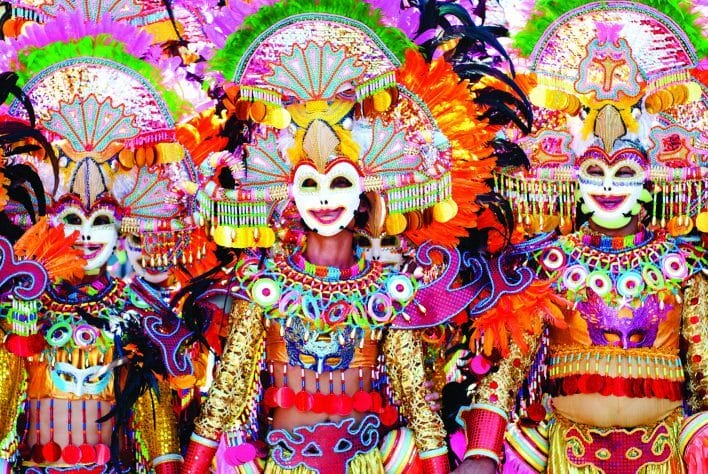 The Philippines is divided into northern, central and southern regions by the three island groups of Luzon, the Visayas and Mindanao. As many as 2500 Philippine islands are not named and the nearest neighbours are Taiwan in the north, eastern Malaysia and Brunei to the southwest, and Indonesia in the south.
The archipelago has a dramatic and varied landscape, ranging from volcanoes to narrow coastal plains and waterways, ancient rice terraces, rugged coastlines and fine white beaches. In addition to its natural assets, the Philippines has a rich history and unique culture resulting in a multitude of festivals and celebrations.
Capital and major centres
The capital and by far the largest city, Metro Manila, has a population of more than 10 million. Located in the northern region of Luzon, it is the capital and principal centre of government, commerce and education. Baguio City is five hours from Manila, in the Cordillera Mountains of Luzon. From March to May it experiences a population surge, and during Holy Week its population has been known to triple.
Cebu City is the capital of the Visayas, at the centre of the Philippines' major island group of 167 islands. Davao City on the lush island of Mindanao is one of the largest cities in the world in terms of landmass.
The people
The people are mostly of Malay stock with a mix of Chinese, American, Spanish and Arab blood. Most of the population claims to be Christian, and 80 percent are Roman
Catholic. Muslim communities make up around five percent of the population and most live in Mindanao and the Sulu Islands.
The two official languages are Filipino and English. Filipino is based on Tagalog, the predominant dialect from the Luzon mainland, and is used nationally to communicate among the ethnic groups. There are also seven other widely used languages and over 176 local dialects.
Nature
The Philippines has white sandy beaches, lush green forests, mountain peaks and clear blue waters teeming with marine life. The islands are a hotbed of life, with nearly 200 mammal species, 600 species of birds, and at least 400 coral species.
There are only about 100 of the magnificent haribon (Philippine Eagles) around Mt Apo, and the once abundant dugong are now rare, however, small gravity-defying geckos can be seen everywhere. The tarsier, one of the smallest primates in the world, can be found in Corella in Bohol.
The yellow flowering narra is the national tree of the Philippines. The nipa palm is seen all over the country and the orchid could also stake its claim as the national flower, with almost 1000 endemic species, including the Waling- Waling variety of Mindanao.
The sights
With more than 7000 tropical islands to choose from, the Philippines has something for everyone. The Philippines boasts some of the best dives sites in the world. Its warm waters are home to wrecks, ocean walls and reefs that are teeming with coral, small marine life and even whale sharks, thresher sharks and manta rays. Inland, mountainous interiors are the avid trekker's and adventurer's dream.
Boracay is arguably one of the most known beach destinations in the Philippines. During the day, strong winds make for prime kite boarding and windsurfing conditions. Come nightfall, White Beach comes alive with busy restaurants and bars that stay open til late. Away from White Beach, a quieter island beach vibe can be found for those looking for a more relaxed atmosphere.
The island province of Cebu is another popular tourism hotspot. In contrast to the bustle of Cebu City, the rest of Cebu's 167 islets and islands are lined with serene beaches, spectacular dive spots and a diverse mix of wildlife and marine ecosystems.
Amidst lush green forests, Kawasan Falls are three waterfalls, the largest cascades from 20 metres. Dip into the inviting blue swimming holes or climb up the highest waterfall to find a more secluded spot. Canyoning trips are also offered.
The island of Bohol is also famous for its Chocolate Hills. Bantayan is perfect for those looking for a solitary beach and some quiet time and Malapascua, off Cebu's northern tip has become more and more popular among diving enthusiasts. Monad Shoal is home to a thresher shark cleaning station, located on a plateau at a depth of 25 metres.
Palawan and its archipelago boasts more than 1700 islands. In the north, off the coastal town of El Nido are majestic limestone formations, secret lagoons, marble cliffs, hidden caves and waterfalls. Take a short boat ride from El Nido to Bacuit Bay in Palawan. This archipelago will thrill island lovers with imposing limestone escarpments, palm-tree-lined white sand beaches and coral beaches.
The Puerto Princesa Subterranean River National Park features a spectacular limestone landscape with an underground river. One of the river's distinguishing features is that it emerges directly into the sea, and its lower portion is subject to tidal influences. The site also contains a full "mountain to sea" ecosystem and has some of the most important forests in Asia.
The tranquil island of Siargao is popular with seasoned surfers. Most head to the wooden pavilion on Cloud Nine for the infamous Siargao break. But waves for both experts and novices abound elsewhere on this island too. Siargao is also home to some of the most postcard-perfect islands in the country.
Apo Reef is the largest atoll-type reef in the Philippines. The crystal clear waters are home to 285 species of fish and 197 species of coral home to large fish, such as white and black tip sharks, reef sharks, jacks, tuna and even hammerhead, whale shark and manta ray.
Banaue is tucked in rugged terrain brimming with spectacular scenery, breathtaking mountains ranges, ancient pine forests, tumbling waterfalls, and fern-filled glades. It's also home to some of the most spectacular, 2000 year old, World Heritage Listed rice terraces in the region.
The Banaue Rice Terraces of the Ifugao Province have been dubbed the eighth wonder of the world, covering an incredible 22 400 kilometres.
Sagada offers many treks, of which Echo Valley is considered one of the best. This trek includes Sagada's famous hanging coffins. The coffins, some centuries old, belong to the Applai tribal elders and can be found in the caves surrounding Sagada. It is commonly believed that hanging the coffins higher up brings the dead closer to their ancestral spirits.
The Bicol region is blessed with beautiful rivers and lakes, mountains, tiered waterfalls and hot springs. It's also dotted with volcanoes and home to the ethereal Mount Mayon.
Vigan is one of the few remaining 16th century towns in the Philippines known for its preserved Spanish colonial and Asian architecture.
Manila's historical district Intramuros "the walled city" was the centre of Spanish rule in the Philippines. It was home to the Spanish colonists, their families, and their Filipino servants.
Head to Davao for a volcano that has never blown its top. Standing at 2954ft, Mount Apo is the highest peak in the Philippines. A hike up this mountain will take you through virgin forests so keep your eyes peeled for pitcher plants, orchids and wildlife that include the Philippine eagle.
Sibuan Island is a wonderland of biodiversity with animals and plants that can be found nowhere else in the world except Sibuyan. It's also home to the 2058m Mount Guiting Guiting.
Where to stay
The Philippines offers a wide range of accommodation for all budgets. Metro Manila has everything vistors need from deluxe hotels and serviced apartments to hostels and homestays.
There are comfortable deluxe hotels in all the big cities, first-class resorts in Batangas, Palawan, Cebu, Boracay and Bohol, and Davao in Mindanao.
Shopping
Every major city in the Philippines has a shopping centre. SM Mall of Asia or SM North in Manila are two of the biggest in the world. Greenhills Shopping Centre in Mandaluyong City or Market Market mall in Taguig City are popular for bargain hunters The Divisoria area and its 168 Mall is the backbone of Manila's buy and sell trade with an abundance of no-frills bargain-shopping.
There is an abundance of local markets with an exciting selection of local handicrafts, antiques and souvenirs
The Philippines also produces fine furniture, basketry, exquisitely crafted jewellery, and gift items made of shell, wood, and stone.
Getting around
It is possible to travel by air-conditioned bus from Manila to nearly all major destinations in Luzon, Visayas and Mindanao. The variety of bus services running are generally very economical, and departures are frequent, although buses sometimes leave early if they're full. Making a reservation is recommended. There are more buses in the morning, as people try to beat the heat.
Roads often have potholes and it takes a while to get anywhere but hire cars, taxis and the colourful and individually decorated jeepneys are easily found. Although jeepneys are the cheapest way to negotiate the traffic, they do tend to be driven at an alarming and erratic speed and are not air-conditioned.
The elevated Light Rail Transit (LRT) system, also known as Metrorail provides the best and most efficient way to travel from Baclaran in the south to Caloocan City in the north. The Metro Railway Transit (MRT) traverses the length of Edsa and connects Quezon City to Pasay City, passing through the major arteries of Makati's financial district.
The roll-on-roll-off (RORO) ships between Manila and the country's major ports. To and from smaller islands, take fast sea crafts and other ferry services. Resorts also offer island hopping by banca (small, local boat), or fishermen and other locals offer their boats for hire.
The Visayas region in particular, has a robust network of inter-island boats. For commercial options, tickets are available through ticketing and travel agents.
There are also car rental and motorbike services available in major cities.
Food and entertainment
Filipino cuisine has Chinese, Malay and Spanish influences, making dining quite an adventure. Rice is the staple, usually served with meat and vegetables that are fried or sautéed.
Soups of every kind are popular, as is the delicacy, crispy pata (deep fried pork knuckle).
Adobo, stewed chicken, pork or squid pieces in vinegar, is a national dish, and inihaw (grilled fish or meat), fresh or fried lumpia (spring rolls), siopao (Chinese-style pork or chicken bun) and pancit (noodles) are widely eaten. Gata (coconut milk) is used in just about everything!
While most dishes are heavier on the meat than vegetables, the country's vast coastlines ensure Filipino restaurants also offer an
abundance of seafood: shrimp, rock lobster, crab, oysters, squid and fish.
A wide range of international food is available from fast food outlets and fine dining restaurants. For dessert, halo-halo is made from crushed ice mixed with sweets and fruits, and smothered in evaporated milk and topped with ice cream.
For something less indulgent try fresh fruits such as mango, pineapple and papaya.