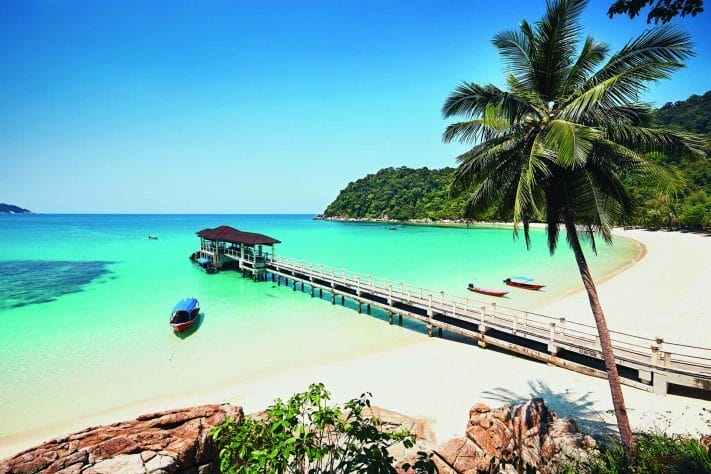 — MALAYSIA —
Geographically divided into two, Malaysia has a peninsula stretching from Thailand to Singapore, and is blessed with enchanting islands, beautiful mountains, tropical flora and fauna, as well as modern, thriving metropolises.
Capital and major centres
Malaysia consists of six major regions with Kuala Lumpur the capital city. Peninsular Malaysia's central region is made up of the states of Selangor, Negeri Sembilan and Malacca, while the north is occupied by Penang, Perlis, Perak and Kedah. Terengganu, Kelantan and Pahang make up the east coast, and in the south is the state of Johor. The states of Sabah and Sarawak are on the northern third of the island of Borneo. Each region has unique qualities in terms of features, local culture, food and historical sites.
The people
Malaysia is a fascinating mix of ethnicities, ranging from the Malays, Chinese, Indians and indigenous Orang Asli (Original People) of Peninsular Malaysia to the diverse tribal communities of Sabah and Sarawak in East Malaysia. Although the national language is Bahasa Melayu (Malay), English is widely spoken amongst the population of around 31 million.
Nature
Malaysia has a precious collection of national parks and wildlife reserves, which have been established to protect flora and fauna unique to the region. More than 60 percent of the country is under rainforest cover, home to over 8000 species of flora in Peninsular Malaysia alone, as well as 2000 tree species. The fascinating wildlife in the country includes elephants, rhinoceros, tigers, leopards, tapirs, sun bears, orangutans and gibbons.
The designated Permanent Forest Estate covers 3.8 million hectares of virgin jungle, and more than 1.49 million hectares of conservation area. Peninsular Malaysia's great Taman Negara National Park is one of the world's oldest tropical rainforests. Taman Negara National Park straddles the borders of Kelantan, Terengganu and Pahang, the latter part being the most visited. Endau-Rompin, which covers the boundary between Johor and Pahang, boasts many unique and endemic varieties of plants that were discovered within the centuries-old forest. These include the magnificent fan palm, climbing bamboo and the slender stemmed walking stick palm.
Moths and butterflies of every kind, and deer and wild boar can be found in this lowland forest, one of the few remaining in Peninsular Malaysia. On the Borneo side of Malaysia, Gunung Mulu National Park in North Sarawak is one of the state's most popular sites. It boasts an extensive limestone cave system— including the largest cave chamber in the world, the Sarawak Chamber—and is home to the second highest mountain peak in Sarawak as well as many plants and animal species. Kinabalu Park has the Poring Hot Springs, and Mt Kinabalu, the highest mountain in Southeast Asia. Another cave site, Niah National Park is one of the largest limestone caves in the world. On the wild side, Sepilok Orangutan Sanctuary is set in a virgin equatorial rainforest and has rare plants, animals and birds.
The sights
Kuala Lumpur (KL) delights visitors with its colonial architecture, which still manages to stand out against the shining office towers and multi-lane highways. Further south, waterfront developments are changing the face of Malacca (Melaka), Malaysia's oldest town.
The island of Penang, the oldest British settlement in Malaysia, is one of the country's top tourist attractions. It is renown for its beach resorts and the historical George Town, noted for its cuisine. Penang Hill offers a spectacular view of the island, and is particularly popular at dusk.
Langkawi's archipelago offers stunning beaches and resorts, as well as myths and legends. There are also many spectacular mainland beaches such as Cherating in Pahang, where you can watch for turtles. Over on the east in Sabah, Mt Kinabalu, the Turtle Islands, Sipadan and the national parks are the main attractions. Sarawak's capital city is ideal for travellers, with landscaped parks and historic buildings.
Where to stay
There are plenty of hotels, condos and apartments in Malaysia. There is plenty of budget accommodation such as traditional Chinese hotels and dormitory-style guesthouses that can be found in most cities. The homestay concept is still relatively new, but is a great way to learn first hand the Malaysian way of life.
Getting around
Taxis are very common in Malaysia, and although meters are often used, it is always helpful to agree on a price beforehand. For trips to airports and railway stations, purchase coupons at the taxi counter stationed at both places. Several car rental agencies offer self-drive and chauffeur-driven cars. The national KTM train runs from Kuala Lumpur to Padang Besar in the north, Singapore in the south, and up to Tumpat on the east coast. Buses are fast and economical, and seats can be reserved fairly easily.
Food and entertainment
The food in Malaysia is nothing short of fantastic. There is a choice of Chinese, Malay, Indian, Indonesian, Japanese, Thai, Korean and Western. Nyonya cuisine is probably the most famous of these fusions and is a blend of Chinese ingredients and Malay spices. Malay food uses seafood, meat, coconut and other indigenous fruits with rice.
Street stalls or hawkers are where the best local cuisines can be enjoyed cheaply. The theatrical ambience of these hawkers is like no other, with continuous demonstrations of wok tossing, teh tarik (tea pulling), the artful skill of flipping rotis (Indian bread), and barbecuing of satay sticks.
As a Muslim nation, there are restaurants offering halal food prepared in religiously approved conditions. Malaysia is famous for its wide variety of tropical fruits, including rambutans, mangosteens, jackfruit and durians. Sights of roadside vendors selling fruits and other snacks are common and the prices are usually cheaper than in supermarkets, especially when the special skill of bargaining is employed.
Although Malaysia is a Muslim country alcohol is widely available in bars and nightclubs, especially in capital cities and tourist areas. Nightlife in Malaysia is anything but boring. Kuala Lumpur offers a wide choice of nightspots with entertainment ranging from cultural shows to Western-style bars and discos. Hot spots include Petaling Street, Jalan Alor, the Asian Heritage Row, Bangsar and many neighbouring suburbs.
Activities
For those without much time in Kuala Lumpur, a city tour on the Hop-On Hop-Off bus is a great way to see the highlights. The huge Batu Caves will give tourists an unforgettable cultural experience. Golfing is on offer at 200 courses in diverse settings such as hill resorts, islands, beaches, cities, towns and off the beaten track.
The diving and snorkelling off Tioman Island and Redang Island is superb, both islands boast underwater caves and incredible coral reefs. Sipadan Island, off the coast of Sabah, is said to have some of the best diving in the world.
Trekking through the jungle trails of Taman Negara Park, visitors may see elephants, tigers, panthers and rhinos, although sightings are rare. A hike up Mount Kinabalu in Sabah is amazing as tourists can watch the sunrise from beneath the clouds that surround the peak.
Shopping
Kuala Lumpur is very good value, with a variety of fashionable products and handicrafts available from shopping complexes, department stores, boutiques and markets. The Central Market in Chinatown is a centre for handicrafts, antiques and art. Here visitors can employ their bargaining skills to get the best prices on 'branded' merchandise. There is also the Chow Kit Market, a Malay market with many roadside vendors lining Jalan Tuanku Abdul Rahman (also known as Jalan TAR).
On Saturday nights, some streets are closed to traffic and host lively night markets. Visitors should be prepared to negotiate a good price and go home with a bargain!
Currency
The Malaysian Ringgit is usually written as RM. Tipping is not expected although much appreciated.
Climate
Temperatures range from 21°C to 32°C with cooler temperatures in the hills, particularly during the evenings. The east coast, Sabah and Sarawak have heavy rainfalls during November to February. The west coast of the peninsula is wet from April to October.
Cool, lightweight summer clothing is best with medium-weight woollens at night in the cooler highland areas.
Entry requirements
All visitors need a valid passport/travel document with minimum validity of six months beyond the period of intended stay. Visa requirements vary for different countries so be sure to check.