Hanoi, Vietnam
By Kelly Tang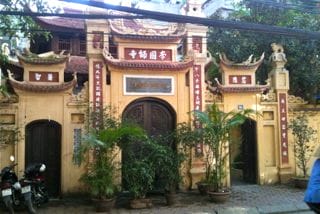 OLD QUARTER, HANOI, VIETNAM
Weaving through the crowded streets on my cyclo through the Old Quarter of Hanoi, I'm surprised to see such an eclectic variety of quaint older style buildings in this French influenced area. The streets are buzzing with activity and hundreds of colourful little shops selling everything you can imagine gives this place a very special energy.
I've never seen so much traffic before, with so many scooters dominating and filling the narrow cobblestone streets, its organized chaos. There seems to be no rhyme or reason in this madness but it just seems to work and keeps on flowing regardless.
On the footpaths local women wearing traditional conical hats and balancing food on their shoulders using a carrying pole tactfully avoid other locals who have set up their stalls for the day. The streets are filled with women young and old, some cooking meals outside their homes, others selling fresh raw meat and seafood, baguettes, fresh tropical fruits, flowers and even stalls selling cigarettes.
Everything is for sale here in the 'old quarter' and a bargain can always be found.
It doesn't take long and within an hour I'm in love with this city.
CYCLOS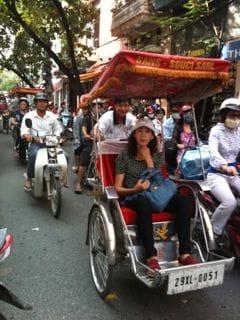 As much as I want to discover the Old Quarter by foot, I recommend hiring a cyclo as you can feel the buzz and energy of the place and also get to cover a lot more ground on 3 wheels! Sitting on the back of this cyclo that is peddled by an old leathery man with the heart of an Olympic cyclist I discover a street that only sells shoes. We turn a corner and the next street only sells toys, then another street full of watches, turn a corner again and it becomes a children's wonderland full of toys. Besides the streets selling nuts and berries, my favourite was the street selling lanterns and colourful decorations that gave the whole area a vibrant and happy feel.
SHOPPING & FOOD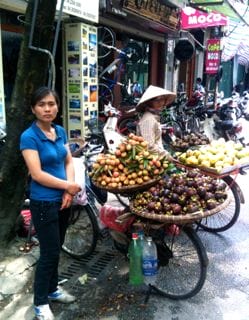 After the cyclo tour I'm ready to do some walking. There is so much to see and do. At every corner there are cafes and restaurants and every new street reveals another exciting shopping adventure. I discover a city full of galleries, arts and craft and jewelry stores, clothing stores and quaint music shops selling all types of instruments including quality guitars for under $50AUS.
DONG XUAN MARKET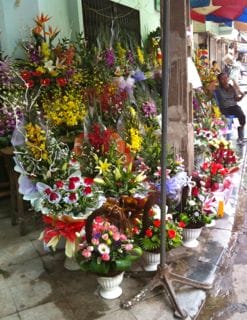 The Dong Xuan day markets have everything for sale, from Vietnams famous souvenir products, sweets, clothes, accessories and every type of food to a variety of live animals including seafood, chickens and frogs. This section is not for everybody due to the fact some animals are prepared live in front of you. Not for the squeamish. Don't be surprised though to see a family of dad, mum, children and grandma come riding through the markets on a scooter. And I do mean the same scooter. Yep, only in Vietnam.
HOAN KIEM LAKE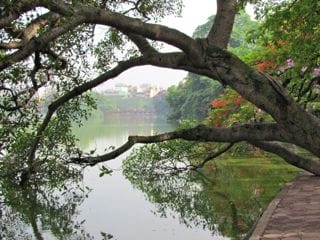 Hanoi's most famous lake is Hoan Kiem Lake. It's beautiful and peaceful, and as I discover is the epicenter for locals in the mornings for walking, exercise, dance, rest and play. The lake is an historical and spiritual site and is also one of the most popular areas for newlywed couples to have their wedding photos taken.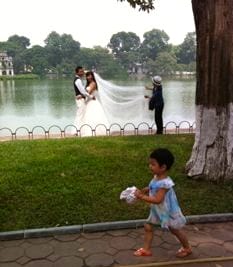 MAUSOLEUM
Next stop is Ho Chi Minh's mausoleum. To see this great and famous man in state is quite emotional as the love and respect the Vietnamese have for their former legendry leader is still incredibly strong. The line up to see him goes for hundreds of meters. Unfortunately, once a year Ho Chi Minh's body is taken back to Russia for maintenance, so check before you go to visit 'Uncle Ho' as he is affectionately known to ensure he is not away from his resting place.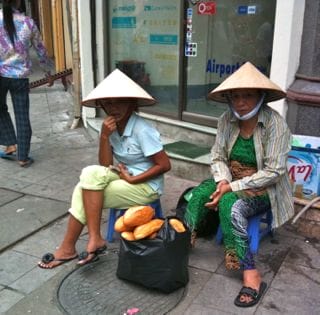 WAR MUSEUM
A visit to the war museum perhaps puts into perspective how much suffering the Vietnamese have endured. As sad as it is to see some of the most horrific and appalling images from the Vietnam war, it's inspirational to think what a courageous country Vietnam is and that throughout its history it has fought off many invading countries and has conquered them all. As you walk the streets, the old man you see may have contributed to Vietnam's famous fighting spirit.
PHO SOUP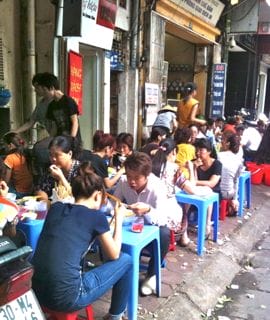 After many miles of walking, my nose leads me to a street food cart with the delicious smell of the local favorite 'Pho soup' wafting through the air. I am determined to sample this popular dish containing rice noodles, chicken or beef, vegetables and aromatic herbs and spices. The place we choose is packed with people eating and seated on little plastic chairs and tables on the footpath. A rule of thumb for me when I eat from a street vendor anywhere in is that it has to be very busy so that fresh food is constantly being turned over.
COOKING SCHOOL
After experiencing the local food, I am inspired to book in for a cooking class at the Hoa Sua Cooking School. This school is famous in Vietnam as each year it recruits 500 young people aged between 16 and 25, who live under difficult circumstances. Orphans, street children, children of war invalids, children of poor families, ethnic minorities and hearing impaired children are all given the chance to enhance their lives by learning the art of cooking, in the hope they can forge a career in hospitality and turn their lives around.
There are only 8 people in our class and the chef has a menu and food products ready for us to prepare our meals. The menu consists of green papaya with dried beef salad, rice noodles with grilled pork and lastly but most importantly we have the dessert, which is black sticky rice with syrup. It is a wonderful culinary experience that I highly recommend.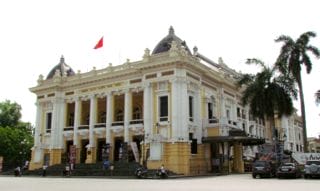 TRADITIONAL BATH HOUSE
After a day of eating and walking I go to my first traditional Vietnamese bath house called the 'Huong Sen Massage' that is highly rated by locals in Hanoi. Cost of the massage /spa/ steam combination that includes: herbal tea, herbal bath, spa and massage and finished off with rice porridge with fish is only $200,000 VND which is the equivalent of just over $10AUD. We were there for nearly two hours!
The 90-minute massage incorporates the use of hot pads and thick hot towels to warm and relax the body and involves the use of herbs (combination of mugwort and the corriandon sativum flower). Combined with the hot pads and heated towels, it is a truly remarkable massage.
The centre has segregated areas for men and women.
What an inspirational country Vietnam is. The people are so genuine, warm and friendly and hopefully soon I will be back to continue my adventure here once again.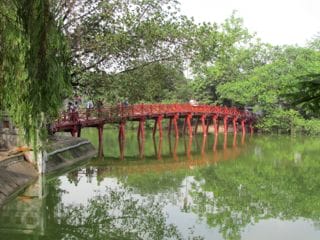 OTHER ATTRACTIONS IN HANOI:
The Water Puppet Theater
Temple of Literature & Ancient National University
Vietnam Museum of Ethnology
The Hanoi Opera House
Hanoi night market
Hoa Lo Prison
Ho Chi Minh's Residence (near the mausoleum)
St. Joseph's Cathedral
Imperial Citadel of Thang Long in Hanoi
One Pillar Pagoda in Hanoi
The Perfume Pagoda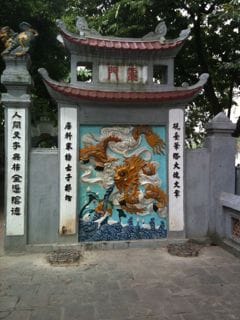 TIPS
* Ensure you negotiate your fee before going on a cyclo ride. Your guide, hotel concierge or tour desk will advise you on approx cost. If you don't you will get ripped off.
* If you intend hiring a bike/scooter or motor vehicle ensure you have a current international drivers license or travel medical insurance as you will not be covered if an accident occurs.
* Watch, observe and ask how locals cross these extremely busy roads. It's unlike anywhere else on the planet and can be dangerous.
GETTING THERE:
Vietnam Airlines flies from Sydney and Melbourne to Ho Chi Minh City and then on to Hanoi ten times a week.
www.vietnamairlines.com.vn
STAYING THERE:
Intercontinental Hanoi Westlake
Go to… www.paradisesonline.com
COOKING SCHOOL:
The Hoa Sua School, 28A Ha Hoi, Hoan Kiem Hanoi, Vietnam
(04) 3942 4448
www.hoasuaschool.com
Words and photos by Kelly Tang