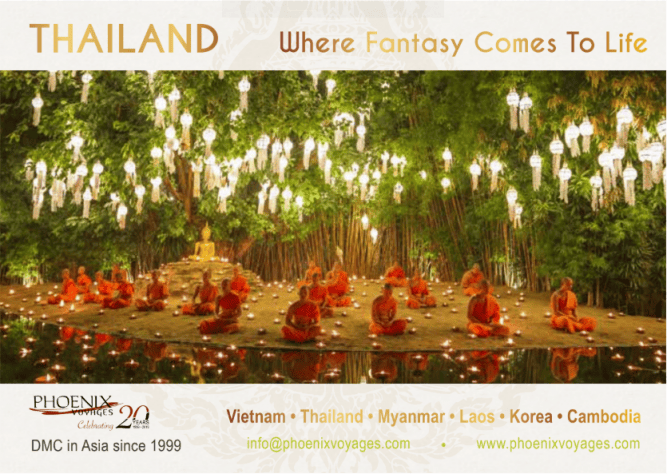 Situated midway between India and China in a fertile monsoon belt, Thailand shares its borders with Myanmar (Burma), Laos, Cambodia and Malaysia. Its east coast is on the Gulf of Thailand and the west coast on the Andaman Sea.
The country is divided into four main regions: the Central Plains of the Chao Phraya River; the region of the northeast plateau; the fertile valley and mountains of Northern Thailand; and the rainforested southern peninsula. Each region has its own topographical identity and subtle differences between both the people and dialects.
Capital and major centres
It is worth enduring the inevitable traffic jams, pollution and humid weather to experience Bangkok, easily one of Asia's most exciting cities. Known in Thai as Krung Thep, the 'City of Angels', Bangkok is the spiritual, symbolic and geographical heart of Thailand, and home to nine million people.
Chiang Mai is Thailand's second largest city and an ideal base from which to explore the mountains and villages. The region is famed for its many fine temples and handicrafts. Ban Chiang, found in the northeastern province of Udon Thani, is most fascinating for its archaeological site which was discovered by accident in 1966. Artefacts on display are thought to date back to around 3600BC. Khorat, or Nakhon Ratchasima, was part of the ancient Khmer empire, and is today a rapidly expanding business centre.
Along the east coast, on the Gulf of Thailand, lies Pattaya, which offers many beaches and is popular with families. On the sunrise coast of the Gulf of Thailand are Cha-am and Hua Hin. The former has experienced a dramatic surge in popularity since the mid-80s and catering mainly for Thais, its quiet village atmosphere has become a lot livelier. Nearby Hua Hin was Thailand's first beach resort and in the 1920s was a popular retreat for minor Thai royalty. Nowadays the King and Queen reside here when they're not in Bangkok.
Further south along the east coast, beautiful Koh Samui is covered with coconut plantations and circled by palm-fringed beaches. The twin Phi Phi islands in Krabi are famed for their unusual and spectacular landscapes, while the country's largest island, Phuket, lies in the Andaman Sea off the country's southwestern coast. All of these places are popular tourist destinations.
The people
The majority of Thailand's 68 million people are concentrated in the fertile Central Plains and in the capital, Bangkok. An easygoing people, Thais are known for their tolerance of other cultures and friend liness to visitors. Thai people will be offended only if there is any perceived disrespect to the king or Buddhism. Constitutional since 1932, the monarchy is revered almost as much as when kings were chakravartin, or 'lords of life'. Buddhism is the dominant religion and orange-robed monks and gold, marble and stone Buddhas are common.
Nature
One-quarter of Thailand is covered by monsoon forest or rainforest, and the country has an incredible variety of fruit trees, bamboo and tropical hardwoods. National parks and wildlife sanctuaries cover 11 percent of the country and contain more than 850 resident and migratory species of birds and dwindling numbers of tigers, leopards, elephants and Asiatic black bears.
The sights
The Chao Phraya River, 'river of kings', is Thailand's most important waterway, draining some of the country's fertile rice growing land, and providing another means of travel in Bangkok. A few kilometres inland from Bang Saen, a beach resort popular with Bangkok residents, is the Khao Kheow Open Zoo, which has more than 50 wildlife species roaming its spacious, semi-free enclosures. Stretching north from Bangkok are the picturesque Central Plains with their checkered patterns of green rice paddies. In the heart of this region is Ayutthaya, the nation's second capital. Buddhamanthon, a Buddhist park, lies on the western edge of Bangkok.
Featuring a 16.25-metre statue of Buddha, the park commemorates the 2500th anniversary of the religion. Further west is the world's tallest Buddhist monument at Nakhon Pathom. Not far from there is the infamous Bridge over the River Kwai as is the newly popular "Tiger Temple" or Wat Pha Luang Ta Bua. South from Chiang Mai are the numerous ruined temples of Thailand's first capital, Sukothai, founded in the early 13th century. Further north from Chiang Mai is teak country where elephants used to work in the forests. Elephants can still be seen displaying their forestry skills at several training camps.
Chiang Rai is a good centre for exploring the far north where visitors will find stunning jungle covered mountains, hilltribe villages, and Doi Tung, a mountain where Her Royal Highness the Princess Mother has a hilltop palace.
Where to stay
While Bangkok offers some of the most superb hotels in the world, Thailand and its capital have a wealth of accommodation options, from luxury and reasonable resort accommodation to simple comforts on islands or beaches. There are also bungalows, guesthouses and more basic native style hotels in regions such as Chiang Mai.
Getting around
Bangkok is possibly the world's most congested city, and its traffic jams and pollution are notorious. It is, however, very easy to find transport of all kinds, including riverboats, public buses, limousines and tour buses run by hotels, as well as taxis, colourful tuk-tuks and samlors (bicycle rickshaws) that are found throughout the country. Songthaews, vans with two rows of seats in the back, are more common than city buses outside Bangkok and run popular routes for set fares. The Bangkok Metro (BMCL-Subway) operates every day from 6am until midnight every five minutes during peak hour and seven minutes in off-peak times. It is clean and extremely efficient. The BTS Skytrain covers much of the central city and its many commercial, residential and tourist areas. It gives the added bonus of seeing the city from a bird's eye perspective.
Food and entertainment
Renown for its quality and diversity, Thai cuisine is as much a feast for the eyes as the stomach. And while eating for most Thai people is an informal, social activity, even the simplest of dishes are served with a carved carrot flower or spring onion tassel, and sometimes fruit and vegetable sculptures. Meals are rich and spicy, and seafood, including crab, fish, lobster and shrimp, feature heavily. Bangkok has restaurants of all nationalities and styles, from street stalls to elegant restaurants at deluxe hotels. The Dome at State Tower, for example, has a number of trendy bars and restaurants. Outside Bangkok, there are restaurants specialising in various national cuisines as well as the typical spicy northern delicacies.
In Chiang Mai, the best way to sample the local fare is to order a Khantoke dinner which features a variety of dishes served with sticky rice. Rayong and Chanthaburi on the east coast are known for their succulent seafood as well as tropical fruits including durian, rambutans, custard apples and mangosteens.
Those looking for nighttime entertainment will find all sorts of action in Bangkok. Neon-lit bar districts, pubs, discos, live music, theatre, classical dance, cultural shows, night markets and many other distractions abound. Check out the night markets behind Ratchaprarop Road in Pratunam. A night market in Hua Hin displays locally produced silk and cotton items and the region's famed 'kanom' Thai sweets.
Activities
Thai boxing, or Muay Thai, Thailand's national sport, is fast gaining popularity worldwide. The sport is highly ritualistic, but fights are fierce and furious. The ultra fit combatants use their elbows, knees and bare feet as well as gloved fists. Professional bouts are held almost every night at either of the two boxing stadiums in Bangkok. Golf, tennis, squash, darts and table tennis are also popular, and every imaginable watersport is available at the seaside resorts.
Shopping
The good quality, wide variety and reasonable prices of many Thai goods have long been a major attraction for tourists. Arts and crafts range from wicker rice steamers and triangular, patterned cushions to antiques. Internationally renowned Thai silks are available in a fascinating array of colours and designs. Tailors, particularly in Bangkok, can make clothes in any fabric to high standards at low prices. There are huge, modern shopping malls and other retail shops, but it is at the colourful markets at the heart of every Thai town that visitors can have fun bargaining with vendors.
Climate
The climate varies from north to south. There are three seasons, with March to May reaching 40°C. June to October is the wet season and November to February is the cool season at 27°C. Casual clothing is worn by most visitors to Thailand. Respectable attire is recommended for top hotels and restaurants. Skimpy clothing is forbidden in religious places.
Currency
The currency is the Thai Baht. A service charge is included in most bills. Only tip for special service. Porters expect a tip per piece of luggage. Remember that a tip consisting of coins is considered offensive.