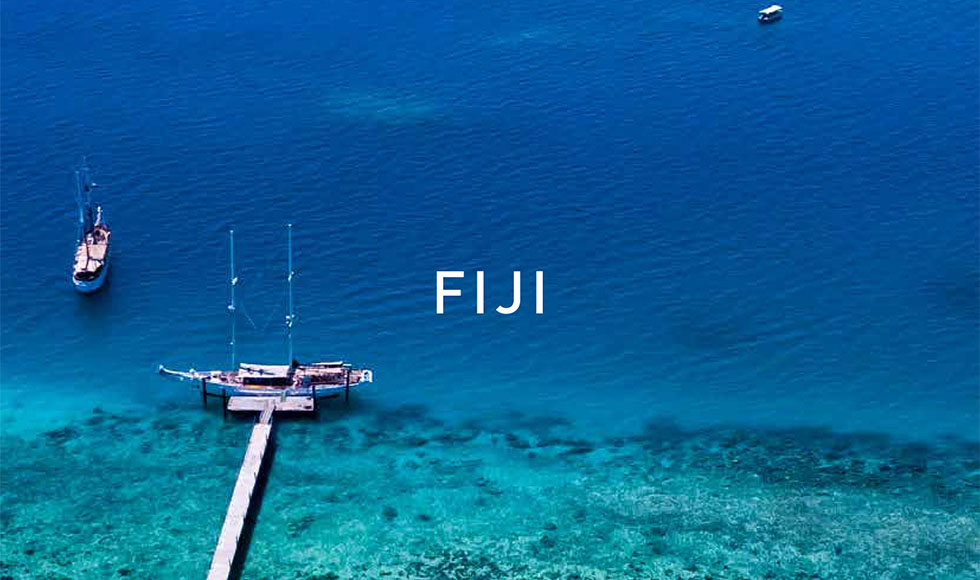 The Fiji archipelago is comprised of 333 islands, located at the crossroads of the South Pacific. Fiji's main and largest island is Viti Levu, the next largest is Vanua Levu, and together they make up 85 percent of the country's total land area, of which a little over a third of Fiji's islands are inhabited.
All the islands have picturesque coastlines, tall coconut palms nodding over still waters of brilliant turquoise, lagoons fringed by coral reefs and soft white sandy beaches.
Capital and major centres
Fiji's capital city, Suva, is located on the south-east corner of Viti Levu, although most visitors have their first taste of Fiji via the international airport at Nadi, one of the other major towns on Viti Levu. From there it is only a quick hop to one of the offshore island resorts, or less than an hour of flying time to Vanua Levu or Taveuni, the second and third largest islands. Nearby are the Mamanuca and Yasawa Islands that offer picture-postcard beautiful lagoons and beaches. The old capital of Levuka on Ovalau Island has been carefully preserved as a UNESCO World Heritage Site.
The people
Fiji is the 'hub' of the South Pacific, a melting pot of both the Polynesian and Melanesian races. The nation comprises of many different races and people. From 1879 to 1916, under British Colonial rule, Indians came as indentured labourers to work on the sugarcane plantations. After the indentured system was abolished, many Indians stayed on as independent farmers and businessmen. The principal language is English, however, Fijian, Hindustani, Chinese and other Pacific island languages are spoken. Most of the population is bilingual.
Nature
Fiji's larger islands are volcanic while smaller islands are coral, limestone or sand cays. Coral reefs and lagoons abound. High mountain ridges in the centre of the two main islands manipulate rainfall leaving regions with marked vegetation. The rain-drenched eastern regions are carpeted in thick, vinecovered forest while the drier, western regions showcase rolling grasslands and pine-covered hinterland. Typical coastal trees like coconuts and pandanus hug the coastal regions of every island.
Fiji's unique land fauna includes native bats, birds, lizards and frogs and is free of all serious plant and animal pests and diseases that plague other countries and endeavours to remain that way.
Preserving the beautiful environment is an exercise that the Ministry of Agriculture, Fisheries and Forests takes very seriously, strictly regulating the importation of any matter that may affect the country's plant and animal life.
The sights
A striking feature in Nadi is the Hindu temple at the southern end of town. This is the largest Hindu temple in the southern hemisphere and the traditional Dravidian architecture is rarely seen outside of India. Natadola Beach is one of the most outstanding beaches in Fiji and only a half-hour drive south of Nadi. A trip to the Sawa-i-Lau Caves in the Yasawas is one of the 'must-do' activities for travellers.
A trip to Fiji's most picturesque village, Navala Village in the Nausori Highlands is a trip back in time. On the banks of the Ba River against the stunning backdrop of the Ba Highlands, the villagers of Navala still live in traditional thatched roof bures.
On the road from Nadi to Suva are the Kula Bird Park, rafting Navua Gorge at Pacific Harbour and the Sigatoka Sand Dunes.
In Suva, the national museum in the historical Thurston Gardens stands right next to Government House with its colourful guards dressed in red tunics and white sulus. Founded much earlier than other Pacific island museums, the national museum is unrivalled in the islands for the extent of its collection of anthropological and historical material.
Savusavu is home to the unusual attractions of the Nakama thermal springs and Namale blowholes. Wasali Nature Reserve is an untouched rainforest with hiking trails leading to spectacular views.
Where to stay
Accommodation is prolific and there's something for every budget from luxury hotels, resorts and villas, to Fijian bures with modern facilities, cottages, lodges, townhouses and apartments.
Bures, based on traditional village thatched roof houses, are very popular with tourists as they provide an authentic Fijian atmosphere. The Fijian design incorporated into most hotels help maintain the exotic ambience of this South Pacific paradise.
Food and entertainment
Most nightclubs, restaurants and cinemas are located in the city centres with most of the larger hotels and resorts providing their own entertainment in the form of Fijian nights that include a lovo (food cooked in an underground oven), sometimes the yaqona ceremony (kava drinking) and always a meke (song and dance).
There's a good selection of restaurants in the major centres featuring Chinese, Japanese, Indian, French, and European foods. A number of places offer Fijian cuisine that is most often seafood, cooked in coconut milk and steamed or boiled rather than fried.
Getting around
In Fiji motorists drive on the left side of the road, and overseas or international driving permits are valid for six months. There are a number of rental car agencies, an extensive local bus service on each of the main islands and deluxe coach tours. Taxis are inexpensive and predominantly metered. Ferries, helicopters and seaplanes provide transportation between an extensive network of docks and airfields throughout the islands and resorts.
Activities
Fiji is renowned for the variety of activities available. Water-based activities include snorkelling and diving spectacular reefs, surfing and SUP on world-class waves, kayaking to secluded bays, jet ski jaunts, challenging game-fishing and inter-island sailing. Land activities rival their watery counterparts for thrills with skydiving, cross-country cultural treks, canyon river rafting, tree-top ziplining and off-road buggy adventures.