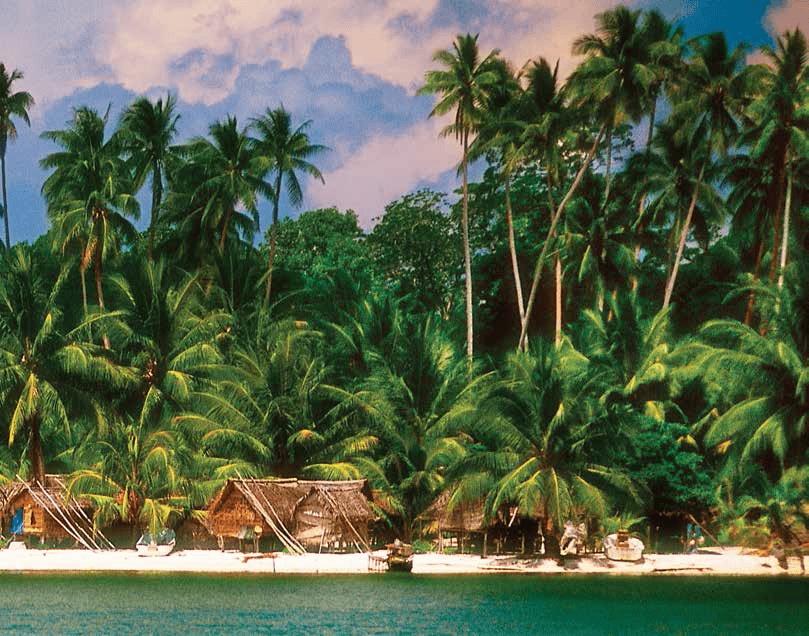 — Papua New Guinea —
While the infrastructure for travel throughout PNG is firmly in place, travel as an industry is still in its infancy. As such, every visitor to PNG has the opportunity to be part of the endless discovery.
PNG occupies the eastern portion of New Guinea, the second largest island in the world. Precariously situated on the Pacific Rim of fire, it is the cumulative result of two of the world's largest geological upheavals. The ensuing terrain is a rich, rugged collage of towering mountain peaks, dense rainforests, mangrove jungles, fertile valleys, white sands and glistening coral islands. The underwater topography is a reflection of the dramatic landscape. Hills and valleys translate into majestic pinnacles, fishfilled passes, lush colourful gardens and coral-draped walls.
Capital and major centres
Port Moresby, PNG's capital and gateway is situated on the western coast of the mainland peninsula. Other popular coastal regions on the mainland include Alotau, Lae, Wewak, Vanimo and Madang. Alotau, at the eastern tip of the Owen Stanley Range, is an upcoming seaside resort town with rich culture and gorgeous scenery. Lae is the second largest city, situated on the eastern coast, at the mouth of the Markham River. Wewak and Vanimo are in the Sepik Basin famous for their art, customs and culture. The Sepik River runs 1126 kilometres from source to sea and is one of the world's largest waterways.
Further north is Madang, which has one of the South Pacific's most beautiful harbours with lush tropical vegetation. It was the centre of heavy fighting during World War II and has 34 sunken ships and coral gardens to explore with superb visibility. Many of the most rewarding cultural opportunities can be found in the Highlands. Goroka is the capital of the Eastern Highlands; Mt. Hagen is the capital of the Western Highlands.
Papua New Guinea's outer islands cover an enormous area, offering access to both the Solomon and Bismarck Seas. In this region opportunities for exploration and adventure are enormous. New Britain, the largest island, has two tourism centres: Rabaul on the eastern tip, and Kimbe in the west. Other popular spots include Kavieng on New Ireland and Manus Island further north.
The people
Nationals are predominantly Melanesian, though in appearance they are varied. More than 800 indigenous languages are spoken throughout PNG.
Melanesian Pidgin (Tok Pisin) and Police Motu are the two most widely used, but English is the official language in education, business and government circles.
Nature
Papua New Guinea's enormously rich diversity of animal and plant life has earned the esteemed designation of being a 'mega diversity' country. Scientists believe that PNG, along with the 16 other countries bearing this unique distinction, account for more than two-thirds of the earth's total biodiversity. The fact that so many of PNG's natural ecosystems and human cultures are intact makes it fascinating and scientifically important. On land it is estimated that there are 242 species of mammals including shy forest wallabies, slow-moving cuscuses and tree kangaroos. Birds are one of PNG's biggest natural attractions. There are 762 different species, 85 endemic, including 38 of the world's 48 species of the spectacular Bird of Paradise. The world's only known poisonous bird called Hooded Pito-Hui is found in Papua New Guinea.
Activities
The most popular activities in Papua New Guinea are trekking, canoeing, bird watching, fishing, surfing and diving, all of which get travellers 'up close and personal' with nature and the people, the essence of PNG's special attraction. Throughout the country there are tours organised for all ages, skill levels and budgets. You can canoe down the Sepik and sleep in local villages, or visit exotic cultures during the day and at night sleep on a luxury cruise ship, or an eco lodge in a tributary.
Port Moresby is home to several popular trekking spots, the infamous Kokoda trail, a favourite with war historians, and Variarata National Park, a spectacular mountain region renowned for its striking scenery and panoramic views of Port Moresby and the coastline. In the Oro province, Mt Lamington, an active volcano, is a favourite climb for visiting bushwalkers. Scuba diving has become one of PNG's most sought-after attractions and there are facilities, both land based and live-aboard, all around the country. Fishing charters, bird watching walks and whitewater rafting tours are also available.
Surfing is also growing in popularity. PNG is a relatively new surfing destination on the international surfing scene that guarantees clean and uncrowded beaches, point breaks and challenging waves for all levels of surfers.
Getting around
Rugged mountainous terrain covers much of the country, so the easiest and fastest way to get around Papua New Guinea is by air. There is a good network of roads connecting the northern zone and the highlands region. However, there is no road link between the northern zone and the capital, Port Moresby. Hire cars are usually available and local boats, ferries, buses and taxis can be found in the larger towns.
Food and entertainment
Western cuisine is available in hotels, restaurants, guesthouses, lodges and resorts. Port Moresby has many Asian and European restaurants. For something different try a traditional 'mumu' of pork, sweet potatoes, rice and greens. Major hotels usually provide their own entertainment.
Shopping guide
Modern department complexes rub shoulders with quaint little stores and artefact shops where you may try your hand at gentle bargaining. Arts and crafts are as diverse as they are distinctive, produced by different artisans according to their individual skills and unique talents.
Pottery, weapons, carvings, musical instruments and basketwork are just a few of the handicrafts sold throughout PNG, the world's largest producer of tribal arts and crafts.
There is a fascinating selection of masks, including ancestral and spirit masks. Decorated boards and boat prows are popular objects in Papuan Gulf culture and are thought to be protective spirits to ward off sickness and evil. Shields come in all shapes and sizes and are made of hide stretched over a framework.
Stools, tables and headrests are ornate and carry intricate carvings, while fishing hooks were suspended in the men's house and represented spirits which helped in fighting, hunting and warding off disease.
Jewellery, body ornaments and accessories are made from pigs teeth, shell, orchid stems, dogs teeth, seed, snake spine, and pigs tusks.
The village of Aibom, near the Chambri Lakes, specialises in a unique form of pottery. The two greatest regions for art are the Sepik River Basin and the Papuan Gulf while the two major craft producing areas are the Huon Peninsula and Milne Bay.
Climate
23℃–32℃ in coastal areas and 14℃–28℃ in the highlands.
Clothing
Casual, but more formal than other Pacific countries. Females should dress modestly. A sweater or jacket is necessary in the highlands.
Currency
The kina is divided into 100 toea. Credit cards are accepted at major hotels. Tips are generally not expected, but encouraged if you are happy with the service provided.